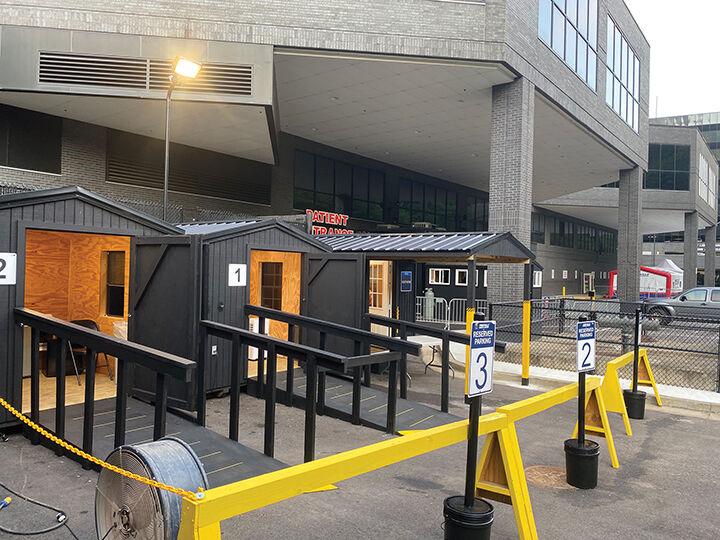 On Aug. 26 during his weekly Team Kentucky update, Governor Andy Beshear announced the locations of four COVID-19 Community Testing Sites in some of Kentucky's hardest-hit areas, with one of those being Pikeville Medical Center (PMC).  
Beshear stressed the need for increased testing capabilities, explaining that COVID-19 hospitalizations in the state have increased every day without exception for the past 42 days.  On July 14, 239 people were admitted to Kentucky hospitals, but that number has grown to a record number of 2,074 admitted on August 25th.
"My point with all of these numbers is that we are in uncharted territory," said Beshear. "We have been fighting this virus for almost 18 months, but we have never been here before.  We have never been in the position where doctors worried they'd need to choose between treating a patient who can't breathe because of COVID or one who is bleeding out from a car accident.  But, that is the strain our hospitals are under now."
PMC is currently facing a surge of the Delta variant that is placing a tremendous burden on the facility to provide medical care to patients, both those battling COVID and those with other medical issues.
"Pikeville Medical Center is full of heroes, but they are tired," explained PMC President and CEO Donovan Blackburn. "To successfully battle this deadly surge of the Delta Variant, it takes everyone giving 110%, from our physicians to our nurses and all other clinical staff to our environmental service and security personnel.  Having this extra testing resource could not have come at a better time. We are very appreciative for Governor Beshear's continued support he has shown repeatedly over the past 18 months."
Beshear announced that Wild Health will conduct COVID-19 testing at Pikeville Medical Center seven days a week.
Location : Outside PMC Emergency Department entrance
911 Bypass Road, Pikeville, KY  41501  
Seven days a week
8 am to 3 pm
Appointments are preferred and can be made by visiting : WildHealthTesting.com/Pikeville.
Walk-up appointments are also accepted.