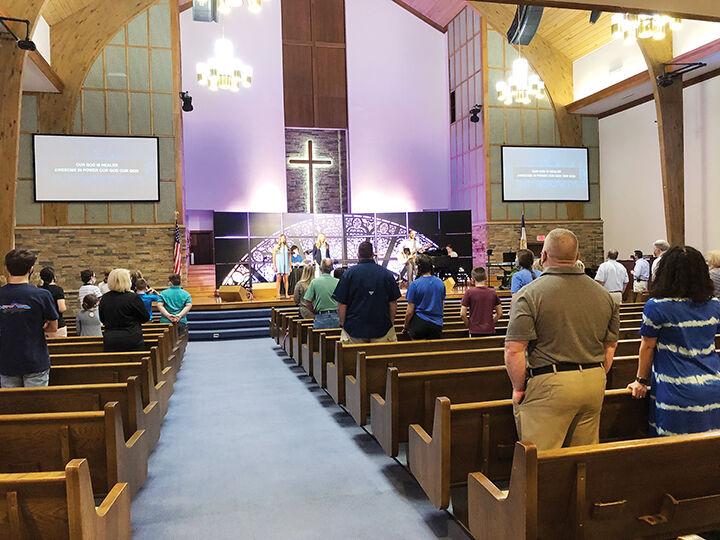 A year after Kentucky churches temporarily closed due to the pandemic, many local church leaders are optimistic about celebrating Easter with in-person services this year.
When Gov. Andy Beshear announced restrictions on mass gatherings around March 19, 2020, pastors of local churches cancelled in-person services for a time and transitioned many of their ministries online. Although worship centers can now hold 60 percent capacity or less, the pandemic has left a lasting effect on churches.
Jason Lowe is the executive pastor of the First Baptist Church of Pikeville and the associational mission strategist for the Pike Association of Southern Baptists. He said that many pastors scrambled to get their churches online when the pandemic started.
"It was a steep learning curve," Lowe said. "A lot of churches didn't have an online presence or streamed anything on Facebook or any other type of social media so that was a significant challenge very early on."
After speaking with officials across the country, in addition to the region, Lowe said he believes that churches have seen less engagement online than they would have in-person during services before the pandemic started. As churches have reopened to limited capacities, Lowe said, nearly all of them have decided to maintain their online presence because they discovered that it has had unintended benefits.
"Online has certainly been valuable," he said. "For those still unable to come back, it's still a great way to stay connected. I think most churches will keep an online presence just because they know there's potential there to stay connected and quite honestly to reach out to others who may not attend their service but who could still watch online."
Pikeville United Methodist Church Senior Pastor Willard Knipp III said that his church already had experience with broadcasting their services online before the pandemic started. They continued broadcasting online after the restrictions began, and they held meetings virtually with staff and volunteers to limit face-to-face interaction and prevent the spread of the virus.
Pikeville UMC resumed limited in-person gatherings in May 2020, making it one of the earliest churches in the area to do so, and they have continued in-person services throughout most of the past year. Knipp noted that they returned to in-person services while maintaining safety protocols that were given to them by local health officials, like encouraging social distancing, limiting capacity and requiring face masks to be worn, as other churches later did when they reopened.
"We did that with a lot of help and a lot of prayer," Knipp said. "We worked with the health department and medical professionals to develop what we thought was some protocols that would keep us safe."
Knipp said that one of the most challenging parts, though, about having to meet virtually and needing to hold virtual services has been the lack of face-to-face connections, which has taken an emotional toll on the congregation and the clergy.
"Not being able to meet in person has been very difficult for all of us. It's reinforced the need for human contact for all of us, and that includes the pastors," Knipp said. "That was one thing coming out of this that I learned the hard way is not being able to sit together in a room, not being able to hold a hand and pray. It's been hard, not just for the congregations but for the clergy."
Lowe said the clergy's lack of ability to connect in-person with their congregations has been difficult for many local churches, in addition to Pikeville UMC.
"It's been a challenge for church leaders, honestly, because they can't get into the hospital, like they were able to to do for hospital visits and to be with church members who are struggling or are having a surgery," Lowe said. "Obviously, you can do phone calls and that sort of thing, but it doesn't replace that presence of a pastor in those moments."
One of the most pressing challenges for local churches has been the smaller numbers of in-person attendance since the pandemic started, as a result of concerns about gatherings and spreading the virus.
"The big challenge is that some folks still haven't returned to worship services, even though churches were able to reopen back in the summer," Lowe said. "Most churches in our association had less than 50 percent of their pre-COVID attendance, and most churches still are nowhere close to 100 percent. We have a few that are getting closer to 100 percent. I don't know of any church that has a larger attendance now than they did before the pandemic."
However, Lowe said, he believes that the increasing vaccination rates in Pike County are helping to bring people back to the church. Currently, in Pike County, at least 45 percent of the population has received their first dose of a COVID-19 vaccine, and at least 20 percent of the county's population has been fully vaccinated.
"We are seeing folks slowly coming back as they're getting vaccinated as the case numbers go down," Lowe said. "We're starting to see some of the folks in our vulnerable population return, and that's been encouraging."
Lowe said that more local churches are also slowly bringing back their childcare options, like Sunday school and other youth programs, which will help promote in-person attendance for families who have young children. First Baptist Church, for example, is planning to bring back their childcare for their services starting the week after Easter Sunday.
"Most churches haven't been able to provide childcare during the worship services so that has made it more difficult for young families to return, those who have toddlers and preschoolers," Lowe said. "We certainly welcome any-aged child into the worship services, but parents would prefer to not have those challenges with their young children at times so not having childcare has been a challenge."
Throughout the first pandemic year, churches have needed to cancel and alter their plans for significant church events that have typically happened in-person in previous years. One example is Vacation Bible School, which Lowe said he is pretty sure did not happen for any local churches in the summer of 2020 because of the pandemic. Lowe said that he and other church officials are discussing how they would hold VBS this summer, but they would not want to hold it without first bringing back their staple ministries like Sunday school.
"We've been talking about how to do Vacation Bible School safely this summer because we hope that things are going to be much closer to the way they were two summers ago by this summer," Lowe said. "All those special types of events that happen once a year, churches are slowly evaluating which ones to do and which ones not to do. Quite honestly, most churches are still concentrating on the primary ministries of the church and getting those back up and running."
However, as COVID-19 case numbers and positivity rates have continued to decline in Pike County, many local churches are planning to hold in-person services, as well as online services, for the Easter holiday. Lowe said that First Baptist Church is planning to hold three separate in-person services, in addition to online services, on Easter Sunday, including a service at 8 a.m., 9:30 a.m. and 11 a.m., and social distancing and face masks are highly encouraged. Lowe said they decided to add a third service because on Easter Sunday, they are expecting their largest in-person attendance since the start of the pandemic.
Pikeville UMC is also planning in-person and online services throughout Holy Week. They will have in-person and online services for Palm Sunday, Easter Sunday and Maundy Thursday. They will hold an observance at noon on Good Friday that is online only on the "Pikeville United Methodist Church" or "Pikeville Ky UMC" Facebook pages and through the "Pikeville United Methodist Church" YouTube channel.
Knipp emphasized how much it means to him and the church to celebrate in-person for Easter this year.
"Being together in-person is everything," Knipp said. "Christianity was meant to be lived in community, and what we've discovered is that while the technology is very helpful, it does not replace community. Being able to celebrate the resurrection of Christ with our sisters and our brothers, it will take on a whole different feel this year."
Lowe said that churches, businesses, schools restaurants and "life as we know it" have started to return and reopen after more than a year of the COVID-19 pandemic. He emphasized how this theme of new life matches the meaning of the Easter story.
"It's funny that things are starting to open back up, and it feels like we're coming back to life in a lot of ways, to life as we once knew it, which matches the Easter story," Lowe said. "It's such a joyous, joyful experience to celebrate the resurrection that He who was dead is now alive, and it mirrors the experience we're beginning to see with the pandemic. … Then, on top of that, just the season of spring. The trees have been dead for the past few months, but you're starting to see leaves start to bud out on the trees, and people are going to start mowing their grass again soon. All these different things point toward the same theme of new life."
Although the pandemic is not over, Lowe said that he believes churches and congregations are looking forward to celebrating Easter in-person this year after the past year of isolation and economic hardships that the region has endured.
"We know we're not completely finished with it, but there's so much hope yet again. It's been a tough year for everybody — for churches, for schools, for our community in general," Lowe said. "We've all had such a difficult time, and it's been a common experience for all of us. Yet, there's hope that we can move past this and move on, and that mirrors the Easter story in so many ways. There's so many parallels there. I feel like churches are hopeful in this season, that we've weathered the storm. I think our community is the same way."
First Baptist Church is located at 126 Fourth Street. For more information, call, (606) 432-8113, visit the "First Baptist Church of Pikeville" Facebook page, or visit, fbc.pikeville.org. Pikeville United Methodist Church is located at 107 Main Street. For more information, call, (606)437-7315, or visit, www.pikevilleumc.org.