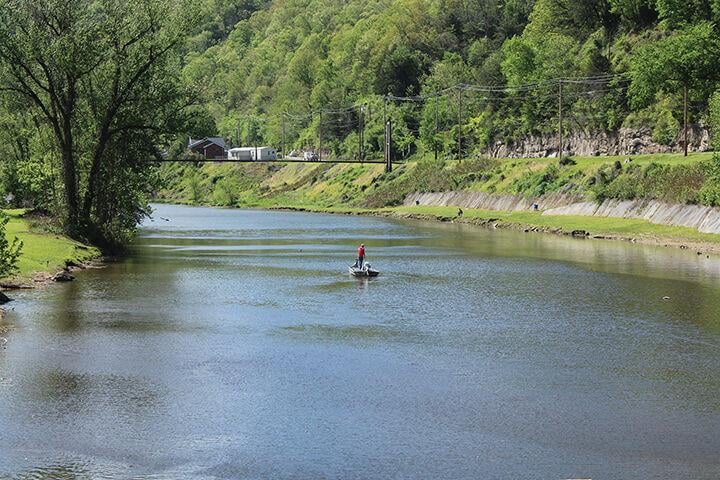 The Pikeville City Commission recently addressed several concerns raised by a local resident regarding the Pikeville City Lake — known by locals as Pikeville City Pond — and its future as a popular fishing spot.
Chad Webb, organizer of Fishing With Kids, an annual popular fishing event that takes place at the Pikeville City Pond, addressed the Pikeville City Commission during a meeting on April 26. He provided several reasons for why he said he feels concerned about the Kentucky Department of Fish and Wildlife Resources proposing to change the pond's long-standing catch-and-release policy.
He explained that there are ongoing issues related to the pond, including low water and oxygen levels and increased sediment deposits, that make him concerned for the fish and the pond's future.
"I've been fishing in the pond for 20-plus years," Webb said. "I've seen it go through its ups and downs, but I've never seen it down like this. That lake is a very special place. Anybody that has ever fished it can tell you that. The reason I'm here coming here to you is to ask you guys to join with me and fight against the state in making this a lake that you can keep fish from."
There are four types of fish that are present at Pikeville City Lake/Pond, including rainbow trout, largemouth bass, channel catfish and flathead catfish. It is the only lake in the state of Kentucky where anglers cannot keep largemouth bass of any size that they catch from the lake. They must immediately release them back into the water.
Regarding the other fish species, statewide regulations apply for whether or not people can keep rainbow trout from the pond, and anyone can keep any catfish species that they catch from the pond as long as the fish is 12 inches or longer.
The Kentucky Department of Fish and Wildlife has proposed to change the pond's catch-and-release policy on largemouth bass and allow anglers to keep one bass each day that they catch from the water as long as it is 20 inches or longer. If the bass is less than 20 inches, it must be released back into the water. This proposed policy has not gone into effect. The average size of bass in the pond is currently more than 15 inches and less than 20 inches, according to Kentucky Department of Fish and Wildlife officials.
Webb said he feels concerned about this proposed policy change by the state due to the current conditions of the pond.
First, Webb said, he is concerned for the fish in the pond because, he claimed, the oxygen levels in the pond have significantly decreased, which can be harmful for the fish. He said that he took a test to discover the oxygen levels in the pond before speaking at the meeting April 26, and his test showed the pond as having four-to-five parts per million oxygen, whereas, he explained, most sport fish require five-to-seven parts per million oxygen in the water.
Because of these lower oxygen levels, he alleged that there has been a large fish kill taking place at the Pikeville City Pond. He claimed that he found 11 dead bass on the day of the meeting when he tested the water. No official reports or complaints have been filed with the City of Pikeville regarding a large-scale fish kill at the pond, according to local city officials.
"I found 11 dead bass; nine of them were over 18 inches," Webb alleged. "That requires 15-18 years to grow them fish."
Pikeville City Manager Philip Elswick said that the lower oxygen levels in the pond are likely due to the city's aerators, which were removed from the pond in order to be serviced and maintained. He said they will be reinstalled in the pond by May 6. Aerators are devices used for aeration, or mixing air with another substance, like soil or water, and they are used to add oxygen to water.
"We always have a hard time maintaining those. This year, we took them all out during the winter," Elswick said, regarding the aerators. "We had all of them serviced and maintained, and those will be reinstalled next Thursday. It's okay to take those out during the winter because there's plenty of dissolved oxygen already for the fish to survive through that time of the year, but it's important to have them there in the spring and the summer, when more dissolved oxygen is needed."
When Elswick provided this information to Webb at the meeting, Webb said he understood that the aerators were currently being serviced and that was likely the reason for the lower oxygen levels in the pond.
Additionally, Webb said he feels concerned about the pond because there are several feet of sediment deposits in the pond, which has caused a significant reduction in the pond's water levels.
During and after the meeting, Elswick acknowledged that the city is aware of the issue of increased sediment deposits in the pond. He explained that the pond — which covers about 21.4 acres — is mainly a flood control structure that was created as part of the Pikeville Cut-Through Project and is meant to hold flood volume.
"It's reducing the flood volume of the pond, not to any level that it endangers at the moment, but it's important that we get that sediment out and reestablish our flood storage volume," Elswick said, referring to the sediment in the pond.
At the meeting, Elswick said that removing the sediment is a multi-million-dollar project, and the project he referenced was a FEMA grant, worth about $2 million. He said that as soon as that grant is awarded to the city, they will be able to address the issue and remove the sediment.
"That will allow us to remove that sediment, haul it away, store it somewhere and recapture the flood storage volume the pond had previously," he said.
While discussing the sediment deposits, Pikeville City Attorney Rusty Davis commented on the deposits, saying that he believes the deposits are coming from Town Mountain Road and are being tossed over the side of the mountain and being washed into the lake by government agencies working on the road, while specifically naming the Kentucky Transportation Cabinet Highway Department Dist. 12.
"A lot of that has to do when they have slip-ups on Town Mountain Road," Davis said. "The highway department just shoves it over the mountain, and it just washes down there. We've asked them about that. If they were a strip miner, they would be in jail."
Mary Westfall-Holbrook, Chief District Engineer at Highway District 12 since 2011, said that she and her management team have no knowledge of any KYTC employees speaking with representatives of the city commission concerning waste material from mudslides and rockfalls along Town Mountain Road.
Westfall-Holbrook noted that there are several potential sources of sediment which feed into the Pikeville City Pond via its three main tributaries: Ferguson Creek (Town Mountain Road), Chloe Creek and Harold's Branch. These include Bill King Hollow, Powderhouse Hollow (site of an un-reclaimed surface mining operation), Mays Branch and Williams Hollow Road.
"We have two approved haul sites close by on US 119, on state right of way, where we place material from slides, rockfalls, and ditching operations," she said in a statement. "In addition, guardrail was installed along KY 1426 on Town Mountain Road in 2015, so neither the highway department nor anyone else could have pushed material over the hillside since that time."
At the city commission meeting, Webb explained that he is concerned about the bass being taken out of the pond because he believes that it will start to ruin what makes the pond a special place for him and the hundreds of children who attend his annual event, "Fishing with Kids." With the current state of the pond, he said, he does not want to allow people to be able to take fish out of the pond.
"I'm not here to point fingers or be mad at anybody," Webb said. "I'm here because I care about the fish in our pond. It's not like a normal place. You can travel a hundred miles in any direction and not find somewhere that we have here in town. It's special — to me, especially. I just want you guys to help me with the state and keep them from letting people take fish out of our pond."
As he explained, it takes many years for a fish to grow to be 18 or 20 inches long, and once the fish are gone from the pond, they will be gone.
"Last year alone, I caught a gentleman taking 50 female bass out of this lake. They were between 18 and 25 inches long," he alleged. "A 25-inch bass is 10 pounds. That's almost 30-year-old fish. This is not a renewable resource. Once they're gone, they're gone. It's very concerning."
Pikeville City Commissioner Allison Powers thanked Webb for bringing these concerns to their attention.
"Chad, I appreciate you coming here and telling us about it because I drive by and run by it all the time and didn't realize that it was necessarily that low and affecting the oxygen levels and the fish and all that," she said.
Pikeville City Commissioner Steve Hartsock, who also served as mayor pro tem during the April 26 meeting, encouraged Webb to return to the commission if he gathered additional information or had any new updates on the situation. He also said that the issues Webb presented at the meeting will need to be addressed.
"It's something that's gonna have to be addressed, and we'll do that," Hartsock said to Webb. "We'll let you know what we find out."
Regarding the proposed policy change by the state, Elswick said after the meeting that the policy has been proposed to city officials for the pond, but they have not approved it yet. He said they plan to conduct their own surveys of the water chemistry before making any further decisions.
"As part of that process, the city most definitely will retain a consultant to study on the pond, to do our own survey of the fishery and the water chemistry, before we make any sort of decision about that request from Kentucky Fish and Wildlife," he said.
Elswick emphasized the importance of maintaining the Pikeville City Pond for locals and tourists alike.
"The pond is a significant asset to the city for a number of reasons — for recreation and also for flood protection," Elswick said. "It's important to us that we do what we can as a city government to maintain the pond for those reasons. That's the reason we're seeking this (FEMA) grant, to eliminate the sediment. It improves the recreation of the pond and the flood protection. We are using our resources to make certain that the pond is an asset for the city and its people for years to come."