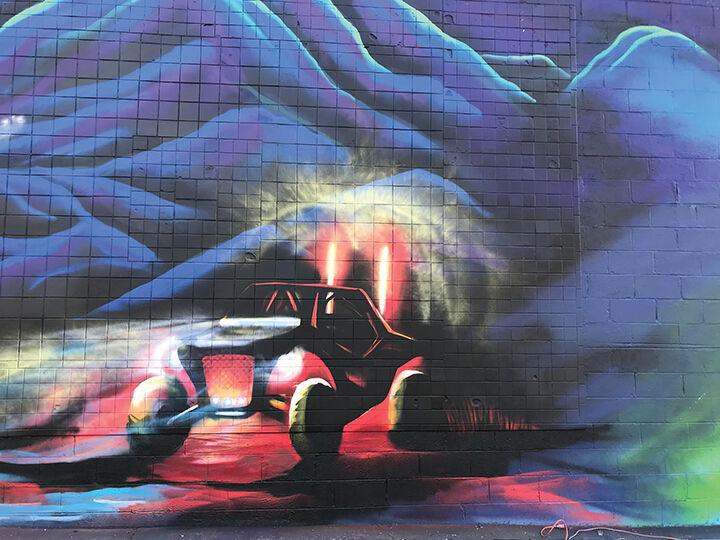 People driving into Elkhorn City will see a change in the landscape.
Elkhorn City native Jordan Justice is painting a mural on the side of the Duckers Barn and Grill building.
"The owner of the building a while back contacted me about doing a mural," Justice said. "Not for the business here but to give back to Elkhorn.
"They wanted something that would advertise all the adventures that you can go on and enjoy with your family in a mural," Justice said.
The mural depicts a 24-hour period from daytime to night and portrays everything you can do in the area.
"You see a family fishing on the Russell Fork and they're camping out," Justice explained. "Then there is a large ATV because that's one of the most adventurous things that everyone does here, they go riding on all these trails."
While Justice doesn't have much formal training, his talent is obvious and he credits his high school art teacher as his inspiration to paint.
"Willa May was my art teacher in high school and I took an introductory art course in college but it was just because it was an elective," Justice chuckled. "After that honestly, I just paint and draw like every day."
Justice got his first big mural painting break in Pikeville.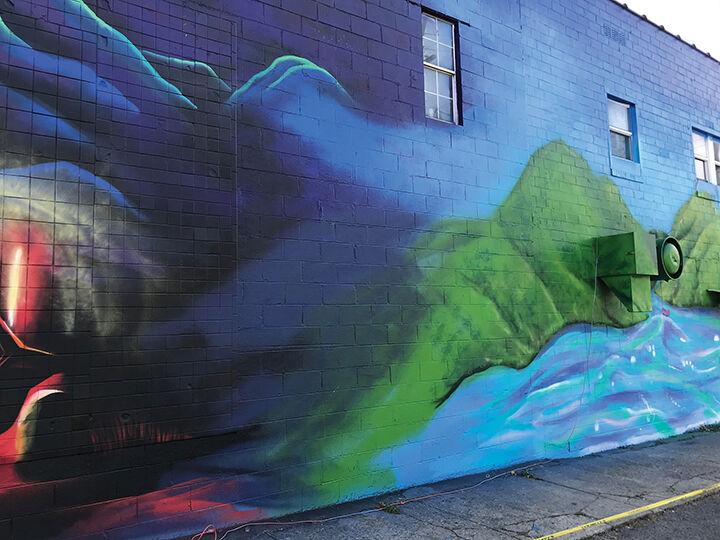 "I got the opportunity to do a mural beside the Dueling Barrels Distillery in Pikeville and that was my very first mural," Justice said.
With the success of this mural in Elkhorn City, Justice said he's approached other businesses.
"I've already contacted two other business owners in Elkhorn City that have two large business fronts that are pretty bare and they would be perfect to advertise some art work," Justice said.
Justice works full-time as an aircraft mechanic in Lexington where he works on military aircraft, so his mural painting is done mainly on the weekends.
The mural isn't without a little controversy though. The mural is being painted over tiles that were placed on the side of the building several years ago as an art project by one of Willa May's art classes. Many of the tiles are broken, cracked and some even missing.
"I went every route possible to try to find out about these tiles," Justice said. "We talked with the people who installed them, we tried to figure out ways to remove them and everything we had done, we tried everything.
"To remove them you would either deface the brick on the building or they would shatter into pieces because they're really on there," Justice said. "So the best way for us to deal with it was to cover it, that way we still have the history because you can still see the drawings on the tile underneath this mural."
Justice and his siblings had tiles on the wall they made in school so Justice called his former high school art teacher.
"Painting over this was a big deal for me so I called Willa May and made sure it was okay with her even though she didn't own the building it was her art class project," Justice said. "She said if anybody was going to do it I want you to do it."
You can find out more about Jordan Justice and his projects by following him on social media at Jordan Justice Art. He's on Facebook, Instagram and YouTube.