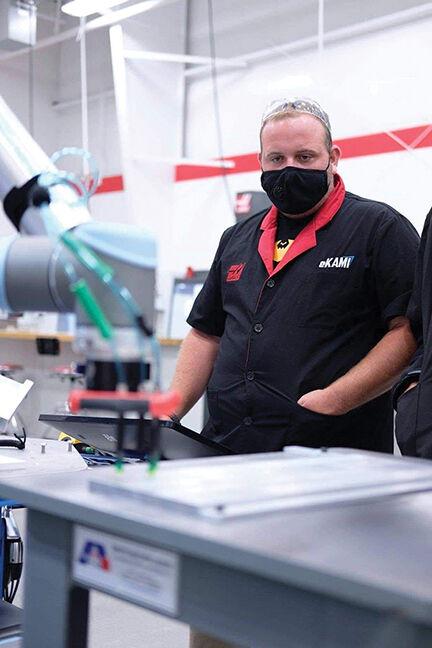 PAINTSVILLE — The new executive director of the East Kentucky Advanced Manufacturing Institute has announced a new way that the institute is preparing the Appalachian workforce for a transformative future — through robotics programming.
New eKAMI Executive Director Barbie Bussey was handpicked by eKAMI Founder and CEO, Kathy Walker, and said that she is passionate about her work for the institute.
"I've been involved up here since the beginning as just a community partner as a volunteer, basically," Bussey said. "After 20 years of being in the legal profession as a paralegal, I accepted the position to come up here and help make a difference for our area and continue the mission of eKAMI."
She continued, "The mission of eKAMI is to reskill the talented workforce that we have here in Appalachia and to draw industry to our area, because we have the workforce that they need. I'm excited. It's definitely something that I'm passionate about."
Bussey said a company called READY Robotics is helping to shape the workforce for which eKAMI is responsible.
"READY Robotics is an industry leading robotic arm developer," she said. "They started from cutting edge research in robotics from Johns Hopkins and they're headquartered out of Columbus. They are the creators of the world's first universal operating system for industrial automation."
Bussey continued, "This is now their third week here training our students as well as our instructors, because we are integrating this into the program. The eKAMI students will now not only receive their CNC certification, they'll also receive their National Institute of Metalworking Skills certification and they'll also receive their Haas certification in addition with their READY Robotics certification."
 "We're sending out people who are at the top of their game. It's amazing. They're integrating it to work with the CNC machines," she said with a smile.
Tim Miller, a student with eKAMI who has accepted a job with Hartland Automation upon graduating, shared Bussey's excitement for the new program.
"Robotics was new to me," said Miller. "It was just amazing that anything a human can do you can program a robot to do. It still requires a human to program it, but it just shows how far technology has come and it's just amazing to have this opportunity here at eKAMI."
Kaylee Maynard, another upcoming graduate of eKAMI from West Liberty, spoke highly of both the new robotics training and the opportunities that eKAMI creates for its students of all backgrounds, ages and genders.
"I started eKAMI this last program and it's been a wonderful career opportunity for me. I absolutely love it and enjoy it. The robots are awesome. I have so much fun with it. Now that we're on our final week of training and we're out here in the lab, the whole program has come together and to see the program finished and how it can work, it's amazing to me that something can do that," she said. "I'm usually not nervous doing things that are typically considered a man's job because that's something I've done all my life, but I was a little nervous to come in to a career that's typically for men. Coming in as the only female in this class, I feel like I've held my own and I've done well. I graduated top of the class. It's for anyone — young or old, for any gender, for anyone to do. I've watched so many people come here from different backgrounds and different ages. I think it's cool that we can bring anyone here and we can all learn the same skill in such a short amount of time."
Maynard will be employed at Hartland Automation in Georgetown after graduating from eKAMI as a mobile robot installer, traveling across the United States to install robots at various manufacturing companies.
READY Robotics Cofounder Kel Guerin, who has been in Eastern Kentucky for the past several weeks training eKAMI students, said the program helps fill a gap between the needs of manufacturers and the available personnel.
"If you look at the robotics space, a lot of it is very fragmented, so there's a lot of different robot brands and every robot brand has it's own programming and language," Guerin said. "So what we do is make a piece of software that enables anyone to program a robot very easily in a very simple, sort of drag and drop system, that runs on all different kinds of robots.
"What that means is that in terms of upscaling, which is a huge thing of interest right now because there's a lot of people entering the job market who want to get into manufacturing, is that there's a huge skills gap," Guerin continued. "Manufacturing can't find enough people with the knowledge to do the work. That's a massive problem. There's also a skills gap in the automation space, so it's kind of a vicious cycle, because there's not enough people who know how to do manufacturing tasks and there's not enough people in automation who know how to program robots to do it instead."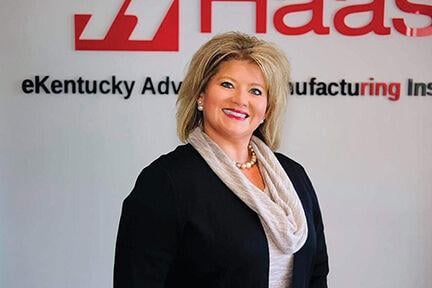 That, Geurin said, makes Eastern Kentucky an opportunity for the company.
"We have the amazing raw talent that exists in East Kentucky, because people have been working in really intense industries like mining, they know how to problem solve and are really creative," Geurin said. "They know how to dig in and fix things. They come to a place like eKAMI where they're now trained with really hardcore CNC skills so that they're able to do the manufacturing work, and then we come in on top of that. Because our software is so easy to use, we give them an additional skillset for manufacturing with robots as well. So now not only are they programming these manufacturing components, but they're programming the robot to do the work to manufacture those components. The fact that they're doing both is really what's transforming. They're able to use their CNC skillset that they've learned from eKAMI with our easy to use software, so we're kind of able to instantly, comparatively turn them into a robotics engineer, and now you see the result. They're standing here with little assistance from me and program the robot to build the part that they make."