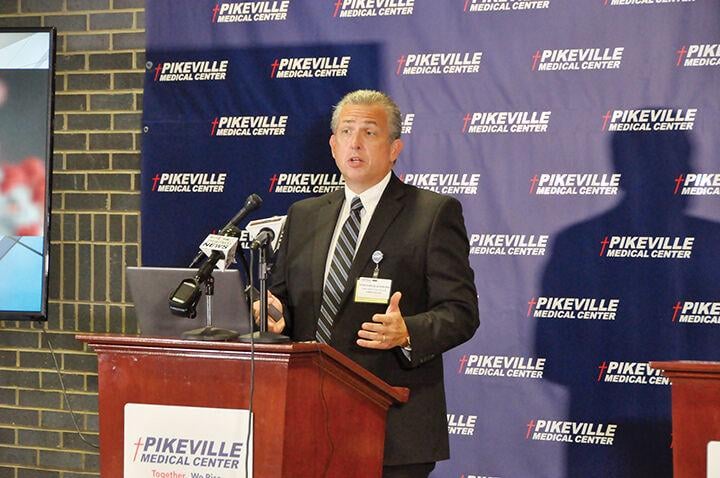 PMC CEO Donovan Blackburn warned the public about the ongoing spike in COVID-19 hospitalizations, addressed misconceptions about testing and urged the public to "put politics aside and focus on the facts" regarding the virus and how to combat it.
During a Nov. 10 press conference, Blackburn provided the latest information on COVID-19 cases in the county, region and state. Blackburn addressed the public, saying that he wanted to provide statistics on the recent spikes of COVID-19 cases and hospitalizations that PMC has seen in order to help the public "wake up" to the reality of this virus.
"There are some statistics we want to share with you to hopefully wake up the public. This isn't about politics. It's about the data. It's about what we're being faced with now every single day," Blackburn said. "What I would urge the public is to please take note of what we're going to cover today because it's not about opinions. It really is about the facts. The facts are that COVID is here, it's not going away for some time and we have to do everything we possibly can as a caring community to combat it and to protect our neighbor."
Blackburn presents facts on Pike's hospitalizations and deaths
Pike County is one of at least 68 counties in Kentucky that are considered in the critical red level on Kentucky's Incident Rate Map, which is used to determine the spread of COVID-19 in each county averaged out to cases per 100,000 population based on the previous seven days. Red counties have more than 25 average daily cases per 100,000 people.
On Oct. 25, Pike County had 25.4 cases per 100,000 people, and on Nov. 10, the county's number increased significantly to 53.3 cases per 100,000 people. This demonstrates how the county has seen a drastic increase in the spread of COVID-19 within about three weeks. Several Eastern Kentucky counties are also among the 68 red counties, including Magoffin (63.4 cases per 100,000), Floyd (62.2 cases), Johnson (43.1 cases), Martin (42.1 cases) and Knott (45.3 cases), as of Nov. 10.
"This is very alarming because as you look throughout the rest of not only the region but throughout the state, you kind of see what we're facing in comparison to other counties throughout the region," Blackburn said, referring to how Eastern Kentucky counties compare to other red counties.
As of Nov. 12, the county's total number of cases was 1,333, with 432 of those being active cases, and 877 people were considered recovered. 14 people had died from the virus so far, which was an increase of nine deaths since Nov. 2.
As of Nov. 9, there were 54 patients currently being hospitalized for COVID-19 at PMC, but that number grew to 67 patients by presstime Nov. 12. Of the 54 patients reported on Nov. 9, 37 were non-ICU and 17 were ICU patients, with 12 of the 17 ICU patients being on ventilators.
By presstime Nov. 12, there were 15 patients reportedly on ventilators.
Blackburn addresses testing misconceptions
Blackburn explained that increased testing is not the reason for an increased number of positive tests. He said that this is a common misconception that many people have shared on social media and around the community, and it is "not necessarily true."
Since April 1, Pikeville Medical Center has seen the number of positive COVID-19 tests grow exponentially from 169 by Aug. 1, to 374 by Oct. 1, 654 by Nov. 1, 795 by Nov. 9 and 849 by Nov. 12, which was an increase of 195 new positive tests in twelve days.
Blackburn showed a graph of PMC's daily test rate and compared it to a graph that showed the number of PMC's daily hospitalized COVID-19 patients. The graph of PMC's daily test rate showed a relatively even number of tests being administered over the period of five or six months, with periodic brief spikes throughout the pandemic as more testing is administered. However, the spikes did not correlate with an increase in COVID-19 hospitalizations.
Over the past five or six months, Blackburn explained, PMC has only increased its testing by minuscule amounts of 30-40 new tests out of 300-400. He said that those increases have only taken place during weekends, while testing has remained relatively the same amount throughout the rest of the week. While testing has remained largely the same, he noted, the COVID-19 hospitalizations at PMC have increased exponentially, which shows that increased testing is not the reason for an increase in positive cases and the increase in hospitalizations.
"If you want to look at the trend, we're only increasing 30 or 40 per weekend, but pretty much the rest of the work week has stayed the same for the past five or six months," Blackburn said, referring to the slight spikes in the testing rate graph. "It's not just about testing more, though testing more is important, and part of testing more, also, in some of the spikes is that we have worked with our school systems, the university and others to be able to test students so that they can go back to school. We've seen spikes because we have been working with those entities and try to provide them with services so they can be as safe as possible."
Virus spreads, causes more harm to older, sicker of the community
Blackburn warned that someone from an "at-risk" population may contract the virus from someone who is asymptomatic, or someone who is infected with COVID-19 but does not exhibit symptoms of the virus during the course of infection. After contracting the virus from the asymptomatic person, the at-risk person may become more severely ill from the virus as a result.
According to the U.S. Centers for Disease Control and Prevention, anyone of any age can contract the virus. However, older adults and people who are immunocompromised or who have severe underlying medical conditions — including cancer, heart disease, lung disease, diabetes, COPD, obesity, asthma, hypertension or high blood pressure, sickle cell disease, chronic kidney disease and liver disease — have a higher risk of developing more serious complications from COVID-19.
Blackburn said that he is worried because Eastern Kentucky is a region where many more people are considered "at-risk" if they contract the virus than in other parts of the state and country.
"My concern, more specifically, is as you look at the Eastern part of the state, we have more health concerns, we have a lot more at-risk patients, and because of that we're seeing higher ICU rates, longer lengths of stays and, certainly now, more and more patients in critical condition," Blackburn said. "In our part of the country, particularly if you look at Eastern Kentucky, we have some of the highest rates — if not the highest rates — in heart disease, pulmonary disease (and) cancer disease, so it is the at-risk people that we are trying to protect. A lot of people who are hospitalized are in their 50s, 60s and 70s."
Across the state and county, more cases have been reported in people ages 0-19, 20s, 30s, 40s and 50s. In Pike County, 1,008 (or 75.6 percent) of its 1,333 total cases were reported within these age demographics, as of Nov. 12.
However, as Blackburn explained, the majority of statewide COVID-19 deaths have been reported in people who are in their 40s, 50s, 60s, 70s, 80s and older. He said that asymptomatic individuals are the ones who spread the virus to at-risk people more often, and they typically spread the virus through large gatherings, like birthday parties, dinners, funerals, church gatherings and other social gatherings. This increases the likelihood that an at-risk person could contract the virus and develop serious complications from it.
"Why is this important? It's because we're seeing more and more people who are asymptomatic without masks, not social distancing. When we go back and do contact tracing and when we get the story, in a lot of occasions, this is what's happening: People who are asymptomatic are part of the spread," Blackburn said. "Community spread is when someone becomes infected with the virus without knowing who they were in contact with and how that occurs is just what I was talking about. The majority of our cases from a community spread event is from somebody who is asymptomatic, and they infected others who may become symptomatic. A lot of the folks who are symptomatic that we see in the hospital are from large gatherings."
Blackburn warns of hospital challenges due to more COVID-19 hospitalizations
Blackburn warned that increased COVID-19 cases and hospitalizations will cause additional challenges for PMC, including a lack of available ICU beds, lack of available space for transfer patients and lack of available staffing. He said that the potential strain of the healthcare system could cause the current staff at PMC to work longer hours and for longer periods of time, due to the demand in new patients, and it could put the staff at more risk of also contracting the virus.
"We're not testing more, we're testing about equal, we're seeing our positive rates go up and we're seeing our hospitalizations go up substantially, and it's putting a lot of pressure on organizations like us," Blackburn said.
Regarding ICU beds, he presented recent statistics from the Kentucky Hospital Association, which demonstrate the growing strain that increased COVID-19 hospitalizations are having on healthcare providers like PMC across the state.
As of Nov. 3, according to KHA, there were 1,678 total ICU beds in the state. Of those total ICU beds, 1,421 were currently in use, and 259 of the beds currently in use, or 18 percent, were being used by COVID-19 patients. Statewide, according to KHA, there were 257 total ICU beds available for use.
"If you do the math — and it's not hard to do — and you look at the trend, what you'll see is that there's going to be more and more demand placed upon more hospitals throughout the state, and that can have some very scary results," he said. "If something doesn't change, we're in the first part of November where it's 80 degrees out today. When more and more people go inside and more spread occurs, we're putting more and more of our population at risk."
Blackburn said that it is not as easy as some people think to open more ICU beds whenever PMC needs more of them. He said that it is a lengthy process to build an ICU unit, to receive accreditation and licensing for that ICU and to staff the ICU with the necessary number of qualified nurses and physicians. He added that it is difficult to hire enough qualified nurses and physicians to operate ICU rooms because there is a heightened national demand for nurses and physicians with that skill level.
"It doesn't work that way. An ICU room is designed in a certain fashion to be an ICU. We also have to go through a process to be able to be accredited and actually licensed to be able to have an ICU," Blackburn said. "It also takes a skilled staff. Our nursing staff have different skill levels and different specialties just like a physician. The ability to have staff and to be able to staff up just doesn't exist to go from x-amount to x-amount. We're seeing this huge demand for nursing staff throughout the country, not just nursing staff but providers as well, because you also have to have a physician in order to house more patients."
Regarding ICU beds, Blackburn said that PMC must also designate a certain number of ICU beds to patients with trauma, emergencies and surgeries, among other services, and they must also keep beds open for transfer patients.
"Without ICU beds, it limits the ability to be able to accept patients. It's not just about the COVID patients, which we want to take care of," Blackburn said. "As a regional provider, we get a lot of transfers from other hospitals and other service providers throughout the region. If we're full, then we have to defer those to other facilities. Someone who may live one county away may end up having to go five or six counties or even a state away to be able to get the help that they need if we don't take this seriously."
Public urged to "pay attention," take precautions, get flu shot
Blackburn first urged the public to wear a mask when around others, which is a recommendation that national, state and local medical experts have agreed is one of the main ways to prevent against the spread of the virus.
"I want to very sternly say this: We are past the election. This is not a political issue," Blackburn said. "This is one concern of a leading healthcare provider within the Eastern part of the region. This is a concern to us, and we need to take it seriously. What is our line of defense? Masks. It's not hard to understand; it's a mask."
According to the CDC, masks are recommended to be worn over the nose and mouth and secured under the chin, in order to fit snugly against the sides of the face while allowing the individual to breathe easily.
According to PMC, when two individuals are talking to each other, the chance of transmitting the virus becomes "very high" when neither of the individuals are social distancing — remaining at least six feet apart — nor wearing a mask. However, the chance of transmission decreases significantly to "very low" if individuals social distance, or remain at least six feet apart, and wear a mask. There is virtually no chance of transmission if both individuals remain at home and do not engage in-person.
Blackburn emphasized how the community must do its part to reduce the spread of the virus by wearing a mask when around others, practicing social distancing and doing frequent hand-washing.
During the upcoming holiday season, Blackburn said that that will be an important time for Pike Countians to protect one another. He encouraged Pike County families to adjust their holiday plans in order to protect one another. He urged the community to not become complacent and to not "let their guards down" when it comes to COVID-19.
"My fear is that as we go into the holiday season with folks that are only asymptomatic or symptomatic is that we become a little bit complacent. I've been there as well; we all have been. We let our guard down," Blackburn said. "With family members coming over, Thanksgiving is going to look different for us this year because I hav to protect my grand-baby, I've got to protect my mother-in-law and those others in the family who are at-risk, as well as every person out there who has the same responsibility."
Blackburn also urged the public to get a flu shot in order to help protect one another from the flu. A person can contract influenza and COVID-19 at the same time. According to the CDC, though they are both contagious respiratory illnesses, influenza and COVID-19 are caused by different viruses. COVID-19 seems to spread more quickly than the flu, it causes more serious illness in certain populations of people, it can take longer for people to show symptoms and it causes people to be contagious for a longer period of time. While there is a vaccine to protect against the flu, there is currently no vaccine to protect against COVID-19.
PMC's drive-through clinic is open from 8 a.m. to 4 p.m. Monday through Friday, located beside the Family Practice Clinic, for available flu shots and COVID-19 testing. The drive-through clinic accepts patients who are 18 years or older. Appointments are not necessary. Insurance is accepted without a co-pay, and people without health insurance will need to pay a $30 co-pay.
Blackburn urged the people of Pike County and Eastern Kentucky to "take this virus seriously" in order to help protect those who may be more vulnerable in the community, as well as to prevent the overburdening of the hospitals and the healthcare system.
"We certainly have to do our part as a community. Why should we be doing this? It's because of the elderly, those with underlying conditions," Blackburn said. "We also need to think about the risk to our community hospitals and healthcare workers because if we keep diminishing our ability to serve the public by allowing our healthcare workers to become infected, then it reduces the number of healthcare workers that are able to take care of the community.
"We need to pay attention to the experts, to the trends, to the facts and to the stats. What I've tried to do today is not to scare you but to show you what the facts are. Today, we have (67) patients that will attest to you that this is real and this is scary."
Symptoms and Testing
Symptoms for COVID-19 include fever or chills, cough, shortness of breath or difficulty breathing, fatigue, muscle or body aches, headache, new loss of taste or smell, sore throat, congestion or runny nose, nausea or vomiting or diarrhea.
According to the state's official COVID-19 website, testing in Pike County can be found at:
• Shelby Valley Clinic (178 Douglas Parkway, Pikeville)
• Pikeville Community Health Center (50 Weddington Branch Road, Pikeville)
• Pikeville Medical Center (231 Hibbard Street, Pikeville)
• East Kentucky After Hours Clinic (255 Church Street, Suite 102B, Pikeville)
• Ramey Family Practice (10363 Regina Belcher Hwy, Elkhorn City)
• HomePlace Clinic (118 River Drive, Pikeville)
• HomePlace Clinic (26229 U.S. Hwy 119 North, Belfry)
• First Care Clinic (115 Lee Avenue, Suite 1, Pikeville)
Contact each location for specific hours and appointment scheduling.
According to the U.S. Centers for Disease Control and Prevention, people with COVID-19 have had a wide range of the reported symptoms, ranging from mild symptoms to severe illness. Symptoms may appear 2-14 days after exposure to the virus. Although older adults and people who have severe underlying medical conditions, like heart or lung disease or diabetes, seem to be at a higher risk for developing more serious complications from COVID-19, anyone at any age can contract the virus.
According to the CDC, the primary ways to protect against contracting or spreading the virus is to do frequent hand washing, maintain social distancing (keeping six feet apart from others) and wearing a face mask or facial covering when around others.