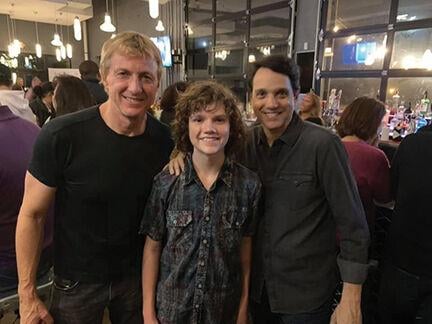 A former Johns Creek Elementary student has made his mark in the newest season of one of Netflix's biggest original shows.
Shawn Weston Thacker, 14, of Pikeville, was cast as a dojo student in the third season of Netflix's original series "Cobra Kai," which aired on Jan. 1. He will continue that role in the fourth season of the show, which is scheduled to start filming in Atlanta, Georgia, later this month.
"Cobra Kai" is a critically-acclaimed, Emmy Award-nominated show that takes place following the events of "The Karate Kid" film series. Throughout the show's third season, Shawn is one of the dojo students and acts alongside Ralph Macchio, William (Billy) Zabka and Martin Kove, who play the characters "Daniel LaRusso," "Johnny Lawrence" and "John Kreese."
Shawn said he had never seen "The Karate Kid" film series before he started filming the show, and he met the show's stars Ralph Macchio and Martin Kove on the first day on set.
"The first day on set, I really didn't know who Martin Kove was or any of the main actors, and I don't think Billy Zabka was there on the first day," Shawn said. "I had never seen Karate Kid so I had no idea who they were. I went home the first day, I researched everything and I knew who they were so when I saw Billy, I knew who he was and I was starstruck and stuff."
Shawn has acted and performed since he was 8 years old, and he has expanded his repertoire since then to become a trained martial artist, dancer, gymnast, pianist and singer. He is represented by Heyman Talent of Louisville.
One of his first acting jobs was an onstage entertainer at Dollywood Theme Park in Pigeon Forge, Tennessee, for two Christmas seasons. He also performed in musicals at Paramount Arts Center and in the Kentucky Opry Jr. Pros at the Mountain Arts Center.
"There was a talent showcase I had seen and I went to audition," Shawn said. "I had gotten the chance to perform in front of talent agents, and they selected me. I just love the joy of entertaining and the reactions people would give the performance of us on TV shows and movies."
In addition, he has also worked on several film and television acting projects like The CW's "Stargirl," "Council of Dads," "The Outsider" and "Annabelle Comes Home (2019)."
Although Shawn was initially a newcomer to the "The Karate Kid" set in the third season, he said he has had a positive experience with the other actors while acting on set, particularly the other dojo students.
"The first day on set, I was in the Cobra Kai dojo, and most of them are already in seasons one and two so they already knew what it was going to be like," Shawn said. "We all connected very easily. They're all super nice, amazing to work with and very professional."
Shawn said he plans to continue acting in the future, as well as directing, which he has taken an interest in during his time on the set of his projects.
"I love acting and directing both," Shawn said. "I don't know why, but I just fell in love with both. I just love the whole process of putting everything all together and their reactions."
Shawn's parents, Shawn and Shawna Thacker, have supported him and homeschooled him throughout his acting career, which is currently located in Atlanta, Georgia. As there can only be one parent on set with their child each day, the two parents trade off in staying with Shawn while he works on set.
"It's been a lot of fun," Shawna said. "It's a lot of work for us, too, but it's worth it because it's so exciting for us, too, to see him being so happy and getting to do what he loves to do. It's a lot of traveling and a lot of time, but it's worth it."
Shawn currently has more than 5,715 followers on Instagram, and he has gained more followers on other social media platforms, including Twitter and Facebook. As her son becomes more well-known, Shawna said, security has become another challenge for her.
"Now that he's starting to be more recognized, we're starting to get messages saying, 'I want your autograph,' 'I want to meet you' and things like that," Shawna said. "It kind of gets exciting but a little bit scary at the same time."
Despite those challenges, she said she is excited to see her son happy and to see the work that he creates. When the third season of "Cobra Kai" aired, she said she and her husband stayed up until 3 a.m. in order to watch the show right when it aired, which was midnight PST and 3 a.m. EST.
"It's really indescribable. I know when we were watching 'Cobra Kai' season three, we were so shocked. We knew all the stuff that he had done, but we were still shocked to actually see it on TV. We stayed up all night to watch it and we binged the whole season," Shawna said. "When it came to the finale and he was in the finale and there was a big moment for the whole 'Karate Kid' saga, it was an epic moment, and we were so excited we cried. He's always going to be in that scene. No matter what he does, from here on in, he's always going to be a part of that."
To learn more about Shawn Weston Thacker, visit and follow his Instagram (@shawnthacker1), Twitter (@thacker_shawn) and Facebook page (Shawn Weston Thacker, @shawnwthacker). More information can also be found at the "Shawn Weston Thacker" IMDb page.