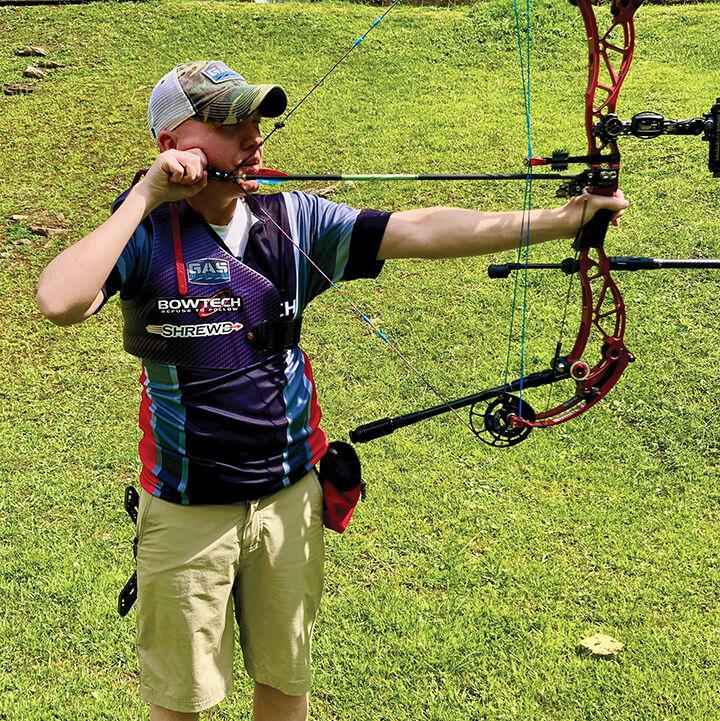 Drop by Robinette's Gun & Archery at Zebulon these days and you'll find Travis Quinley behind the archery counter eagerly waiting to give you expert advice on all things bow and arrow.
As a pro staff archery tech and competitive shooter, not only can Travis steer both the beginner and advanced shooter towards the best bow purchase he can also expertly demonstrate and teach how to best use it when competing or even while simply out in the woods hunting.
All his expertise notwithstanding, however, it might be surprising to learn his advanced knowledge on bow selection and/or teaching others the finer points of an archery competition came about relatively recently.
That's because between 2011 and 2016, the 37-year-old was teaching high school business at Hurley High School near his home in Paw Paw, Virginia.
Sometime, and he's not quite sure of an exact point during his time as a teacher and assistant football coach, he developed an interest in and passion for archery that ultimately led to his current livelihood.
"I guess if I were pressed for an answer, I'd have to say this all came about in 2013 when I began helping out Hoyt Archery as a pro-staffer," he said. "That job gave me a lot of exposure because it had me going around to stores in Kentucky, Virginia, and Tennessee, doing a lot of archery tech work and sales."
With his interest and passion increasing exponentially with each passing day, six years later, Travis explained, he began using his knowledge of bows by shooting in both local and national competitions for Bow Tech Archery. This, he added, eventually led to a position with that company at Robinette's.
"I got familiar with Robinette's when I was with Hoyt," he said. "As far as pro shops go, Robinette's was the closest to my home and (owners) Mark and Flora were always accommodating and knew I would be able to help them with setting up bows for customers as well as with sales."
Although his love for the sport became such a dominant factor in his life that it ultimately resulted in him giving up a teaching career to instead pursue one in archery, there was one particular obstacle Travis had to overcome before any of it could become practicable for him.
That obstacle was cerebral palsy, which is a condition he has had since birth and one that to this day still adversely limits the physical usage of his right arm and leg.
"It really limits the use of my fingers and hand, which meant if I was going to be able to seriously compete or even shoot in general I had to have some modified equipment," he said.
This equipment, which was designed by a prosthetics physician, consists of a shoulder brace with an archery index finger release.
"Through a great deal of trial and error, my dad and I finally perfected the finger release," he said. "But it works great. In fact, I've had a lot of people contact me about it wanting to know how they can get one for themselves.
"I've never used my disability as a crutch in anything I've ever done. I'm just a guy that loves archery. A quote from a pro I love to use and one I've tried to apply to my life is, 'Those that try nothing learn nothing.'"
While Travis admits he's anything but a professional archer, his love for the sport has enabled him to get good enough to compete in nationally sanctioned Archery Shooters Association competitions seven to eight times a year in different states throughout the south.
"I am so thankful for my sponsors because without them I wouldn't be able to compete, mainly because of the expense involved," he said. "I owe a great deal to Bow Tech Archery for giving me the opportunity to shoot for them, as well as Gas BowStrings and Shrewd Archery for the same opportunity."
As to what advice he would give to both beginner and experienced bow shooters alike on what type of bow they should be using, Travis unhesitatingly said Bow Tech.
"All of today's bows are so advanced and most of them are really good bows," he said. "But if asked that specific question by a customer I would say Bow Tech because they're just a little more ahead of everyone else. Whether you're a beginner or a pro, they will make all the difference."