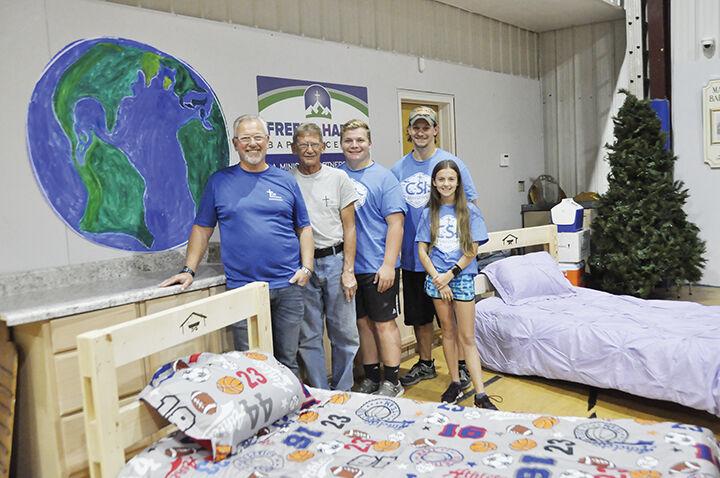 The Freeda Harris Baptist Center has started a new ministry in order to build and donate beds to children in need.
The center's new ministry — the Away in a Manger (AIM) Initiative — focuses on building and donating beds to children in need by partnering with local churches and children agencies, like Child Protective Services, foster care agencies and adoption agencies.
Richard Greene, who leads the center with his wife Amy Greene, said that they started the new ministry after praying about how they could positively impact the lives of local children. When they realized that there were many children who did not have beds, they began partnering with churches and agencies in order to address those needs.
"We want to work with the local churches as closely as we can because the pastors, the youth leaders and those who work with the kids know their needs more intimately than we do," he said. "As a ministry, Freeda Harris Baptist Center's philosophy today is that we are not independent of the local church, but that we want to partner with the local church. We want to be a support and resource to them in our community in order to help them better do what they're doing."
Richard and Amy plan to work with Child Protective Services, foster care agencies and adoption agencies as they continue their ministry. If the agencies know of children who need beds, they can refer that child's family to the center or request a specific donation to help a child in need.
The beds are twin-sized, lightweight — yet sturdy — and are built on-site. The child who needs a bed will receive one that comes with a new mattress and a new complete bed set. Richard said that the center has coordinated with several community partners in order to gather supplies and financing for the ministry, including Lowe's, M&M Family Furniture, Pike Association of Southern Baptists, CSI Ministries of North America, several local churches and organizations, along with other donors.
Regarding the construction of the beds, Richard said, a few members of the Elkhorn City Baptist Church built a prototype, and the center has built four beds so far. Two of them were constructed this week by volunteers and members of CSI Ministries of North America in order to be donated to a local church.
Kip Worrel, team director of CSI Ministries, visited the Freeda Harris Baptist Center with a small mission team from his organization in order to meet with Richard and Amy at the center and help build the two beds, among other things.
While there, they built the beds as part of short-term missions that their small team has done across the United States since the start of the COVID-19 pandemic. He added that he has worked with Richard and known him since 2016.
"It's been a great partnership since then," he said, referring to his partnership with Richard and the Freeda Harris Baptist Center. "Any time you can come down and serve, it's a good thing. I serve all over the world, and with COVID, it's changed our mindset of how we're going to do missions. We do missions more locally now than we did overseas. We decided that we would put together teams and do short-term missions in the States."
As more beds are built, Richard said that he hopes to give churches and other organizations the opportunity to volunteer at the center and help in constructing them.
"We couldn't build it ourselves," Richard said. "It really takes a team of people. We'll also be hosting 'Build Days' occasionally where a church youth group or even a senior class can come in on a Saturday, and we'll have everything set up for them."
Although the center is currently not taking individual requests for beds for this particular ministry, any churches or agencies with a referral for a child in need of a bed can contact the center and coordinate with them. Richard said that they are not currently taking individual requests because they are still getting started with the ministry.
"Doing referrals-only is going to help us a little bit because it helps us know what areas we're reaching so we can track that a little better," he said. "Individuals that need help, we will help them. It just won't be the same type of ministry."
For Richard, he said that they want to use this ministry to share Bible stories to children in need, particularly the stories about Jesus being born in a manger. Jesus, he said, can relate to not having a bed.
"When we take that bed to a child, or a church or someone who represents ministry takes that bed to that child, we want to share with them the same Bible stories that we've grown up knowing that shares about the Savior having no room in the inn," Richard said. "Jesus can relate to every child that doesn't have a bed because that's where he came from."
If any churches or organizations would like to send referrals about children in need of beds or would like to request more information about volunteering or donating, contact the Freeda Harris Baptist Center by calling, (606)754-7414. People can also send messages to the "Freeda Harris Baptist Center" Facebook page, or they can visit the center, which is located at 6846 Marrowbone Creek Road, Elkhorn City, KY 41522.