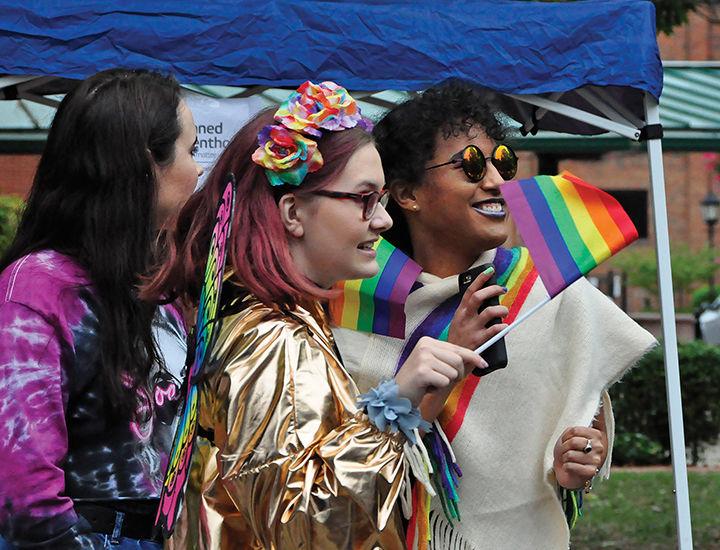 Although facing chilly temperatures and rain, more than 500 people across Eastern Kentucky traveled to Pikeville City Park on Saturday to take part in the second Pikeville Pride festival, an event aiming to promote love and acceptance of the LGBTQ+ community.
The event featured activities in the park like a dog parade called the "Puppy Pride Parade," drag show, face painting, "Free Mom Hugs" and a free osteopathic manipulative treatment clinic operated by volunteers from the Kentucky College of Osteopathic Medicine.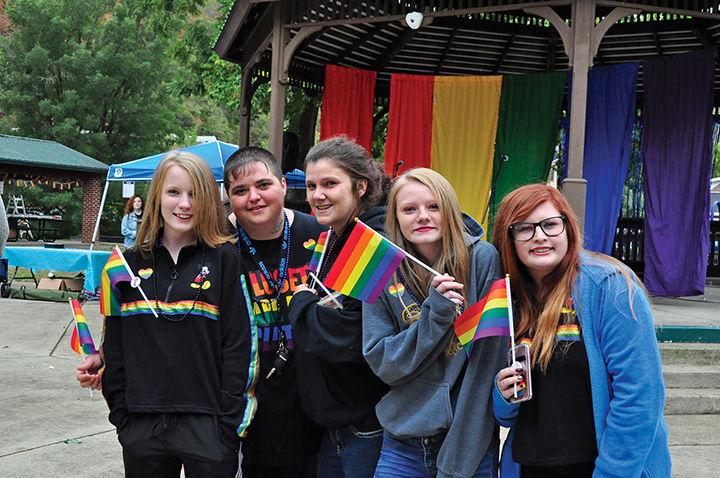 Gina Bryant, event organizer, called Saturday's event "a huge success." This was the second year for the Pride festival in Pikeville, the first taking place last year and also bringing hundreds of attendees.
"I think we've proven that Pikeville is the place for 'Pride,'" Bryant said. "It proves that there is a thriving LGBTQ+ community here in Eastern Kentucky and that there's more support for us here than most people think. We're inspiring others to be the change they want to see in their own schools and communities. The sense of community and the outpouring of love and acceptance throughout the day was just overwhelming. We can't wait to do it again next year."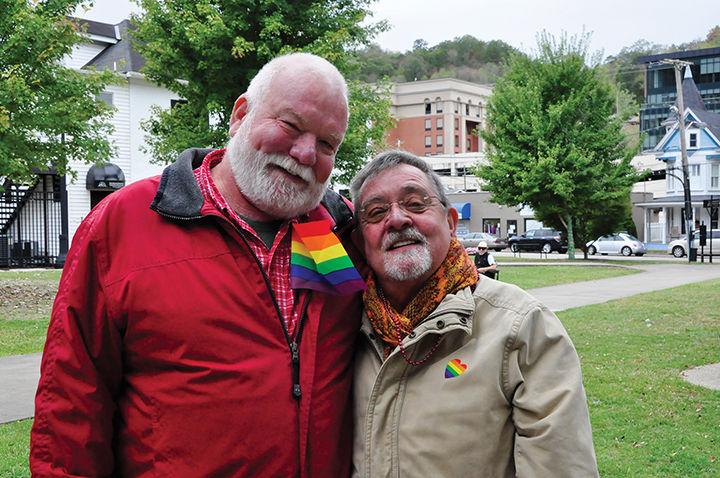 Bryant said the event was important because it showed people from the LGBTQ+ community in Eastern Kentucky that they are not alone and that they have support. There were at least seven booths at the festival, where organizations offered resources to those in attendance. Some of the organizations included AppalReD Legal Aid, Mountain Comprehensive Care Center's Serenity House, the Big Sandy Safe Zone, Kentucky's Fairness Campaign, Kentuckians for the Commonwealth, Appalachia Story Summit and Planned Parenthood, among others.
"This is so important because we're showing people that they're not alone, that they can be accepted for who they are in their community and that they don't have to move away to feel like they belong," Bryant said.
Those in attendance enjoyed live music from Eastern Kentucky musicians, including Melody Youngblood, Venus Octavian, Tiffany Caudill and Larah Helayne, and a drag show hosted by Rachel Sparks and featuring performances by Luci Jude Deville, RJ Woods, Amiyah Rose, Anna Tomical, Ginger Von Snap and Mx Merlot.
Among the hundreds of people who attended the festival, one of them was Emmett Tackett, of Paintsville, who traveled to the festival from her hometown with several friends. While waving LGBTQ+ Pride flags, she and her friends said they identify as LGBTQ+, and they came to Pikeville's Pride festival to be themselves, which, they said, is difficult for them in their hometown. Festival attendees came from Paintsville, Martin County, Magoffin County and Hazard, in addition to Pikeville.
"It's just a great place and come, meet up with everybody and have fun," Tackett said, referring to the festival. "I feel very welcomed."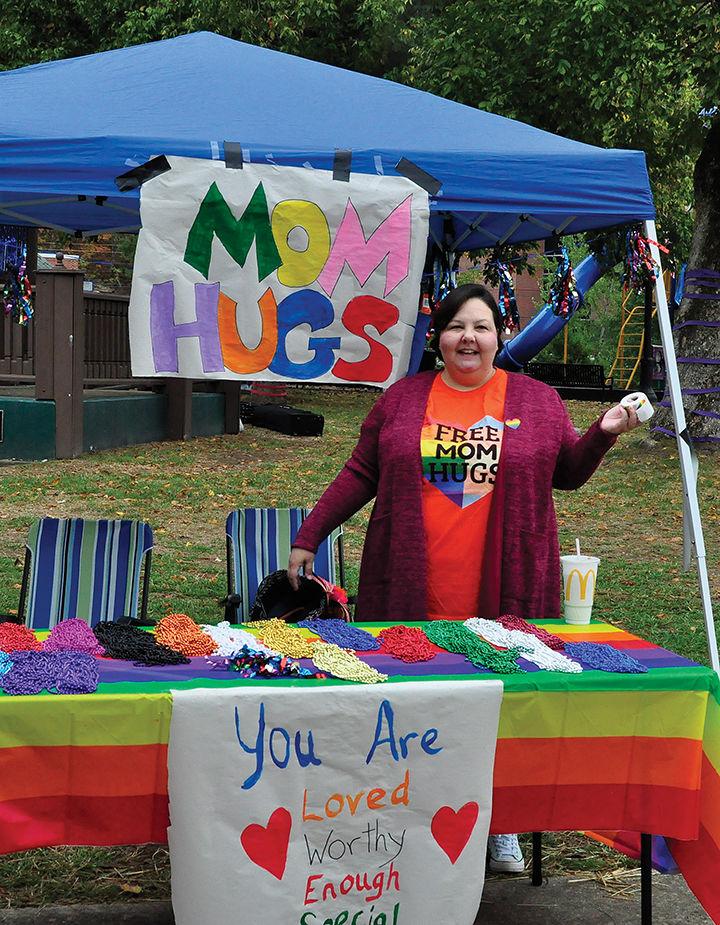 Louann Muncie, of Paintsville, traveled to Pikeville with Tackett and identifies in the LGBTQ+ community. For Muncie, she said, the Pride festival is more than just an event to have fun.
"It's going somewhere where I know that no one is going to judge me for who I like," Muncie said.
At one of the festival tables, mothers gave out hugs, free bead necklaces and rainbow heart stickers to those in attendance. Tonya Jones, who helped organize the event, said that "Free Mom Hugs" helps provide hugs and comfort to LGBTQ+ people who may be rejected by their own family after "coming out." Jones also helps with the Big Sandy LGBT+ Safe Zone, which aims to build community in the five-county area of Floyd, Johnson, Magoffin, Martin and Pike counties.
LGBTQ+ youth represent about 40 percent of the homeless youth population in the country, and of that population, around 60 percent are likely to attempt suicide, according to the Trevor Project, a national organization providing crisis intervention resources to LGBTQ+ youth.
"We just let them know they're accepted, and if they don't have that family, we can be that for them," Jones said.
For Nathan Bowling, 73, and Patrick Fitzgerald, 69, a gay retired couple living in Eastern Kentucky, they heard about the event from Bowling's sister and from Facebook. They said they were eager to come and participate.
"We don't hardly know any gay people around here," Fitzgerald said, wearing a rainbow flag tucked into the collar of his red jacket.
"This can give us a chance to meet other people," Bowling said.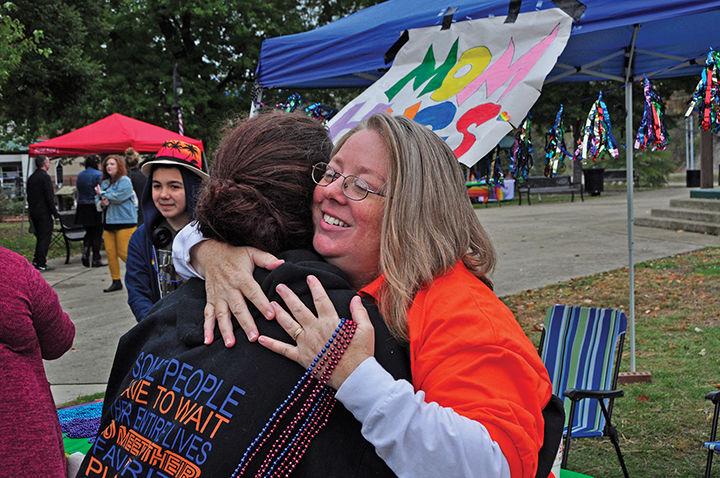 Bowling is from Eastern Kentucky, but he and Fitzgerald lived in San Francisco for more than 40 years, supporting the movement for LGBTQ+ rights, before retiring and moving back to Eastern Kentucky. The two said that they have had to "fight" for their rights as a gay couple because of discrimination that they and the LGBTQ+ community face in the country.
In Kentucky, 14 cities have passed a "Fairness Ordinance," which prohibits LGBTQ discrimination in employment, housing and public accommodations. Those cities include Louisville, Covington, Frankfort, Morehead, Danville, Midway, Paducah, Maysville, Henderson, Dayton, Georgetown and Versailles. Vicco, in Perry County, also passed a "Fairness Ordinance," the only one of its kind in southeastern Kentucky.
"It's an amazing thing, and it's so entertaining, colorful and free," Bowling said, smiling, regarding Pride festivals. "Everybody's celebrating their freedom. It's taken a long time to get here, but we're here now and enjoying it."