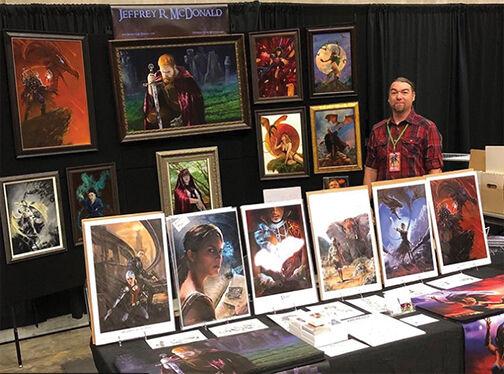 Jeffrey R. McDonald isn't your average Appalachian artist.
His specialty is creating science fiction and fantasy-inspired artwork created from a variety of media including digital art and oil on canvas and he has a residential history spanning from Pennsylvania to Zambia to Hagerhil.
 McDonald said he takes inspiration from the everyday and the exotic to create his pieces, which can standalone or operate as part of a larger universe. McDonald sells his pieces at conventions around the Southeastern region of the United States and online to a large audience.
"I'm originally from Pittsburgh," McDonald said, explaining how he ended up in Africa and subsequently, Eastern Kentucky. "So, my wife works for (the Center for Disease Control and Prevention) and she got an opportunity to work over in Africa, working on HIV, so we became part of what they call the expat community, so we worked over there with the embassy and she worked with the local health departments there and, me being an artist, I can pretty much work from anywhere, so I thought it was a fantastic opportunity for the both of us and, so, I went over there and was teaching some painting classes and some drawing classes and doing some adventures and gathering some wonderful reference that I can't get around here."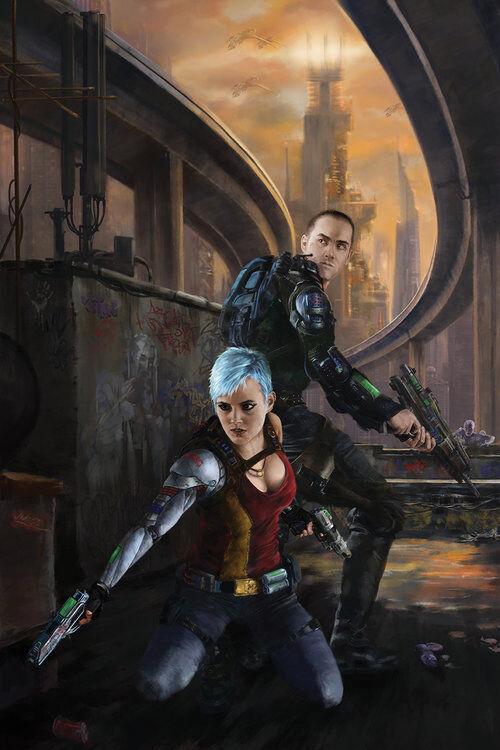 McDonald said that he ended up in Eastern Kentucky after returning from Zambia due to a shared love he and his wife, a northern Kentucky native, share for the Appalachian Mountains and the realization that, for the first time in their careers, they could choose where they wanted to live rather than following where the work was.
"Well, it's like, going through, our lives kind of get dictated by where work is available, and you kind of just follow that around for a while and I moved around the country quite a bit and then I met my wife and she liked to travel, so that was kind of nice because I was able to either get a part-time job or a full-time job along with my illustration work wherever we went and then we moved to Africa and I was getting into a position where I could focus more on my artwork and she had the job with the CDC over there and when that tour was up, we kind of had a realization that for the first time in either of our lives, we could actually move anywhere in the country we wanted to," McDonald said. "We both like the mountains, she's from northern Kentucky and, obviously, I'm from Appalachia as well, being from Pittsburgh, but it's a great central location."
McDonald said his wife took a position with Shaping Our Appalachian Region and that enabled them to put down some roots in the area, as well as the region's central location in the eastern portion of the U.S. allowing for easier travel to the many shows and conventions which McDonald attends to showcase and sell his art.
"Most of my shows are fairly close, the furthest one would be about an 11-hour drive," McDonald said. "We wanted to put down some roots and we kind of like it a little more secluded, I guess you would say, or the smaller town atmosphere, after living in Atlanta."
McDonald's style is something that came naturally to him, he said, but it was a long and winding road that led him to where he is now — working on original concepts and stories while also illustrating for major fantasy series The Witcher's tabletop role-playing game.
"So, when I graduated, I actually went to the Art Institute of Pittsburgh and started kind of chiseling out my craft back then, but that was kind of at a turning point in the industry, where the type of work that I wanted to wasn't really looked upon as viable and I didn't have a lot of the connections in the Pittsburgh area to do exactly what I wanted to do," McDonald said. "You know, as you move on, you have to make a living, so I kind of went a different route, I mean, I always did draw and paint, but I didn't take it too seriously after that, and, truthfully, I joined a band and played in that band for about six years, then I changed pace and kind of got a professional job and had my own advertising company for a while and that just got too time intensive and stressful, so I had to let that go."
It was at that point that McDonald moved to Atlanta and began to consider moving back into art as a profession and took his portfolio with him as an attendee to DragonCon, one of four to six conventions he now attends each year as a professional artist.
"If you're not familiar, DragonCon is second only to the ComicCon out West," McDonald said. "I was really wanting to get back into artwork, so I went to DragonCon as just an attendee and I went through and shopped my portfolio around, it was an old portfolio, to be honest with you, some of that work was five to ten years old and I just wanted to see if I had the chops to try and make a niche in the industry and a couple of people and artists I admired who were twenty to thirty year veterans in the industry took me under their wing and I got some mentorships through those guys and it got me to here, so, professionally, I've really only been doing this for about six years … it was a very long and windy road to get to where I am now."
Now, McDonald is working on art for the Book of Tales, an expansion for The Witcher TRPG by R. Talsorian Games, Inc., the company responsible for the original Cyberpunk tabletop game that has now spawned a AAA video game adaptation called Cyberpunk 2077 which was released earlier this year.
In that universe, McDonald has created art for a character called the Vran Blacksmith that exists within the Book of Tales, some set-and-setting work and a character design he wasn't able to mention yet. McDonald said that The Witcher universe was a natural fit for his style of art, wherein he typically looks to blend fantasy with realism.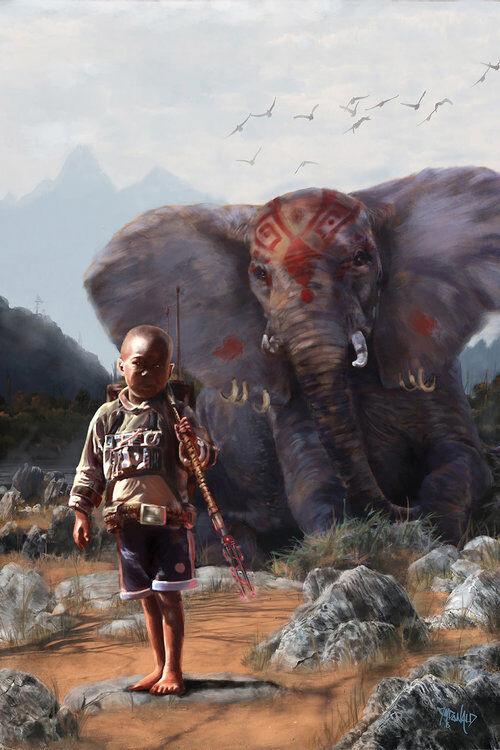 "Most of my art is definitely grounded in realism, I try to make it understandable, it's almost a world you could actually see happening or feel a part of, that's what I try to convey, even if it does involve dragons or something like that, that doesn't exist," McDonald said, delving into another facet of his style that involves his real-life inspiration.
An example of this can be found in his piece, "The Ancient One," which depicts a young African boy alongside an elephant with an interesting mix of modern, futuristic and ancient imagery, McDonald said, and was his first work after moving to Zambia and was directly inspired by the differences he saw in culture there.
"That's what was inspiring about Africa, you know, Africa is still third-world and where we were staying, they do have a, I wouldn't say strong, but it's a developing middle class — but everything there is kind of like found technology, there are so many people there that just put things together to make things work because they just don't have things," McDonald said. "That's what I wanted to convey and the reason that one's called The Ancient One, is that's the last elder elephant and it's set in a dystopian future and the boy is the guardian and protector of that elephant, but it was kind of that found technology, cobbling that together to make his little weapon there to keep everything safe and keep the poachers away and do a job, because that's just how they are there, which is really cool."
It is this connection to the real world and real people that is both the inspiration and reward for McDonald and his art — such as in the case of a piece he named "Battle Angel," that was sold at DragonCon after a couple separately discovered the piece and then came together to purchase it due to its subdued colors, as McDonald later found out that the man who first noticed the piece was colorblind and he and his partner were drawn to it as a piece that they both saw the same way, despite his condition.
"As people are coming and going, you have all kinds of people coming up and talking to you and there was one guy who came up, he was kind of reserved, kind of quiet, but he was really interested in my work and he was looking at all the paintings and he just kind of zeroed in on that one and he stood there and looked at it for a good 15 to 20 minutes and looked at me and said, 'I really like that one,'" McDonald said. "Then a couple of hours went by and this woman came up and spent about 15 minutes looking at it, too, and she said she really liked that one, then, the next day, they came together as a couple and said they wanted to show each other that painting. She ended up coming back later with another friend of hers, without her husband and she bought it for him for a Christmas gift, and he didn't know. The reason why they both zeroed in on that was because they couldn't agree on any particular piece of artwork because he was colorblind and he didn't see the colors the same way, but this one was monochrome and they both saw it the exact same way, so it was a big connection for those two. I just absolutely loved that and I was so happy that they were able to get it."
McDonald says he is currently working on writing and illustrating a book based on another piece of art in his portfolio, one called "Whispers in the Dark," which shows two characters with some high-tech armaments.
"I'm working on writing and illustrating a book based on the kind of modern science fiction piece with the two characters with the guns, it's called Whispers in the Dark, if you look at the title, I'm building a world around that and writing a story based on that, too, so I'm hoping that by the end of this year or the beginning of next year, I may be able to get at least a short story out and get some illustrations published," McDonald said, saying that sometimes the art inspires the universe it's set in, but sometimes the universe inspires the art. Sometimes, McDonald said, his work can be inspired by anything from a song to a group of trees he sees on a hike.
"I've got that story that I'm working on right now that I've been working on for the last year or so and trying to iron those details out, I know where I want to go with it, I know what the story is, it's just how I want to present it," McDonald said. "Some of the other ones, I'll just get inspired by a song that I hear or a group of trees that I see when I'm on a hike will inspire something to spark my imagination to tell a story about that and that's what I try and convey in each individual piece, that there's a story behind it, it's not just a portrait or a landscape, there's something meaningful behind each one and I want the viewer to figure out if there's something there, and I can give a few obvious clues, but I hope that on a secondary or third read there, they might be able to put their own imagination in and kind of build their own world around them as well.
"That's what I like about private commissions in particular, sometimes a collector or an individual will come to you with an idea and say, 'I have this idea, can you convey this,' and then you can work with them to bring out the best of their own idea or some of the collectors just really like what you do, so, you're free-game to just put your own imagination on the canvas or the board and they're inspired by the paintings that you create and that's what they want to purchase," McDonald continued. "To me, that's the biggest reward is when they really like your personal work and they want to support you in that endeavor."
If you're interested in following McDonald's work, or even contacting him to purchase a piece or commission work you can find him on Instagram, where he uses the handle @jeffreymcdonaldart, or through his website at, www.jeffreyrmcdonald.com, where there are several original works for sale alongside prints of digital pieces.