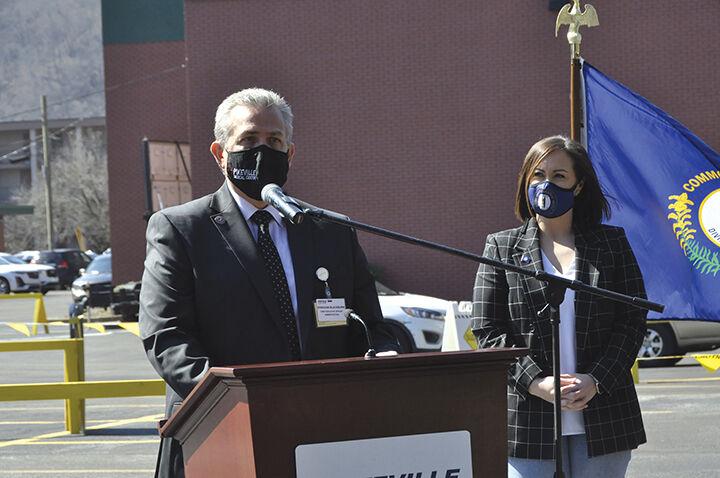 Kentucky Lieutenant Gov. Jacqueline Coleman visited Pikeville Medical Center's vaccination site on Feb. 25 to discuss the state's next step in its vaccination efforts, which is expanding registration to the entire Phase 1c category.
Coleman visited several vaccination sites in Eastern Kentucky on Feb. 25 in order to receive a first-hand look at the processes in place to effectively issue vaccines at each site. She visited vaccination sites that included PMC's site in Pikeville, the site at ARH Regional Medical Center in Hazard and the site at Highlands ARH Regional Medical Center in Prestonsburg, among others.
During her tour, she announced that, starting March 1, vaccine registrations will be expanded to include the entirety of Phase 1c, not only those who are 60 years or older. Phase 1c includes anyone 60 years old or older, anyone older than 16 years-old with highest-risk conditions for COVID-19 (as classified by the CDC) and all frontline essential workers.
"Our Phase 1c is starting on March 1, which is right around the corner," Coleman said. "Essential workers is a large group of people so it's going to take some time to get through that phase, but to be able to see those essential workers be able to get their shot of hope, to be able to get in line and to have this opportunity is remarkable."
As of 3 p.m. Feb. 25, PMC will begin accepting online registrations for the entire 1c group, as defined in Kentucky, and vaccinations for the entirety of Phase 1c will begin on March 1 across the state. Those who fall in the 1c category and live in PMC's service area of Pike, Floyd, Knott, Lawrence, Letcher, Magoffin, Martin or Johnson counties will be eligible to register for a vaccination at, www.pmcvaccine.com. When scheduling vaccine appointments, priority will still be given to those 60 years old or older, as well as healthcare workers from the Phase 1a category, according to PMC.
PMC CEO Donovan Blackburn also announced on Feb. 25 that the state increased PMC's regularly scheduled allotment of first doses of the COVID-19 vaccine, which allows PMC to increase to nearly 5,000 total doses of the vaccine each week.
"We have been working diligently with Gov. Andy Beshear and Dr. Steven Stack, Commissioner of the Kentucky Department for Public Health, to be able to vaccinate as many of our residents as possible," Blackburn said. "Dr. Stack recognized the need for more vaccines in our region and the ability of PMC to administer them. We are excited to be making this announcement today."
During her time at PMC, Coleman mentioned Kentucky's progress in vaccinations, saying that Kentucky will be the first state in the country to fully vaccinate all of its K-12 school personnel. She attributed Kentucky's ongoing progress in vaccinations to the leadership of Beshear, who she said has been "rock solid" in leading the state through the pandemic. However, she also attributed Kentucky's success to the healthcare workers who have made vaccination sites like PMC's possible.
"His (Beshear's) leadership would not be realized if what you see behind me wasn't possible," Coleman said, referring to PMC's site. "It's made possible by these folks who come to work every day to serve their communities and who went into healthcare for reasons that had nothing to do with the pandemic, but everything to do with helping their neighbor. … Our healthcare community has born the burden of the pandemic for the past year, and now they get to be the light at the end of the tunnel and give that shot of hope to so many folks."
Pike County Public Health Director Tammy Riley said on Feb. 25 that Pike County has continued to make progress on its vaccination efforts. Approximately, there have been 11,409 first-round shots-in-arms administered in Pike County so far, and 7,474 individuals in the county have received their full vaccinations with both doses.
"That indicates a 19.71 percent first-round reach into our county, and a 13 percent full vaccination reach into our county currently," Riley said. "All indications from what I'm hearing, from experts and national news, is that we're ahead of the game from where our expectations would have been earlier on, in comparison to some of the other counties. More importantly, we're doing quite well across the state of Kentucky."
Any Kentuckians who meet the criteria for Phase 1a, Phase 1b or Phase 1c can register for a COVID-19 vaccine at, pmcvaccine.com, or, arhcovid19.com. Phase 1a includes healthcare personnel, first responders and long-term care facilities. Phase 1b included people who are 70 years old or older, K-12 school personnel and other first responders who were not vaccinated in 1a.
Kentuckians who live in the counties of Pike, Floyd, Johnson, Martin and Magoffin can also call Eastern Kentucky's new regional call center in order to receive help with registering with a local healthcare provider for a vaccination. The center will be available from 8:30 a.m. to 4:30 p.m. Monday through Friday, and it is meant to help those who do not have available access to a computer or the Internet. There are four phone numbers that can be used to contact the call center: (606)437-3862, (606)437-3863, (606)437-3865, and (606)437-3866.
As of presstime Feb. 25, Pike County's total number of cases was 5,202 cases, with 362 of those being active cases. 4,783 people were considered recovered, and 57 Pike County residents have died from the virus so far, which is an increase of six new deaths since presstime Feb. 22.
Additionally, as of Feb. 24, there were 32 patients currently being hospitalized for COVID-19 in Pike County's hospitals, with 15 of them being Pike County residents. Of those 32 total patients, 10 were in the ICU and eight required ventilators. The total ICU occupancy rate for the county's hospitals was at 79 percent, and the ventilator occupancy rate was at 38 percent.
As of Feb. 24, Kentucky's positivity rate for COVID-19 had decreased to 5.7 percent, which is the lowest since Oct. 27, 2020. The top counties with the most positive cases included Jefferson, Fayette and Kenton, with each county reporting at least 50 new cases. Jefferson County reported 173 cases.
"We are getting these vaccines out faster than the federal government can provide them, so there's a lot of hope moving into the future," Gov. Andy Beshear said. "We are going to defeat this virus this year, but until then, we've got to protect each other."
The local COVID-19 data is reported to the Pike County Health Department by local healthcare providers. They follow a stringent reporting process to the state, and each case is thoroughly reviewed. Therefore, the data will not match the state's COVID-19 informational website, kycovid19.ky.gov.
For more information about Pike County's cases, visit, www.pikecountyhealth.com. The Pike County Health Department is located at 119 River Drive, and it can be reached at, (606) 437-5500.