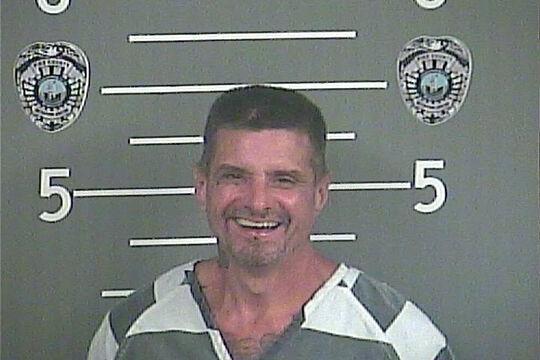 A Kimper man was arrested on several felony charges this past weekend after police responded to a complaint of shots being fired in the Chloe community.
According to an arrest citation by Kentucky State Police Trooper Matthew Turner, KSP Post 9 received a complaint at approximately 10 p.m. on Sept. 5, reporting gunshots had been fired at Kendrick Fork Road in Chloe. The caller, according to the citation, told police that Steven R. Williamson, 53, of Gabriel Road, Kimper, was driving a white Chevrolet pickup truck and shooting a firearm.
While responding, the citation said, Turner and Trooper Christopher Tyree were notified that a complaint had been called in reporting that Williamson was now shooting at Upper Chloe Road.
While attempting to locate Williamson, the citation said, the troopers observed the vehicle he was driving and Turner activated his lights in an attempt to stop Williamson's vehicle, the citation said, and Williamson's vehicle swerved around both troopers' cruisers and fled, making a right-hand turn onto Chloe Road, traveling toward Pikeville.
The citation said Williamson led the troopers on a pursuit, traveling in speeds in excess of 26 miles per hour greater than the 45 miles per hour speed limit.
The troopers, the citation said, lost sight of Williamson's vehicle and the Pikeville Police Department were called in to assist. PPD officers, the citation said, learned that Williamson was at a residence on Fife Fork Road, where the officers were able to locate Williamson.
While searching Williamson's vehicle, the citation said, officers found a 9 mm handgun, a small empty container of Fireball whiskey and a plastic wrapper which had marijuana residue. Williamson, the citation said, told officers that he ran because "he knew he would be going to jail either way." Williamson, the citation said, admitted he had been smoking marijuana and had a strong odor of alcohol coming from his breath.
Field sobriety tests could not be conducted, Turner wrote, because of Williamson's level of intoxication and also because he was a flight risk. Williamson was transported to Pikeville Medical Center, where, Turner wrote, he declined to contact an attorney and refused a blood test.
After leaving the hospital, the citation said, Williamson told the trooper he wanted to take a blood test and the trooper would not let him. Williamson, the citation said, also told Turner, "I'll cut your (expletive deleted) head off and eat your heart."
Williamson was lodged in the Pike County Detention Center, where he was also served with a warrant related to an incident late last month in which he allegedly pursued a woman through Chloe and into the Pikeville city limits, attempting to run the woman off the road several times for several miles.
Williamson was charged with first-degree fleeing or evading police (motor vehicle), possession of a handgun by a convicted felon, DUI, first-degree wanton endangerment, second-degree stalking, harassment and traffic charges.