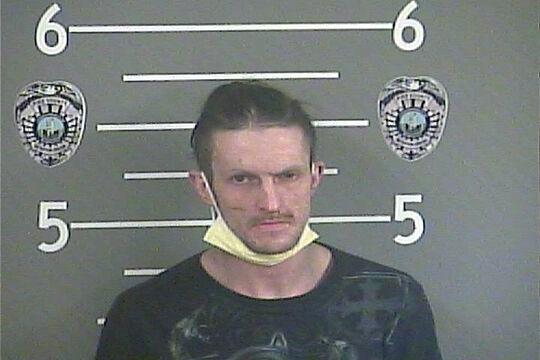 A Pike County man who had allegedly absconded from probation was arrested on several charges Jan. 12 after allegedly leading a Kentucky State Police trooper on a vehicle pursuit before wrecking.
According to an arrest citation by KSP Trooper Braxton Whitmore, he was on Ky. 611 when he saw a 2006 Chevrolet Cobalt disregard a stop sign while driving at a high rate of speed. The vehicle, Whitmore wrote, turned toward Dorton on U.S. 23 and Whitmore attempted to conduct a stop.
The citation said the driver of the Cobalt, later found to be John P. Crider, 32, of Elkhorn Creek Road, Elkhorn City, turned his vehicle around and began driving back toward Ky. 611, at which time Whtimore saw that Crider was not wearing a seat belt.
Crider, the citation said, led Whitmore on a pursuit in which Crider's vehicle reached speeds of 90 mph in a 55 mph zone on U.S. 23 before Crider turned his vehicle onto Ky. 611, at which time Whitmore was advised to end the pursuit.
Whitmore wrote that he turned his lights and siren off and followed Crider's vehicle at a "safe distance" before Crider turned onto a gravel road at the top of Poor Bottom Mountain and stopped his vehicle. Whitmore wrote that he reactivated his lights and siren, at which time Crider "sped" around Whitmore's cruiser and disregarded all commands to stop his vehicle.
Whitmore wrote that he turned his lights and siren off and began to follow Crider's vehicle from a distance again when he saw Crider's vehicle strike the back fender of a parked car and continue driving on Ky. 611 "all over the roadway in a very aggressive manner."
The citation said that Whitmore reactivated his lights and siren on Ky. 195 at Lookout in an attempt to stop Crider's vehicle. Crider, the citation said, drove onto a gravel road which came out at Henry Clay Hill and then onto Ky. 195 going toward Bowling Fork.
Whitmore wrote that he lost sight of Crider's vehicle around a curve and saw headlights pointed into the air. Crider's vehicle, the citation said, had exited the roadway and traveled into the yard of a residence before colliding with several trees and a mailbox before coming to rest in the yard.
Whitmore wrote that he gave loud verbal commands for Crider to show his hands, but Crider failed to comply and began attempting to crawl into the trunk of the vehicle from the driver's seat. Whitmore wrote that he used his Taser to gain compliance and was able to place Crider under arrest.
While searching Crider's person, the citation said, Whitmore found several syringes and a glass pipe believed to be used for narcotics. Crider told Whitmore he had "shot up some ice (methamphetamine)" earlier in the day.
It was found that Crider had several warrants out for his arrest including for allegedly absconding from probation supervision. According to Kentucky Department of Corrections records, Crider was placed on supervision due to pre-trial diversion in two Pike County cases, both of which involved several charges, including second-degree burglary.
Crider was lodged in the Pike County Detention Center on charges of DUI, first-degree fleeing or evading police (motor vehicle), resisting arrest, possession of drug paraphernalia, failure to appear in court, violating probation and traffic charges.