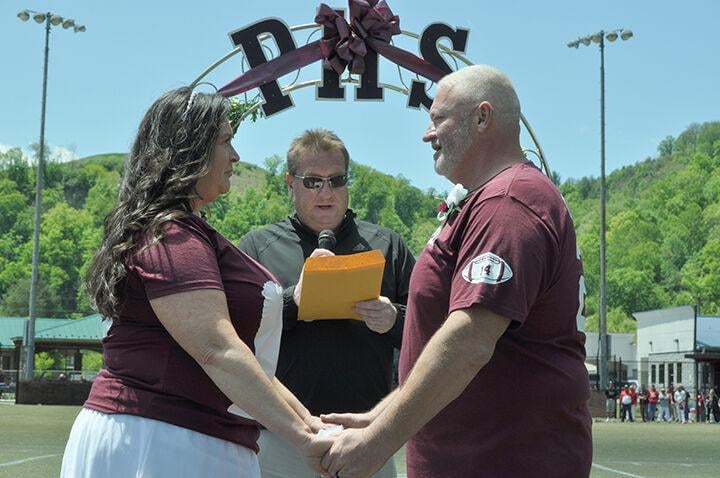 Robbie Simpson, 51, and Tina Simpson, 46, made history at Pikeville High School May 8 when they became the first couple to tie the knot and get married on the Hillard Howard Field.
Robbie and Tina, both of Pikeville, met about 20 years ago, when Robbie worked at Pepsi and Tina worked as a manager for a Food City store. They dated for a period of time, before their jobs took them separate ways. However, once they reconnected years later, Tina said, it was as though no time had passed.
"I don't know; we just had this spark," Tina said, describing their journey as a couple. "Life happened, and I moved to North Carolina and all that. We reconnected, and we just picked up where we left off at. So here we are."
The couple married for the first time in 2016, but they then got divorced. The couple said they now regret the divorce, as neither of them wanted it, and they started dating again several months after the divorce finalized. On Feb. 14, 2021, Robbie proposed to Tina again, this time on the 50-yard line of Pikeville High School's Hillard Howard Field, and they decided to tie the knot once more — this time on the same field where Robbie proposed.
Robbie is an alumnus of the Pikeville Independent School District, and he currently works as an assistant coach for
Pikeville Jr. High School. As a student, he played baseball and football at Pikeville High School, and he currently holds the school's record for the most quarterback sacks in a single game with six. In 1987, the same year he set the record, he played on the football team during the 1987 Kentucky High School Football Playoffs, where the Pikeville Panthers were named Class A Champions.
Robbie said they both knew that the football field would be the perfect spot for their wedding.
"She is my dream come true, and I love her with my whole heart," Robbie said. "I coached down here, and I'm always down here walking. So that's where I proposed to her, and I said, 'We'll just get married here.' We just got permission to do it, and we did it."
During the wedding ceremony, which started at 1 p.m. May 8, music played over the field's loud speakers as Robbie and Tina — both dressed in matching Pikeville High School jersey shirts — walked together across the football field. Along the 50-yard line stood a decorative "PHS" arch and Pike County District Judge Robert Wright, who officiated the wedding.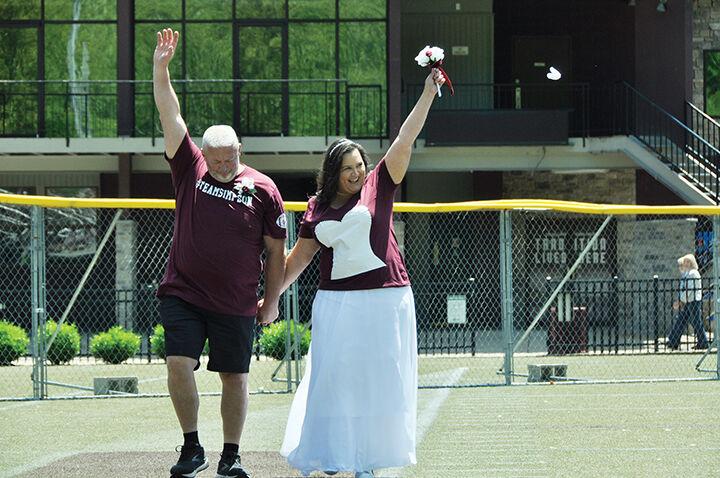 Robbie and Tina joined together at the makeshift altar in front of their loved ones, co-workers and other guests. The ceremony was allotted 30 minutes before everyone needed to leave the field in order to start a scheduled baseball game between Pikeville High School and Boyd County High School.
After sealing their re-marriage with a kiss, the couple took photos and did several activities typical of a wedding reception — like throwing the garter, which was a football in this case. Once everyone left the field, they joined at the shelter location behind the field in order to hold a small reception, as well as dance and grab food and drinks.
Many of Robbie's former football teammates also attended the wedding, along with Robbie's former football coach, Hillard Howard — the field's namesake. Howard coached the Pikeville Panthers for 20 years, and he was inducted into the Dawhares/KHSAA Hall of Fame. According to the KHSAA, he guided Pikeville High School to three consecutive state football titles (1987-89) and two runner-up finishes (1972, '79), as well as coached the Pikeville Girls Basketball Team to two state basketball tournament (1979, '80).
Robbie and Tina invited Howard to attend their wedding, but Tina said they were initially uncertain if he would be able to attend, due to the ongoing COVID-19 pandemic. However, Howard said he felt like he needed to come because he was proud of his former player, and he traveled from Florida to Pikeville in order to attend.
"We've been living in Florida for the last 11 years, and this is a special occasion to me, especially when he wanted me to be here," Howard said. "I don't get to go to all their weddings, but I just felt like I need to be here. It makes me proud. He's a tremendous player and a tremendous person to coach. He's a good player and a good person."
Trey Deskins, Robbie's brother-in-law, also played on Pikeville High School's 1987 championship team, and he said that he loved the idea of having the wedding on the field.
"I think it was a great idea, and it brought all of us back together," he said. "It was a reunion, where we get to see people we haven't seen in years."
The couple said that it is awesome to make history in this way.
"It's awesome," Tina said. "I don't think anybody would expect anything less."