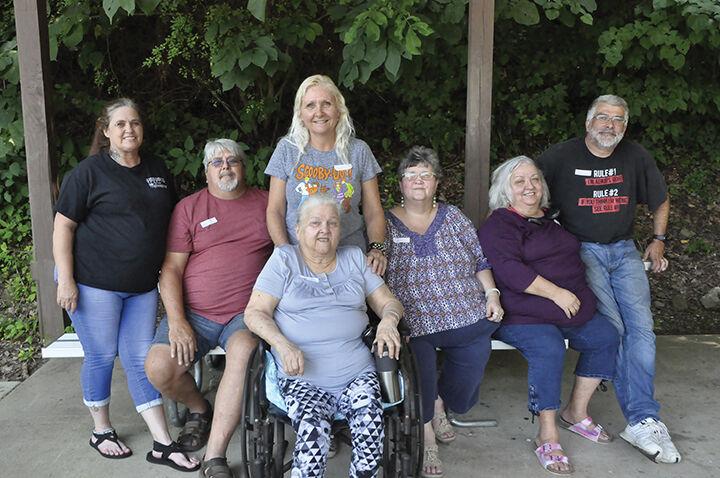 After more than 63 years, a local mother and her long-lost daughter finally reunited in person in Pikeville last weekend.
Deborah "Debbie" Lee, of Melrose, Florida, and members of her family traveled from Florida to Pikeville on July 22 in order to reunite with her long-lost mother, Vivian Leslie, of Cowpen Road, Pikeville, and Vivian's side of the family. On July 23, the pair reunited in person and ate dinner together at Texas Roadhouse that evening. Then, they held a family gathering at Bob Amos Park on July 24, which was the day before Debbie and her family returned to Florida.
Vivian said that, when they reunited on July 23, she knew instantly that Debbie was her lost daughter, and she also expressed excitement for getting to meet her new grandchildren and great-grandchildren.
"It was amazing," Vivian said. "I didn't know what to say. I didn't know what to do. She looks just like me. I was scared because I didn't know if she was going to like me or if she was going to hate me. I was so worried about seeing her, but they are so sweet. And I'm so happy to meet my new babies."
In 1958, Vivian was 17 years old and unmarried when she was forced to give up Debbie for adoption by her mother, though she never signed formal documents relinquishing the child. Vivian said she never stopped looking for her long-lost daughter.
More than 61 years later, in 2019, Debbie completed a DNA kit from Ancestry, a popular website used for discovering genealogy and family heritage, and she saw in her results that she matched with Carol Bryant, one of Vivian's other daughters. She contacted Carol to connect with her in November that year, and they realized together that she was Vivian's long-lost daughter after Debbie sent Carol a photo of her birth certificate.
Debbie eventually spoke with Vivian on the phone after connecting with Carol, and they planned to meet in person in Pikeville. However, they decided to postpone the reunion until July of this year due to the ongoing COVID-19 pandemic.
Debbie described her reunion with her mother as a "dream come true," and she said she now has many more family members than she ever previously imagined.
"I was extremely nervous," she said. "But being able to meet Mom and get the real story from her, it's amazing."