A local distillery and the region's two most famous families have teamed up to launch a new moonshine brand with the first runs being available by mid-summer.
"Fuel of the Feud" moonshine will be produced by Forest Hills-based Pauley Hollow Distillery using water taken from the Randall McCoy Well at Hardy. It was first envisioned by Bob Scott, who has links to both families involved in the infamous Hatfield-McCoy Feud, according to Jessica Martin, co-owner for  the distillery. Scott — who is of Hatfield descent — owns the property which at one point was the site of the Randall McCoy cabin which was burned during the feud.
"The new moonshine will be made with water drawn right here from the Randall McCoy Well," Scott said.
As part of the launch announcement, Ron McCoy of Durham, North Carolina, came back to pay a visit to his patriarch's homeplace and to support the "Fuel of the Feud" as a member of the McCoy family.
"I really have nothing to do with this project, but I came to lend my support to Bob and Pauley Hollow for this endeavor," McCoy said. "Pauley Hollow is doing a great job of doing something that is very authentic using local products and using old-fashioned recipes and creating something that is respectful of the heritage we share."
Scott said the new Hatfield-McCoy-themed moonshine is not an effort to entice people to drink but to offer a tourism keepsake that is historically relevant to the area.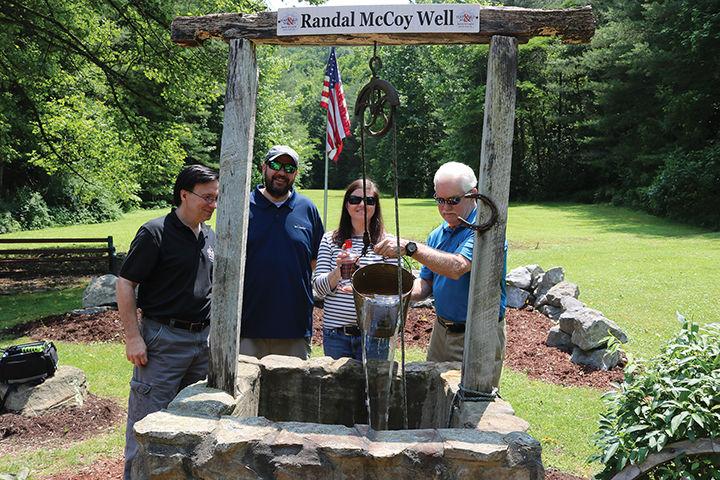 "We are really proud to partner with Bob on this because it is something that is unique to the area," Martin said. "People coming into this area can try it and they can take home a piece of history because Randall McCoy actually drank from the same well that we are using to make the 'Fuel of the Feud.'"
"Fuel of the Feud" will be a premium moonshine and will be 100 proof, Martin continued.
"This is a corn, rye and barley blend," she said. "It is made with West Virginia corn and Kentucky rye in keeping with spirit of the Hatfield-McCoy Feud."
Scott said he initially contacted the Coca-Cola Company about using the water to produce a children's drink, but did not get a response.
"But, I never lost that passion. I started talking with the Josh (Martin) and Jessica from Pauley Hollow and decided it was time to turn it loose," he said. "This is the real McCoy."
Martin said the new label should be available by the end of June.