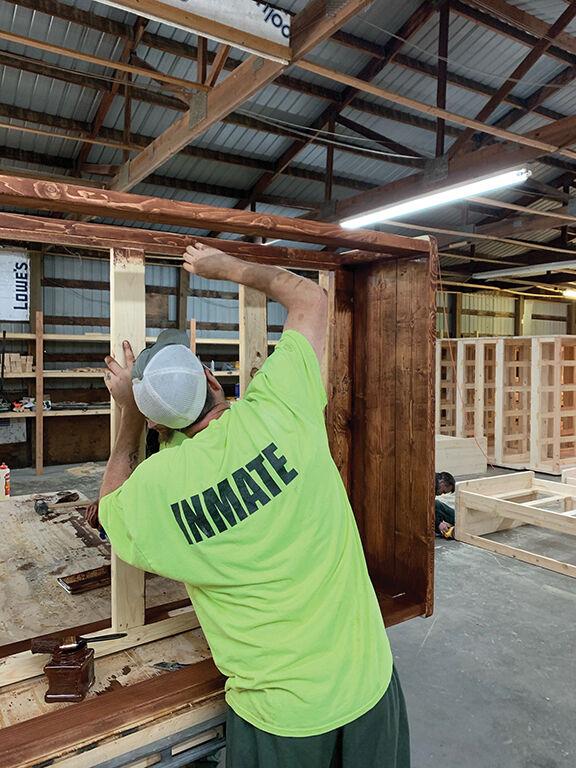 The Pike County Detention Center has started a new program for inmates to build and donate beds and mattresses to people in need in the community, including local students.
Pike County Jailer Brian Morris said that the jail began making its own mats within the jail about three years ago in order to save money, and he decided to expand that idea to have inmates build beds and mattresses in this new workshop program. The program started about two months ago, and they have already made 50 beds to donate to people in need. About eight to 10 inmates are currently participating in the program.
Morris said that when the inmates participate in this program, they can learn new practical skills, like carpentry, tape measuring, sanding, painting and more. While learning these skills, he said, they can gain a productive skillset in order to help them join society once they leave the jail.
"This project is something that I've been wanting to do for several years," Morris said. "For most inmates, what they need is structure, working with people and showing up on time. If these inmates can do this project, I think it would help them be productive in society. But the very best thing that this project is going to offer is that it's going to provide free beds and mattresses to children in Pike County who need them."
He added that he plans to offer this program to inmates who have completed the detention center's six-month substance abuse rehabilitation program, in order to help provide them with new skills that they can use for the future once they are released.
"It's going to give them even more confidence for when they leave," Morris said.
Capt. Johnny Cooper, supervisor for the project, started a woodworking business several years earlier, and he began to share his woodworking skills with the inmates for this new project. He said that at least one inmate did not know how to use a circular saw or drill before working on the beds, and now that inmate and others like him have become more comfortable using workshop tools.
"Once he gets out, he may be able to get a job at a construction site because he'll have gained some knowledge that will help him in that field," Cooper said. "I just think it's a wonderful project for people who need structure and can come together and work together to help people in need."
Morris said that they plan to donate about 150 beds to people in need, including students from the Pike County School District, local homeless shelters and veterans centers, among others.
Superintendent Reed Adkins said that local inmates from the detention center already help the community by weeding and doing other yard work for the district's schools and the local cemeteries, and this new project will provide another way that they can help.
He added that he plans to work with the district's family resource centers in order to find students who have a particular need for those beds.
"They're actually going to deliver them and put them up for the kids, and they're actually going to be able to special order," Adkins said, regarding the inmates constructing the beds. "They can paint it whatever the child wants or whatever that child's room is, so it will actually be tailor-made for that kid. It's an awesome idea."
Adkins explained that the district has made several partnerships over the past four or five years in order to address possible gaps in the lives of students who are in need. For example, he said, starting in 2020, the district partnered with the Riverplace residential treatment center's outpatient food bank in order to provide extra food to their students.
"This is just another way to try to plug those gaps that kids in need have," Adkins said, referring to the jail's workshop program. "Since the collapse of coal, we've had some kids who are in severe need, and this will plug one of those gaps. A child can get a good night's sleep on a well-built bed, and that's certainly going to make them better learners for tomorrow."