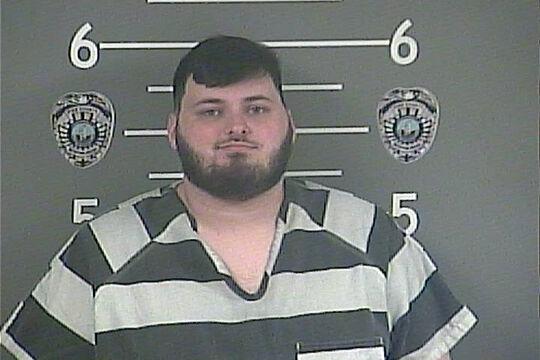 A Pike County man was sentenced June 10 to serve five years in prison on a charge of second-degree unlawful transaction with a minor in connection with a case in which he has been accused of using his position within a local school to "groom" a teenage girl 10 years younger than him.
During a hearing in Pike Circuit Court June 10, Pike Circuit Judge Howard Keith Hall sentenced Cody West, 27, of River Front Road, Belfry, to serve five years in prison on the charge, which was originally filed against him last year. Initially, West, a former full–time substitute teacher at Belfry Middle School, had been charged with promoting a sexual performance by a minor, possession of matter portraying a sexual performance by a minor, third-degree rape and third-degree sodomy, but pleaded guilty to the lesser charge recently.
Pike Commonwealth's Attorney Bill Slone said during the hearing that the plea was accepted to prevent having to put the victim through a trial.
"I decided that to not put the victim through an open trial where they would be discussing things that I think every adult in this room would be uncomfortable discussing," Slone said.
While the charge to which West pleaded is not a charge that would result in him being placed on the state's sex offender registry, it is a charge which cannot be expunged from his record. That, Slone said, will ensure that West will never be allowed to teach or into a school setting again.
During the sentencing hearing, the victim's mother read a letter from her daughter saying that West "groomed her" and took advantage of a "confusing and stressful" time.
"A schoolkid should be worried about middle school things, she said. "Instead, I was manipulated by a person who was supposed to be there to help me and to teach me."
West, the victim said in the letter, used a common interest to bond with her and had mutual friends relay messages.
"It is scary now that I look back on the situation ... how many grooming tactics were used during this time," the victim wrote in the letter. "As a victim, I pray that no other little girl has to suffer like I do and that no other families have to endure the pain and heartbreak that mine has been through."
The mother also read her own statement asking that West be sentenced to the maximum sentence available under the charge — five years.
"It's scary to think that our children are not safe in a middle school setting," she said. "Cody West used his position of trust in a teaching role to manipulate, to lie and to take advantage of opportunities to start his grooming procedures on our daughter in middle school."
The mother said that she is thankful for many people who have helped, including the teachers and administrators at Belfry Middle School, who reacted quickly, making her daughter's safety the primary concern. She said she is also thankful for Kentucky State Police Det. Jason Dials and his work in the case.
The mother pointed out that Hall himself had commented a few times in a previous hearing on West's intelligence, saying that should be reason to believe he is a threat to the community.
"The fact that he is educated and that he has a predatory nature to manipulate, to lie, to decieve and to act on his pedophile desires makes him especially dangerous to society, to the children of this county and wherever he may choose to go," she said.
The mother said she was asking that West be sentenced to the maximum possible under the charge to which he pleaded guilty.
"This man ... has violated our child physically, mentally and emotionally," she said.
West was immediately taken into custody following the hearing and lodged in the Pike County Detention Center to begin serving the sentence.