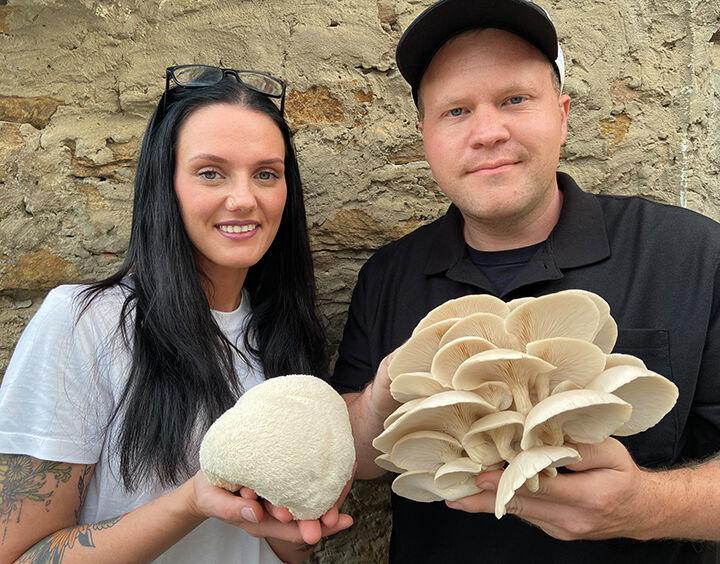 A local Pikeville man's hobby of growing mushrooms has bloomed into an official mushroom farm run by him and his wife, and the farm has become one of the only farms of its kind in Eastern Kentucky, as well as the state.
Derek Taylor, 31, and his wife Brittany Taylor, 30, both of Pikeville, officially opened their own mushroom farm this year called Fungi Holler, where they grow and sell varieties of fresh gourmet mushrooms, including Oyster, Lion's Mane, Shiitake, chestnut and Enoki. They now primarily sell on Saturdays every week at the Pikeville Farmer's Market, which is located at 130 Adams Lane.
Derek said he has always enjoyed eating mushrooms, and he wanted to learn more about growing his own because there were certain types of mushrooms he wanted to purchase but could not find at any local stores. This hobby, he said, began to sprout into an official business, and he grows his mushrooms in a former canning shed that his great-grandmother originally built for canning and storing fruits and vegetables.
"It's a hobby that has kind of gradually ramped up and got kind of out of control," Derek said, with a smile. "Last year, it started branching out. We were seeing what friends and family thought about it, and I enjoy growing them. They liked them, and it kind of got to a point where I don't know what we're going to do with all these mushrooms unless we start selling them. That's pretty much how we got to where we're at."
Derek and Brittany have been together for nearly 11 years. Derek currently works a full-time day job at a utility company, and he works on his mushroom farm after he comes home from work. Brittany is a stay-at-home mother, and she helps him when he comes home. She also makes deliveries for their company while running errands during the day when Derek is at his day job. Together, the couple said, they grow and prepare about 15 pounds of mushrooms every week.
"It's a full-time job for the both of us. He goes to work, and as soon as he comes home, he starts on stuff that he does," Brittany said. "Once I get the baby down for the night, I start helping him, and we don't get done until 11-12 o'clock at night. Then, we get up and do the same thing over and over again. It's seven days a week."
They started selling their mushrooms at the Pikeville Farmer's Market the first weekend of May, before the market returned to its regular hours on Tuesdays and Saturdays. Derek said that he initially wanted to start selling last year at the Farmer's Market, but he decided to wait until this year.
"I was actually going to do it last year until COVID happened. I went to the training at the Farmer's Market," Derek said. "The plan was to start doing this last year, but I didn't want that challenge on top of everything else. I decided to wait a year, and I figured I would get a little bit better and get a little more. I think it was a good decision. I don't think we would have been ready for it last year."
Fungi Holler is one of the only official mushroom farms in Eastern Kentucky, with the closest one being located in Berea. There are fewer than a dozen official mushroom farms in the state of Kentucky.
"We're not that big," Derek said. "We're just kind of taking baby steps with it, learning hard lessons along the way."
Brittany and Derek are licensed with "Kentucky Proud," which is a program with the Kentucky Department of Agriculture that promotes purchasing produce and other handmade goods from local farms and farmers in Kentucky. They have also been licensed to grow seasoning.
In addition, at Fungi Holler, they sell growth kits for Lion's Mane mushrooms which allow people to grow the mushrooms at home instead of having to purchase them. Derek and Brittany said they want to keep and sell their mushrooms as fresh as possible for their customers, and the mushrooms that they don't sell right away are often sold as dried mushrooms or are used in the seasoning that they make.
"We always try to make it to where when we're at the Farmer's Market or what we have is almost just picked off the block and sold to you that day," Brittany said. "We want it to be as fresh as possible to make sure that our customers are getting something that they see is fresh, and it's not been sitting stored for days at a time."
Derek said that he has been happy with the response that he has gotten from the community regarding his mushrooms. For example, when he brought a few pounds of mushrooms to sell at the Farmer's Market for the first time this year, he said that he sold out in the first 20 minutes. They both said they are looking forward to seeing how their company grows in the future.
"I really didn't have any expectations," Derek said. "I didn't know if I was going to have to talk people into trying these things or whatever, but people have been pretty open-minded. A lot of people have no idea what they're looking at and I tell them. A lot of people have been pretty open-minded to trying it, and they usually come back for more."
To purchase mushrooms from Fungi Holler, visit the Pikeville Farmer's Market from 9 a.m. to 1 p.m. on Saturdays, while supplies last, or contact the company through their email, info@fungiholler.com, or through the company's Facebook page, "Fungi Holler" (@FungiHoller).