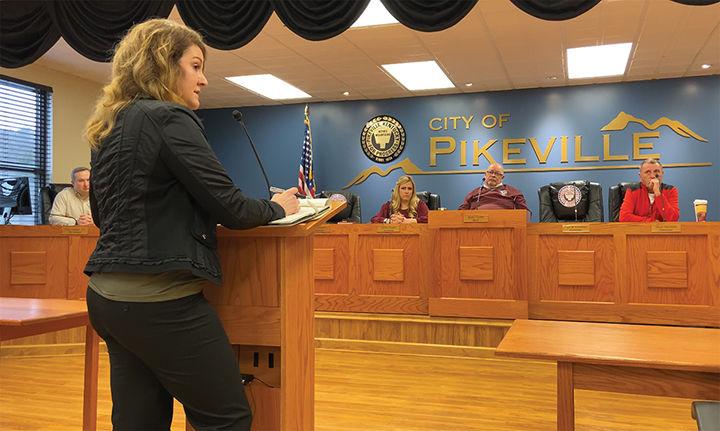 An official with Suddenlink, the company which holds the City of Pikeville's cable franchise, spoke to members of the Pikeville City Commission in a special meeting Feb. 18.
While little was resolved, officials with the city mentioned several possibilities of dealing with the company's failings, including the possibility of a class action lawsuit for the company failing to provide services for which customers have been paying.
Erin Jones, director of government affairs for Suddenlink owner Altice USA, addressed the commission, and told those gathered at the meeting that the company is working to resolve issues brought up at the meeting, including poor customer service, and hour-long waits for service calls to go through, repeated outages of cable and internet services and other problems.
The call center issues, Jones said, reached a peak late last year, but should have been resolved since.
"In September, when you were having a lot of problems getting through, we were going through a billing migration," Jones said, adding there were problems and a large call volume, which has fallen since. "The call center portion should be pretty much back to where it was. We shouldn't be having a lot of issues with that."
The company's infrastructure problems, however, are something that has drawn the attention of the company's corporate office.
"This escalated itself all the way up to the corporate level," she said. "They were taking a look at the system overall to see where are the issues here ... What they did was take a look at the number of complaints that we've received and they were able to tie those in to the specific node, specific areas, and they also tied in repeat customer service visits to that and then prioritized a maintenance list."
However, she said, repairing the company's infrastructure is not something that will happen overnight.
"That's something that takes time, that they have to prioritize," she said. "It's not something where we can just say, 'We're going to come in and rebuild this whole system. We kind of want to take a look because it's such a heavy capital investment."
Jones addressed several other concerns. However, Pikeville City Attorney Rusty Davis said the explanations did not really cover the concerns of the city or its residents.
"I appreciate what you've filled out for us," he said. "But if you think about what you've told us, it's kind of, 'There's no problem, so why would we need to fix anything because I've just explained to you why there's no problems.'"
Davis said that the city has had concerns with the cable franchise holders who have been in the city since he began as city attorney in 1986, and the most recent transaction involving the company was opposed by the city commission.
Davis pointed out that when Suddenlink was taken over from Cequel by Altice in 2015, the city adopted a resolution opposing the transfer of the company's ownership. Davis read from that document, saying that it mentioned issues and problems that the city is still facing. Davis said the city officials were "mind readers" in passing the resolution.
"Altice is not technically qualified to operate the system in light of the fact that absentee ownership reduces competition, threatens media localism and harms informational diversity," Davis read. "Further, any transfer approved by the city to an entity with more distant owners would adversely affect the subscribers and be contrary to the public interest."
Davis said that, at that time, the city addressed problems with the response time of the company to service issues.
"The franchisee has a record of noncompliance with this section of our franchise," he said. "The franchisee has repeatedly failed to begin working on service interruptions within 24 hours after a service interruption becomes known."
The City of Pikeville, Davis said, has decided to move forward on getting internet into some parts of the city with Intermountain Cable. However, he said the city offered the opportunity to be involved in the project to Suddenlink, but Suddenlink declined to get involved.
"They didn't want to step to the table to move into the high-speed internet," he said. "Luckily, Intermountain Cable, we're going to partner with them, and hopefully we'll get high-speed internet. If you're going to charge people over $200 for something, they at least ought to get what they paid for."
Davis said many of the company's problems could be resolved through just adding more staff.
Davis said the city is also considering sending out a survey and using the newspaper to help distribute the survey, as a preamble to possible legal action.
"We're thinking that, if we can get the public to respond, that the city and possibly the county, we can file a class action suit against Suddenlink for return of fees paid for services not given," he said. "This will allow us to recover attorney fees."
Davis said that the company's wallet is where they'll get the message through.
"The way I believe to get the message to Suddenlink is, 'It's going to cost you, and it's going to cost you dearly,'" Davis said. "If they don't want to provide these services, they need to leave. They need to find somebody to assign their cable company to provide the services that they're going to charge for.
"They don't care," Davis said. "But when they write the check, that's when they'll care."