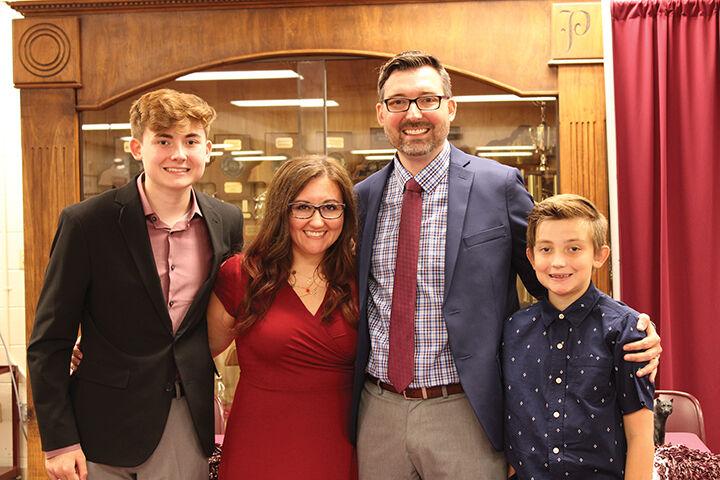 Many staff members from the Pikeville Independent School District gathered at Pikeville High School on June 11 to welcome the district's new school principal, Brandon Blackburn, who was named the next school principal last week.
Blackburn, the district's current Co-District Technology Coordinator and Technology Teacher, will become Pikeville High School's next principal, effective July 1, 2021. He replaces the high school's previous principal, Jason Booher, who left his position to become the next superintendent of the Mercer County School District.
Blackburn started his teaching career at Pikeville High School in 2008 as the Technology Teacher and School I.T. Coordinator, and he has also served as student minister at the school for nearly two decades. He said he is excited to take this next step in his career as he works with students and teachers in order to enhance their experience in the classroom.
"It's not very often that you get a chance to serve in a position that meets your passions and your sense of duty and responsibility," Blackburn said. "In my case, in my ministry, I served almost two decades here as a student minister. In this position, I get to take my experiences and work with some of the best teachers in the world and have them enhance their classrooms, which I did through technology. I spent a lot of time with these kids, and I get to continue to serve them and mentor them because character development is one of my main things. I get an opportunity to work with their character, and I get to serve my community in a way that is familiar to me."
Blackburn graduated from Pikeville College in 2004 with a bachelor's degree in Mathematics with Computer Science Emphasis. He received his master's degree from Eastern Kentucky University in Career and Technical Education in 2014, as well as Rank I certification in Career and Technical Education that same year. In 2018, he then received his second master's degree from Georgetown College, as well as Rank I certification, in Education with a focus in School Principal P-12.
Blackburn said that his prior experience with technology will help him as Pikeville High School navigates a post-COVID educational experience.
"I think we had our eyes opened, when COVID happened, that technology is such an integral part of how we communicate, we collaborate and we educate," he said. "So taking that skillset and the blessed opportunities I've had, I get to filtrate that out to everybody and help people see the value of what we discovered through COVID."
During the past year of the COVID-19 pandemic, he said, teachers were "throwing things at the wall to see what stuck" in terms of virtual learning because they were trying out many different platforms and programs. He said he plans to work with teachers in seeing what worked the best for them and their students over the past year in order to better prepare for the future.
"That was probably the one wonderful thing that that time — not COVID itself but that time — taught us is that we have some incredible tools that help us reach all young people," Blackburn said. "Now I can take that experience from an administrative standpoint, help share that with everybody, help guide them and make their classrooms even better because we have the best content teachers in the world and they have such high ceilings, and I'm glad that I have amnestying opportunity to raise those ceilings a little higher."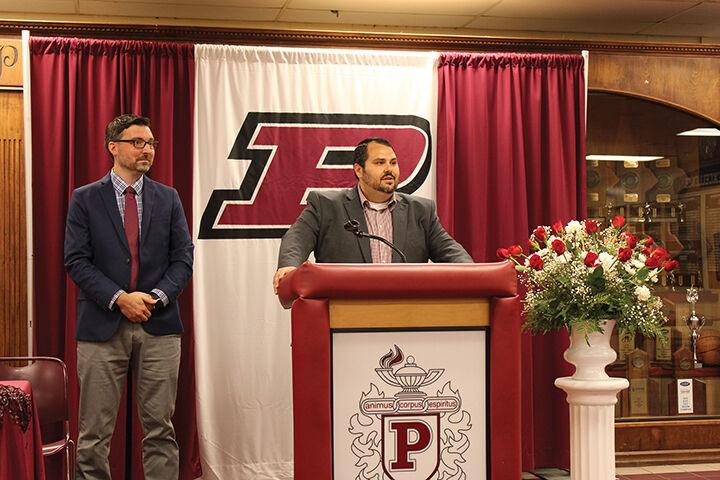 The district named Blackburn as the next principal of Pikeville High School on June 10, and the decision was made by the School-Based Decision-Making Council in partnership with Pikeville Independent Superintendent David Trimble.
The district held a welcome reception at the school for Blackburn and his family on June 11. During his remarks, Trimble expressed enthusiasm about Blackburn taking on the position, describing him as a man who is passionate about education and a man of integrity who will always try to make the best decisions for the students.
"He's a man of integrity. Our kids need someone leading this school who they can look to and can be an example for them every day," Blackburn said. "I have no question that there will be a decision made in this building that is not kid-first and something we can be proud of. Personally, I know that he will never disappoint us, and I'm thankful that we can have a leader that we are confident in that will do that."