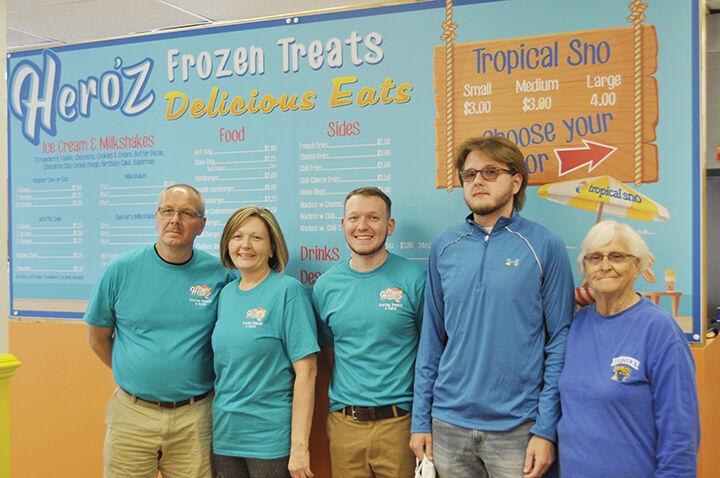 Despite the COVID-19 pandemic, four family-owned businesses opened in Pikeville last week, including Hero'z, a restaurant that was always a dream to open for owners Keith and Stephanie May.
Keith and Stephanie, of Belfry. have owned a family-run ice cream stand called "Pikeville Ice Tropical Sno" in Pikeville since 2016 and in Belfry since 2017. While they still have a walk-up restaurant location in Belfry, they opened a larger storefront location at 242 Second Street in Pikeville on Sept. 30, with a grand opening on Oct. 3. The family also decided to expand their business into being called "Hero'z," a name inspired by Stephanie's battle and recovery from Stage 1 breast cancer.
Keith said that he and his wife initially felt nervous about opening a storefront location during the COVID-19 pandemic. However, at their Belfry stand, they began offering curbside service, and they thought they could offer and provide the same service at their new location in Pikeville.
"It's scary when we first talked about it, but we just thought it was, at this time, a good opportunity because we started doing some curb service at our Belfry location," Keith said. "We thought, with this one, we could kind of offer the same thing with a limited crowd inside, while following the CDC guidelines. I think the Lord just sent a message to us that this was a golden opportunity to open during a pandemic and offer some different things and varieties for the community to basically just get out and move around a little bit because we know people have been inside a lot."
Along with ice cream, Hero'z offers grilled food options to their customers, like hamburgers, hot dogs and homemade chili. The pandemic has caused a few challenges for them, they said, like delaying their purchasing of certain equipment due to them being out of stock and causing their tables to be put on backorder. The city, Stephanie said, provided them with a lot of support while they worked to open the store, like offering incentives for them, helping them decorate their restaurant and lending them tables, among other things.
"The city's incentive program was also really wonderful," Stephanie said. "It was really a stepping stone in helping us to do that because I think it's the smaller businesses that have been most affected by it. We didn't want to become another statistic. We wanted to be able to try to sustain the community because we need those things in smaller towns like this."
They described their business as truly being a family effort, where they receive help from family members like their two sons, Trenedy and Tyelin, among others. Trenedy also recently graduated with a bachelor's degree in business administration from the University of Pikeville, and Stephanie said that the family has learned more about business with his help.
"My sons were the first ones, and it just kind of evolved from there that we all just kind of pitched in," Stephanie said. "It really is a family effort. We've only ran the one at Belfry, and it's just been really nice. It's an opportunity for us to learn business along the way, and I guess it's also a chance for him to expand upon his business knowledge and kind of give us some tips as we go along."
Although it is primarily family-run, the owners have hired several student employees at their Belfry location and they said they hope to join UPike's work-study program in order to provide a closer work option for students.
They said that the support they have received from the community and from the city have been wonderful.
"The first few days, we kind of opened a little bit Wednesday (Sept. 30) to get a crash course, if you wanna say it, but it seems like the city has done really well," Keith said. "The support we've received from them has been wonderful."
Three other businesses held grand openings on Oct. 2 and Oct. 3, including Moon Light Pathways, Two Chicks and Co. and Rejuvenate. Moon Light Pathways is a retail metaphysical store located in the Town and Country Shopping Center, Two Chicks and Co. is a home, jewelry and gift store located at 787 Hambley Boulevard and Rejuvenate is a wellness spa located at 111 Caroline Avenue.
Dr. John Cecil and Andi Cecil are originally from Floyd County and Paintsville, respectively, and they are parents of two young children. They are the owners of Rejuvenate, and they have worked to open their spa for about one year. John said that they want to provide a place where local people can receive spa treatments and services without needing to travel far from home.
"Our purpose is to give to the community services like nano-needling, facials, anything you could kind of look for in a spa, in our hometown," John said. "We don't want Pike Countians, people in Pikeville and Floyd County driving an hour to Lexington or to West Virginia. They can come here and get it."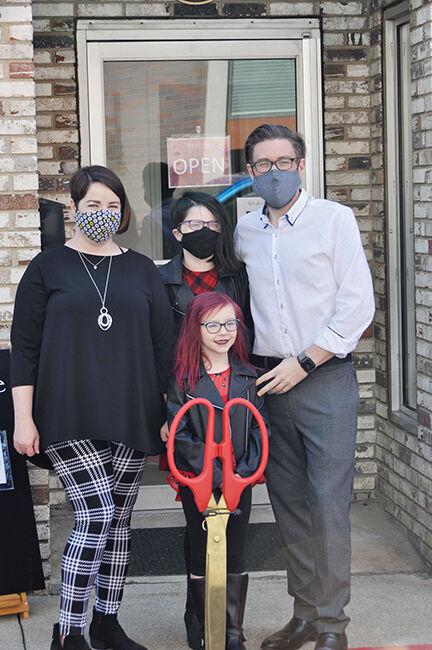 John said that they held a soft opening about three months ago, but they finally held their ribbon cutting ceremony on Oct. 3. The couple said that the COVID-19 pandemic created several setbacks for them, and while they could not open right away, they worked to renovate their facility to prepare for a future grand opening.
"We technically got our license to open the day that they shut down the cosmetology industry," Andi said. "I got my license from the board, and he said, 'Be closed at 5 p.m.' So I sat for a few months without the ability to use my license. It was very frustrating, but during that time, we did some renovations and got everything completely ready."
Although they will not be able to do all of their special events at this time,  Andi said, they will be able to hold private parties and do smaller events. They hope to hold larger events in the future when they can.
"We didn't want to do the grand opening yet because we wanted to be able to do all of our services and do this, the red carpet, and have everybody be able to come in for our services," Andi said. "We still won't be able to do everything like we want, but we are going to do a few private parties and a few smaller events, where now we can have a few people in at a time. Eventually, we want to do big events, like the 'girls' night out,' where you have several girlfriends come in together. We're gonna have an alcohol license to where you can come in and get drinks, do makeup classes, facials and everybody can just hang out together."
They said that they have received a lot of support from the community and great responses from their customers.
"It's been wonderful," Andi said. "We're very budget-friendly which is great in this area. We're both from here, and we've both been raised in a very middle-class family. We don't have a huge budget, and we understand that that's something around here that is an issue. So we don't want to be expensive. We don't want to be very glamorous and somewhere you're uncomfortable being because it's too fancy for you."
Jill Fraley Dotson, executive director of economic development for the City of Pikeville, said that the city offers incentives through the Pikeville Main Street Program, and new businesses can apply for those incentives if they are interested in opening a business in the city. These multiple businesses opening, she said, demonstrate positive growth for the city in the midst of the ongoing pandemic.
"Primarily, it means that Pikeville is open for business," Dotson said. "A lot of people in surrounding regions have seen a lot of closures and a lot of difficulty because of COVID, but I think that what it means for us is that Pikeville is open. We clearly have a large number of people who have shown an interest in wanting to open — open a business, open a small business — and they want to do that in Pikeville. We're certainly happy to have them."
For more information about Hero'z or to place an order, call the Pikeville location at, (606)253-3112, call the Belfry location at, (606) 369-1929, or visit the "Pikeville Ice Tropical Sno" Facebook page.
For more information on Rejuvenate Spa, call, (606) 454-7567, or visit the "Rejuvenate" (@RejuvenateKy) Facebook page.
For more information about the Pikeville Main Street Program, contact Director Minta Trimble at, (606) 899-2489, or visit, www.pikevillemainstreet.com.