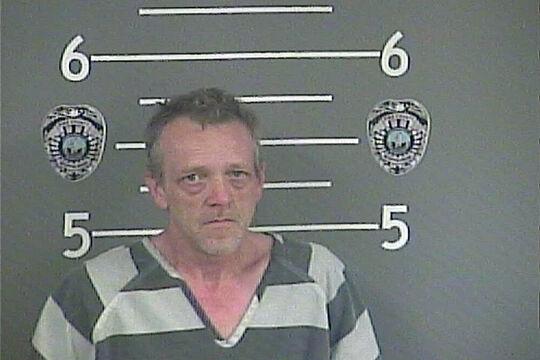 A Pike man was arrested on several charges this week after a shooting incident at Stopover.
According to an arrest citation by Kentucky State Police Trooper Mahala Lewis, in the early morning hours July 15, KSP Post 9 received a 911 emergency call advising that there were several gunshots and screaming could be heard coming from a residence on Ky. 194 East at Stopover.
The agency, Lewis wrote, also received a call from a victim in the shooting, who told post that Eddie Dean Ferrell, 53, of Ky. 194 East, Stopover, had started shooting toward her and other subjects. The victim, the citation said, told dispatchers that she would be standing by for an ambulance at the Phelps Double Kwik.
Lewis wrote that she made contact with the victim at the convenience store, and found that the victim had a gunshot wound to her right leg and a large laceration on her right arm.
The victim, Lewis wrote, told officers that Ferrell had started an altercation with her at his residence, accusing her of stealing items. Ferrell, the citation said, then went into his garage and brandished a large firearm, which he fired several times.
Ferrell, Lewis wrote, was found at his residence and detained. The citation said Ferrell admitted to shooting the firearm several times and gave consent to search his garage and home. Ferrell, the citation said, told officers the firearm in question could be located in a Jeep inside his garage.
Lewis wrote that, in addition to the firearm, officers found a vehicle outside the residence which had been hit by "several gunshots," which caused damage and deflated a tire. Lewis wrote that five shell casings were discovered near the garage door.
While searching Ferrell's person, Lewis wrote, she found a small plastic baggie containing a crystal-like substance believed to be methamphetamine.
Ferrell was lodged in the Pike County Detention Center on charges of first-degree assault, first-degree wanton endangerment and first-degree possession of a controlled substance (methamphetamine).