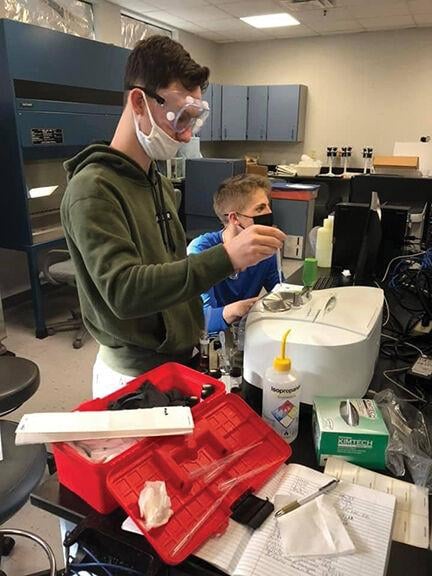 Two Belfry High School students won big at the 19th annual Kentucky State Science Virtual Fair and are now set to compete on an international level.
Seniors Ben McNamee and Ryan Varney won several awards at the KHSV Fair on March 27, including third place in the Biomedical Engineering category, the Amazon Innovation Award and the American Society Material Science Award. They will be competing at the International Science and Engineering Fair on May 6. The topic they competed with was, "Synthesis of Carbon Based Quantum Dots Using Bottom Up and Top Down Methods."
Dr. Haridas Chandran, Belfry High School Physical Science Teacher, has mentored the students as they have prepared for the fair since August 2020. He said that he was proud of how they have worked hard to prepare their project throughout the year.
"It's a great achievement for those students," Dr. Chandran said. "Because of COVID, they were not present every day in the classroom so they worked as a team and worked very hard."
Superintendent Reed Adkins also said that he was proud of the students for their hard work, and he said he also wanted to recognize their teacher, Dr. Chandran, for his work in helping the students achieve their success.
"We're extremely proud and excited for Ben McNamee and Ryan Varney in what they have achieved and how they have represented Pike County," Adkins said. "Dr. Chandran is also a fabulous teacher. He's one of the best educators in the state. The kids at Belfry are blessed to have him as an instructor."