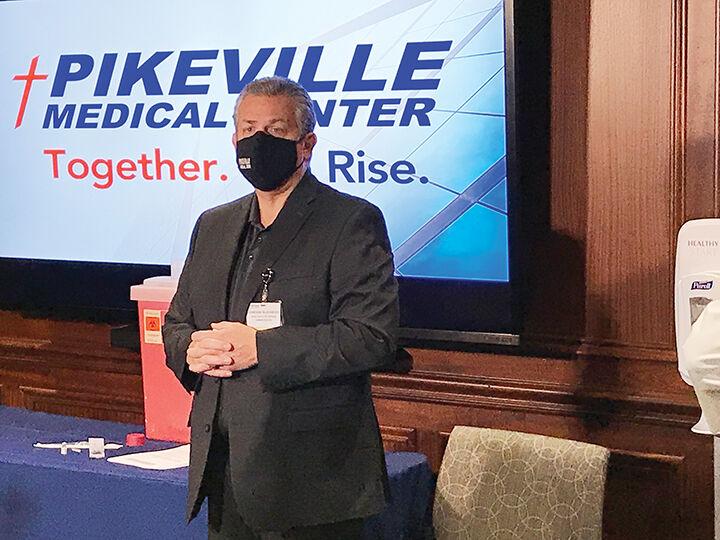 Pikeville Medical Center (PMC) unveiled a new website to allow people 70 years of age and older to register to receive a COVID-19 vaccination.
The announcement was made during a press conference Jan. 5.
People in the age range are urged to use the website, www.pmcvaccine.com, to secure a reservation for the vaccine.
"In Pike County, there are an estimated 10,000 residents 70 years of age and older, placing them in the 1B phase," PMC CEO Donovan Blackburn said.
Blackburn received his second vaccination at the press conference.
PMC has inoculated more than 60 percent of its employees who have chosen to take the vaccine.
According to Blackburn, the vaccination for the 70 and over population will begin as soon as the next shipment of vaccines arrive at PMC.
Anyone 70 and over who live in the PMC service area which includes Pike, Floyd, Knott, Letcher, Magoffin, Martin and Johnson counties are encouraged to visit the website and register scheduling will be on a first-come, first-served basis.
Although many in the age group may not have access to or even own a computer, Blackburn urges people to utilize the website instead of calling for an appointment.
"With over 10,000 people, we don't have adequate staffing to open a phone line," Blackburn said. "If there is no other way around it then call the hospital.
"The problem is you may be on hold for quite awhile because the staff that will be answering the phone will be the same ones that are scheduling a thousand people that called in," Blackburn said.
The vaccines for the 70 years of age and older group, once available, will be administered in a drive-thru method, similar to the flu vaccinations and will be given behind the former PMC Leonard Lawson Cancer Center location in Pikeville.