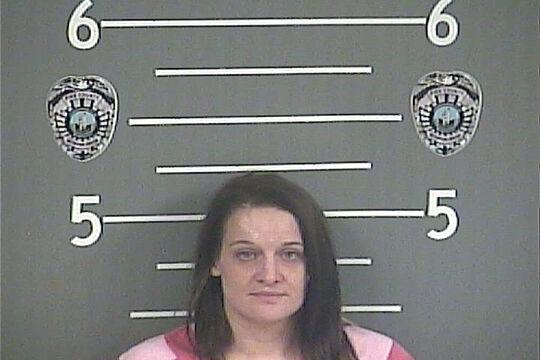 Two Letcher County women were charged with trafficking in methamphetamine after an investigation by the Pikeville Police Department this week.
According to the arrest citation by PPD Officer Brandon Martin, in the early morning hours of Feb. 15, officers went to a room at the Hatfield McCoy Lodge in Pikeville. After knocking on the door of the room, Martin wrote, Officer Austin King observed a female, later identified as Shylla Marie Douglas, 33, of Great Oak Road, Whitesburg, go into the bathroom, and a second female, identified as Tressie Davis, 37, of Ky. 2545, Whitesburg, go to the bathroom and hand two black bags to Douglas.
Davis, court documents said, opened the door but would not give officers consent to search the room until Douglas came out of the bathroom.
Martin wrote that officers found a clear crystal-like substance believed to be methamphetamine in the room and King detected a strong odor of marijuana from two black bags he had seen the women exchange. Another female who was not identified in court documents said the marijuana was inside a backpack, the citation said.
King placed Douglas under arrest. Further search of the room, Martin wrote, revealed five packs of unopened glass containers and baggies commonly used to package narcotics for sale, as well as a small glass container with residue that appeared to be methamphetamine on the inside of the lid and a large quantity of cash.
King wrote in the arrest citation that, after he arrested Douglas, she began sweating profusely and complained that she needed to use the bathroom. Douglas, King wrote, told him she did not have anything on her person.
Jail personnel strip searched Douglas and discovered several crystal-like rocks believed to be methamphetamine which were not packaged inside of a body cavity, the citation said. King wrote that he had Douglas transported to Pikeville Medical Center to receive medical care due to the rocks not being packaged.
Davis was lodged in the Pike County Detention Center on a charge of first-degree trafficking in a controlled substance (methamphetamine) and Douglas was cited on charges of first-degree trafficking in a  controlled substance (methamphetamine), first-degree promoting contraband and possession of marijuana.