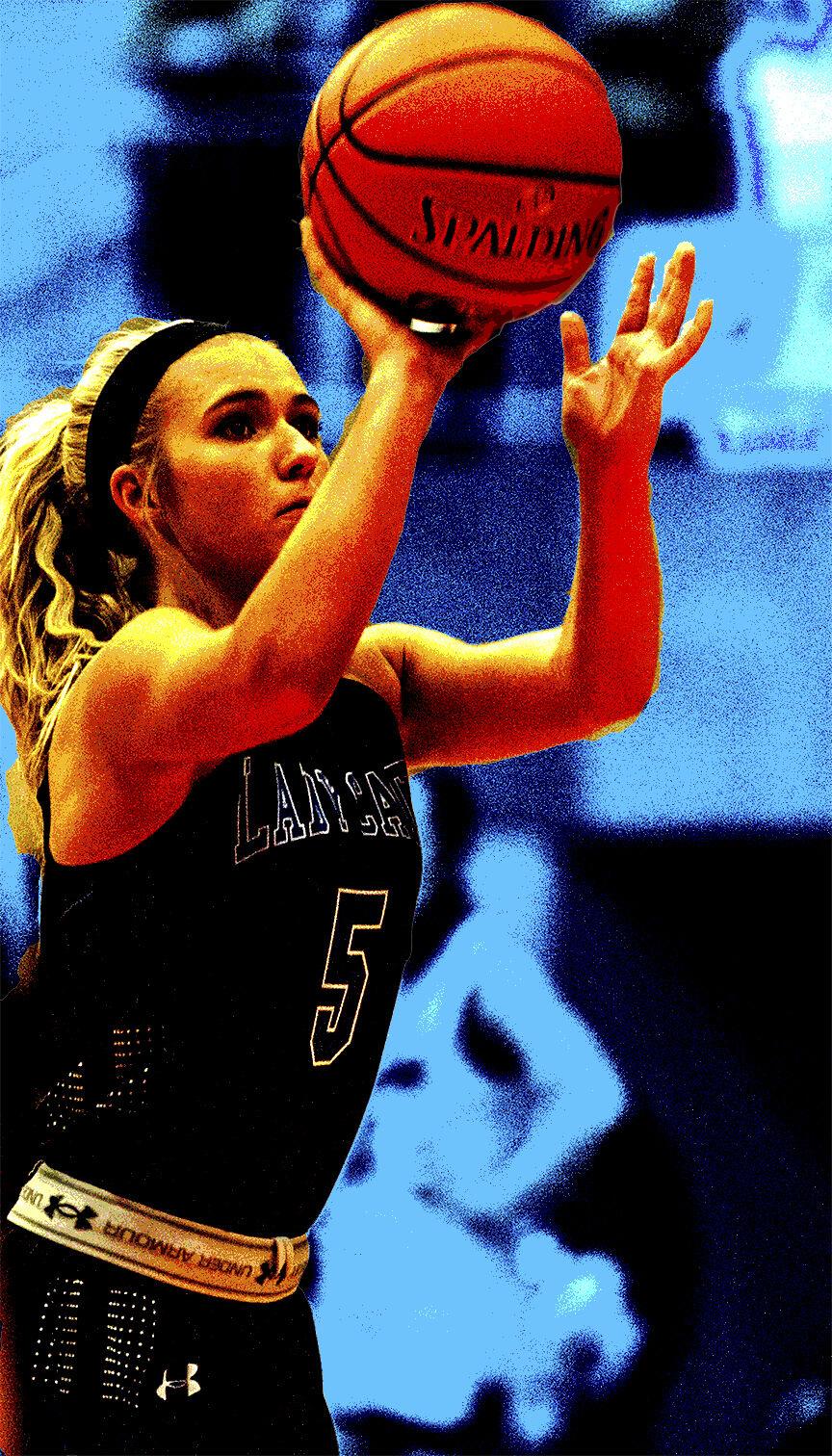 Shelby Valley was left heartbroken and wondering "what if" after Tuesday's announcement that the All "A" Classic state tournament was canceled due to weather.
The tournament was set to kickoff Monday in Richmond at McBrayer Arena, but with the inclement weather the start of the tournament was delayed, until Tuesday morning when it was ultimately called off for good.
"I was devastated," Cassidy Rowe said. "I woke up that morning and I was looking forward to watching the first game which was Walton Verona vs. Bethlehem and we had it all planned out and everything packed up. Then I got the news and I started crying. I laid in the bed the whole day. I was heartbroken because this is Laci's senior year and we've played together since we were really little. It's always been our dream to win a state tournament together. It hit me like what if this is our last opportunity and we'll never get that again, but then I realized that we still have one more that we can win. I really believe that we will and think we'll be back at Rupp (Arena)."
"As a team we've all been close and we've all been super excited," Laci Johnson said. "Last year, we all got the blue streak in our hair to show some team unity and Sunday we were all so excited because we just got our blue streaks for this year and then found out that they postponed it (the All "A" Classic). That was so heartbreaking because we wanted to go down so bad and then to wake up on Tuesday morning and hear that that it was over was so hard on us as a team. We've overcome so much. So many injuries and we've been through so much just to get where we are and to have it ripped out (of our grasp) was really hard."
The Lady Wildcats won their second straight 15th Region All "A" Classic tournament earlier this season. It also marked Shelby Valley's third trip in four years.
During the 2018 season, the Lady Wildcats advanced all the way to the All "A" Classic finals. Shelby Valley fell to Murray 50-43.
Last season, Shelby Valley knocked off Louisville Holy Cross 64-30 in the opening round before falling to Walton Verona 37-31 in the second round.
Shelby Valley had three players who got a lot of playing time in both prior All "A" Classic runs. Cassidy Rowe and Alyssa Elswick were eighth-graders when the Lady Wildcats finished as runner-up in 2018 and Laci Johnson was a freshman.
"After the news of canceling the All "A " Classic state tournament it was rough," Shelby Valley coach Doe Doe Rowe said. "Not only did I have to accept the news, I then had to relay the news to my girls. The first being Cassidy (Rowe). She was so upset. She was in shock, then she cried and then she just went and laid in her bed until she fell asleep. The other girls were in disbelief. They had worked so hard and did everything they were asked to do such as wearing masks, stay away from big crowds and washing their hands regularly. I really feel sorry for all of my girls especially Laci (Johnson) my lone senior. This was her last chance at winning an All "A" state title. I just told my girls that we would just keep working, keep smiling and keep playing.
"I honestly felt like we had a great chance at winning the title this season. We had a pretty tough draw ( Berea), but there was not one team that I was afraid to play and my girls were also that confident. The field was loaded this year, but I think I have two of the top players in the state and I wanted the state to see them play on the All "A" stage. I know there are some great players out there and by no means am I disrespecting any of them, but Cassidy (Rowe) and Alyssa (Elswick) are both right there at the top and as far as an inside/outside combo they are probably Top 2 or 3."
"Devastating is a good way to put it," Elswick said. "It was very sad because we had worked very hard to earn the right to represent the 15th Region. We really did have a good shot at it, but in any tournament like that, you just have to survive and advance."
Last season, the Lady Wildcats had a great showing at the All "A" Classic state tournament, but Cassidy Rowe wasn't healthy.
"Last year we were a great team," Cassidy Rowe said. "We had great players and it was really an honor to be there. It sucked for me because I wasn't 100 percent and I wanted to be so bad for the girls, but I really think this year would've been a lot different just because we've been there before, we have experience and we were going into thinking we were going to cut down nets and I really believe we would've. Under the circumstances, we just had to stay home, but I am really looking forward to the rest of the season."
"Every year, it's so exciting to hopefully get another chance to go to the All "A" and to Rupp Arena and win is something that we look forward too," Laci Johnson said. "Ever since my freshman year, I've said by my senior year that I am going and I'm winning the championship. We feel that we had a chance this year. Cassidy (Rowe) is really healthy and has been so long since I've got to play ball with Cassidy (Rowe) and she being back to the old Cassidy (Rowe) was going to be something special since this is my last year. That makes it kind of extra hard not having that chance."
This season, Elswick leads the Lady Wildcats in scoring. Elswick is averaging 16.2 points per game and 6.9 rebounds per contest.
Cassidy Rowe follows by averaging 15.6 points per game and around double digit assists per contest as well.
Elswick a Thomas More commit (the No. 1 ranked NAIA team in the nation) and Cassidy Rowe (a University of Kentucky commit) make up one of the top inside/outside duos in the state.
Shelby Valley is 8-3 on the season. The Lady Wildcats were looking really good coming off big wins over East Ridge and Pike Central entering the All "A" Classic state tournament.
"Honestly, I think we just play team ball," Laci Johnson said. "We have so much chemistry and developed even more since the season's been going on. Kyra (Looney) moved from East Ridge and she just fits in so well with our team. As time has went on, we have all just grown so close. I think because we play team ball that everything is just clicking right now. We were so excited to get to go to the All "A" because we are still trying to reach our peak and we're not in a valley. Hopefully, we can ride it out to Rupp (Arena)."
"I feel like we're improving every day," Cassidy Rowe said. "I know we still have a couple injured, but we're talking more on defense and we're sharing the ball better. We've been sharing the ball well since day one, but I feel like we're just making all the right passes. I really feel like everybody is just in a great place right now."
"We really like running and gunning," Elswick said. "We like getting up and down the floor. It's just a lot more fun compared to just playing a half court game all the time. It's easier to beat people that way honestly. The best way to beat defenses is just not to play against it. It's just really fun to get out in transition. We all have really good chemistry and we know where each other is on the court, so it's just really easy."
The Lady Wildcats have had a lot of struggles getting games this season due to COVID-19 and now, weather.
"We've just been through so much," Cassidy Rowe said. "All of the teams in the state of Kentucky really have too, though. We've just had so many injuries and we've already had to shutdown for a week. I feel like we just keep missing games and our season is getting shorter and shorter. That's what we were looking forward to. We were all like as long as we get to go to Richmond, we're fine. And then hearing that news — it was just devastating. It broke our hearts. But we are back out here today working to get to Rupp (Arena)."
Bethlehem is the defending All "A" Classic state tournament champion.
The Lady Wildcats played Bethlehem at home earlier this season.
Bethlehem was ranked No. 3 in the state at the time and picked up a hard fought 74-66 win over the Lady Wildcats.
Bethlehem was in the bracket opposite Shelby Valley, so the only way the two teams would've met would've been in the All "A" Classic state championship game.
The Lady Wildcats wanted to get the opportunity to play Bethlehem with a full roster this time around. In the first game, Shelby Valley had injuries to Kelsey Owens and Zoee Johnson which limited the depth of their roster.
"Yes, we wanted to get to do that more than anything (a second chance to play defending All "A" Classic defending champion Bethlehem). We knew we had a chance. They are a really good team and to know that we were within two points with three minutes left; it was just a close ball game. We only had five girls against them. We were playing iron man basketball and to have all of our girls back, for the All "A", we were super excited. It was just really hard knowing that we didn't get that chance."
"Bethlehem is a really really good team," Elswick said. "They are probably one of the best tteams that we've ever played against, so it would've meant a lot to go down there and prove that we can compete with them. A lot of schools from other parts of the state get a lot of hype around them, a lot more so than the mountain schools do, so it would've really good that we could compete with them on that level and possibly even beat them."
With a full roster, talent and previous experience, the Lady Wildcats really felt like they had a chance to make a run to the All "A" Classic state title.
"My eighth-grade year it was heartbreaking that we went all the way to the All "A" championship and then fell short," Cassidy Rowe said. "That was an amazing season. Just being so young and making that run in that tournament and improving since then, I feel like I would've been a very different player there, but there is not much we can do about it."
Shelby Valley still has the rest of the regular season and post season remaining.
The disappointment of the All "A" Classic getting canceled just adds fuel to the fire to finish the season strong.
"Honestly, this is just fuel to the fire," Laci Johnson said. "We missed out on it. That was something that we worked so hard for and for me personally, it fuels me to work a million times harder. I'm going to play every game as hard as I can, so my girls and I can get to go to Rupp (Arena).
"It's definitely fuel, I'd say," Elswick said. "It's definitely motivation to win district and region. I think it just means that we have that much more to prove."
It's OK to be sad, but the mindset of a champion isn't to stay down long.
"We let ourselves be sad for a day, but today we're back here and we're working for the state tournament, not just to get there, but win it. And I truly believe we can," Cassidy Rowe said.
Sports Editor's Note: The All "A" Classic committee was supposed to have an announcement if they would try and make the tournament up next week or at a later date or not play the tournament at all this season. The announcement was planned for Thursday evening after press time. The News-Express will update fans as soon as a decision has been announced.
And to watch all of the interviews with Laci Johnson, Cassidy Rowe, Alyssa Elswick and Doe Doe Rowe visit our Facebook page and check out this week's edition of the Unwired Appalachia Podcast.