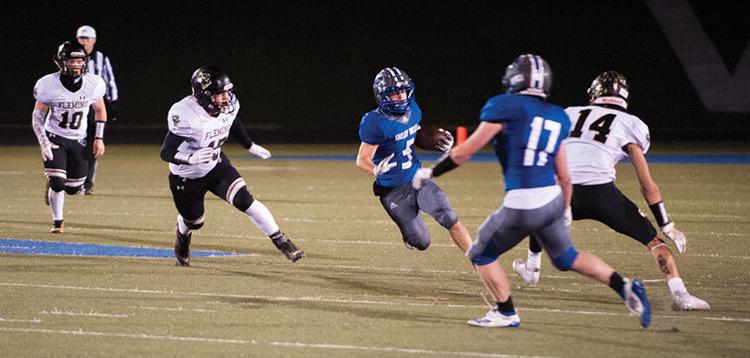 ROBINSON CREEK —Shelby Valley looked like they were asleep against Fleming County Friday night as the Wildcats fell behind 27-with just 9:00 minutes left in the first half.
But once the Wildcats woke up, it was all over for the Panthers as Shelby Valley rolled off 43 straight points to knock off Fleming County 43-27.
"We've got a bunch of kids who as the season has progressed, have started really believing in each other and themselves," Shelby Valley coach Anthony Hampton said. "We've got a ton of athletes. All of these kids were unsure of themselves and what their jobs were and what they were supposed to be doing earlier in the year. As the season has progressed, they started figuring out their jobs and their roles on this team. They're starting to have a blast playing together. I really think the thing that has made a big difference is the amount of fun that they're having. Them having fun together and the fact that they truly care for each other is enormous to me. With tonight being senior night, we let the kids can sit down and have some conversations pregame about what football means to them. It was pretty obvious to all of the coaches in that pregame that these kids love each other. I think that's the difference."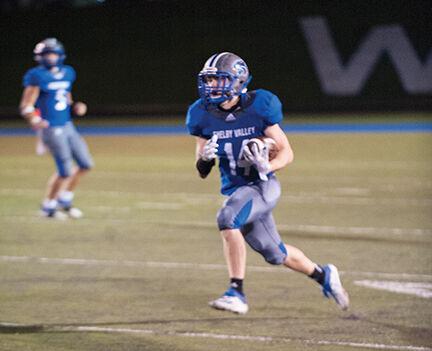 It was all Fleming County early.
The Panthers got on the board as Buddy Morgan found Levi Denton for a nine-yard TD pass with 7:40 left in the first quarter. After the extra-point, Fleming County held a 7-0 lead.
The Panthers held a 7-0 lead at the end of the first quarter.
All of the fireworks started in the second quarter.
On the first play of the second quarter, Morgan found Payton Roark for 53-yard TD pass to push Fleming County's lead to 13-0.
On the second play of scrimmage in the second quarter, Shelby Valley freshman quarterback Russ Osborn's pass was picked off by Jaden Argo. Argo returned the interception 40 yards for a TD to push the Panther lead to 19-0 with 11:31 left to play in the first half.
After the Wildcats turned the ball over on downs, Morgan found Logan Pinkley for a 39-yard TD throw to push the lead to 27-0 with 9:03 left to play in the first half.
It looked like Fleming County was on its way to a running clock and an easy win.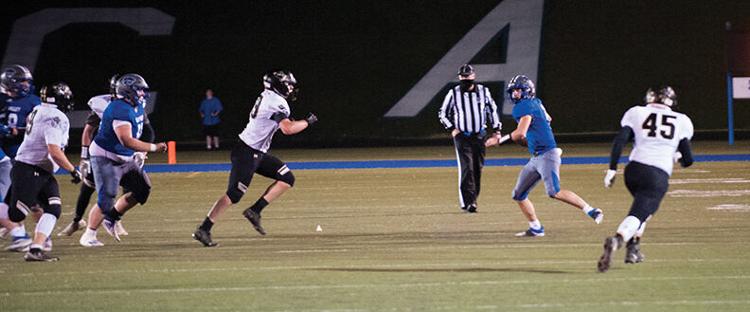 That's when the Wildcats woke up.
On Shelby Valley's next drive, Osborne found Anthony Pallotta for a 26-yard TD pass with 6:28 to play in the first half. The score cut the lead to 27-7 after Jordan Little's extra-point kick.
The Wildcats followed by recovering an onside kick to get the ball back.
Osborne found Pallotta again, this time for a 29-yard TD pass with 5:35 to play to cut the lead to 27-13.
Pallotta finished the night with four catches for 78 yards and two TDs offensively.
The Wildcats defense held and forced Fleming County to turn the ball over on downs on the Panthers' next possession.
Osborne went back to work. This time the freshman gunslinger found tight end Lincoln Billiter for a 30-yard TD pass with 1:15 left in the first half. After Ethan Bentley scored on the two-point conversion, the Wildcats cut the Fleming County lead to 27-21.
Osborne finished the night 11 for 19 passing for 218 yards and four TDs with an interception. He also rushed for 82 yards on seven carries.
Osborne also set a pair of school records on the night. Osborne broke offensive coordinator Tyler Johnson's school records for most passing yards in a season and most passing TDs in a season.
Osborne has thrown for 1,586 yards and 19 TDs on the season.
Just as it looked like Fleming County was going to drive and score before the half, Pallotta came up with another spectacular play.
Pallotta had a clean shot on Morgan, but instead of just hitting him with a big sack, Pallotta just took the ball from Morgan's hand as he was preparing to throw. The ball came loose and Pallotta scooped it and returned it 71 yards for a TD with just 40 seconds left in the first half. The Wildcats took a 29-27 lead into the half.
The two teams combined to score 49 points in the second quarter. The Panthers scored 20 points in the first four minutes of the quarter, while Shelby Valley scored 29 points in the final 6:28 of the quarter.
The Wildcats opened the third quarter with possession of the ball. Osborne found Keian Worrix for a 12-yard TD with 9:31 left to play. That pushed Shelby Valley's lead to 35-27.
Worrix finished the game with two catches for 38 yards and a TD and three carries for 29 yards and a TD.
On the Wildcats' next possession, Worrix put the game away. He scored on an 18-yard TD run with 4:23 left in the third to set the game's final score.
"For any team that is big, it doesn't matter what time of year it is," Hampton said. "To see kids get down and instead of giving up or going through the motions, they decided as a collective unit that they were going to dig in and fight. Seeing that, we've had conversations and I've coached here a long time, a lot of teams I don't know would've handled it that well. I'm talking about some good teams. These boys have really found a way to persevere. This entire season, society has been in chaos right now with the pandemic, these kids have seen things that kids shouldn't have to see. They've had to deal with things mentally and worry about things that kids shouldn't have to worry about. On the positive side for us, I think it has made these kids mentally tough. That combined with what they've gone through together as the season has progressed, these kids have overwhelmed me. I'm so proud of the boys and their effort. Getting down early like that is concerning. We were looking at things like schemes and things to change. I called a timeout and just had a conversation with them. There is no scheme. It's believe or don't believe. From that moment on, I'll be honest, they started doing the job for me. They were out there coaching each other and helping each other and there was no negativity. That's probably the biggest thing that I see now from the past is that there was no blaming each other, they were picking each other up after mistakes and they kept pushing."
Shelby Valley scored the game's final 43 points after falling behind 27-0.
Running back Jayden Newsome finished the night with 140 yards on 14 carries. Little finished with 56 yards rushing on seven carries. Bentley added 19 yards on two carries and hauled in two catches for 22 yards. Billiter hauled in three receptions for 80 yards and a score.
Shelby Valley (7-2) is scheduled to open the first round of the Class 2A playoffs on during the Week of November 20 at home against Martin County.