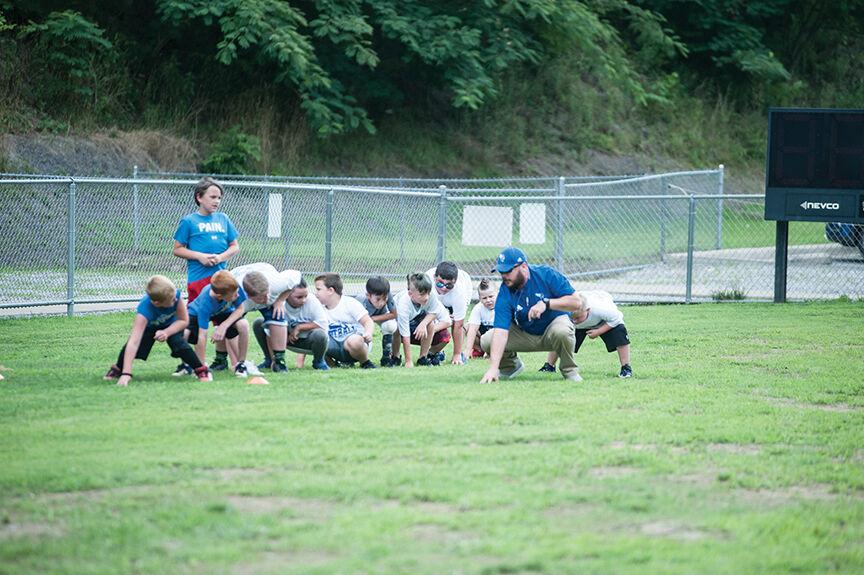 Last Saturday, the first-ever Gaino Stitlner Youth Football Camp was hosted at Phelps High School to honor the late Hornets assistant who passed away last December due to COVID-19 complications.
The camp was free of charge to anyone who wanted to attend, and former Belfry football and current Louisville football standout Cole Bentley was a special guest speaker at the camp.
Ruby Bowling, the Little League president in Phelps, was among those who helped organize the camp.
"Phelps is a small community," said Bowling. "We have a very small amount of children, so we were trying to up our program. We just thought, hey, let's bring it in memory of Gaino and have a small football camp, maybe get these boys back into the sport and have our team grow more."
According to Bowling, an estimated number of 40 to 50 kids turned out for the camp.
"We had some from different schools that came, so we have spread the word throughout the county," said Bowling. "It was welcome to anyone who wanted to show up and be here. We had grades K-8 who were involved in the camp."
"I want to see this team come together and learn about brotherhood and about what it is to be on a team; what it's like for everyone to have a supporting role on a team," said Bowling. "We had Cole Bentley speak of team and leadership and how vital it is to be on a football team together."
Debbie Stiltner, who is the athletic director at Phelps, was Gaino Stiltner's wife. She talked about what it means to the Phelps community for something like this to be offered to the area.
"Coach Andrew West actually approached me and asked me if it would be OK for them to do a camp for Gaino, and of course I said it was fine," said Stiltner. "He was involved with football from the time it started here. He started as a junior high player and played all through high school. As soon as he finished, Yogi Kinder from Matewan was our head coach at that time. He asked Gaino to come and help film and he did. Then, he started coaching and he's been involved with it ever since."
She mentioned the names of several people who influenced Stitlner throughout his life being involved with sports.
"That's just what we did," Stiltner said. "That's what Gaino would tell people, that's what we do because the schools were our hobby. We were always at a ballgame even if it wasn't football. He was always at a ballgame. Gaino would talk about the difference that some of the coaches had made in his life, like coach Mark McCoy. He would talk about coach McCoy all the time and what an impact he had on him as well as JC Young and Ronnie Preece, Paul Ray Charles and all these people that if they hadn't taken an interest in him, he probably could have turned out a lot different than what he did. Sports have really had a big impact on him and he wanted to give that back to the kids."
Phelps' football stadium is named "Stiltner Field" after Gaino himself, who is from Shades Branch, an area just down the road from the field. There is a picture of him as you enter the Phelps locker room that honors him and was put on the wall when the stadium was first built. Debbie Stiltner expressed emotion, while talking about that.
"What's on that picture is actually from the speech the day the field was dedicated to him," said Stitlner. "You can actually see Shades Branch from here, the entrance to it is right there. He's buried up there on the hill. We had one made for baseball. We've got one down here that says "best seat in the house".
Stiltner says she wants to see a renewed interest in football and for more people to get involved.
"Even though we need them for players, we have a lot of kids that need football more than football needs them," she said. "It gives them a family. Gaino would run into people that he played with years ago and just tell that there was a bond there with the way they shook hands and the way they talked to each other and slapped each other on the back. You could just tell that there was a bond. Gaino would say that when you eat dirt and grass together, you sort of get a bond there. This field was actually our old field. There was no baseball field here before. The grade school sat right there. They actually practiced on and played on it for a while, so it's in the same place that the other one was. I think that's pretty neat too."