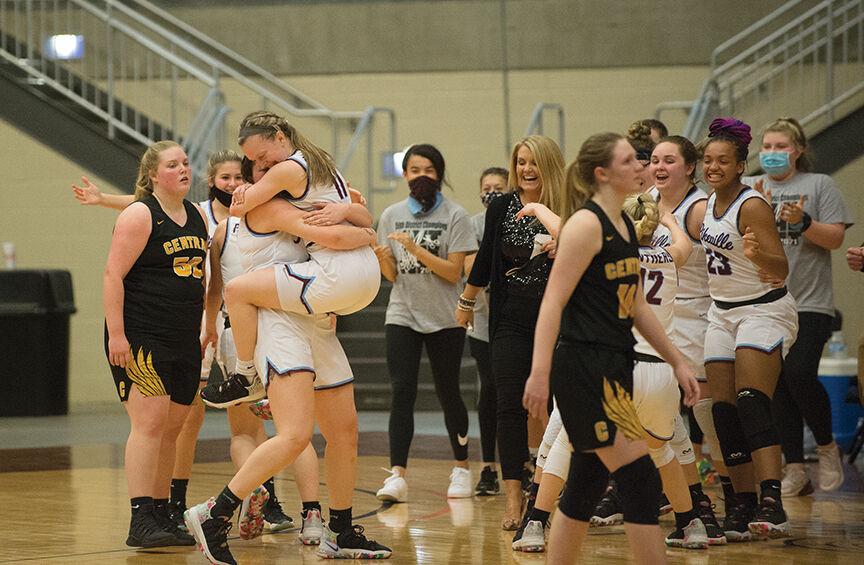 Back-to-back-to-back.
Three peat.
Three in a row.
Dominant.
No matter how you describe Pikeville's postseason run in the 15th Region the past three seasons, the result has been the same.
Pikeville will end its season on the Rupp Arena floor.
"It feels amazing," Pikeville coach Kristy Orem said. "You know how hard my girls work and I'm not easy to play for, I say that all the time. It's just an amazing feeling knowing that their hard at work and I'm making them do noon workouts in May, now that it is paying off, so that's a really good feeling."
Last season, the Lady Panthers fell to Casey County 49-46 on March 11.
The next day, everything started to shut down.
So now with everything starting to open back, the Lady Panthers hope they will have a full and extended stay in Lexington and Rupp Arena this season.
"We got to play and then we went to final game the next day," Orem said. "We were like, we'll go watch and then, you just watched everything die. The kids were all mad at me because they didn't get to go to the mall. So this time, I have to make sure that we go to the mall and we get to eat some Rupp Arena ice cream and we get to eat at Malone's."
Pikeville (25-5) will take on Marshall County (22-2) at 11:00 a.m. Thursday morning in the opening round of the Mingua Beef Jerky Girls Sweet 16 Basketball Tournament.
Pikeville picked up a 48-35 win over Johnson Central last Monday in the 15th Region Tournament.
The Lady Panthers had over a week to prepare for Marshall County because the Boys' Sweet 16 occurred first this season.
"We are going to give them a couple days off to celebrate a little bit," Orem said. "Then we are going to try and get them back in and get them focused and ready.
According to Maxpreps.com, Marshall County is the No. 4 ranked team in the state, while Pikeville falls right outside of the Top 25 at No. 26.
Marshall County, like Pikeville, is a balanced team when it comes to scoring.
Cayson Conner leads Marshall County with 13.1 points per game. Halle Langhi follows with 12.6 points per game and a team-high 8.1 rebounds per game. Jada Driver and Layne Pea average 9.7 and 8.3 points per contest. Sophie Galloway follows with 7.6 points and six rebounds per game. Presley Jezik is averaging 5.5 points per game.
Pikeville is balanced when it comes to scoring too.
Trinity Rowe leads the Lady Panthers with 15 points per game. Mackenzie Maynard follows with 11.7 points per game and 7.3 rebounds per contest; she can also block shots on the defensive side of the ball as well. Kristen Whited is averaging 10.2 points per game and Emma Ratliff follows with 7.1 points per game. Kylie Hall is averaging 6.4 points per game and 6.4 rebounds per game as well. Rylee Theiss is averaging 6.4 points per game and Leighan Jackson is averaging 3.4 points per game.
"It's just nice to see how great of teammates they are," Orem said. "They understand that it's not how many points they score, it's about how many our team scores and if we are in a position to win. You can see they are the ultimate teammates."
Many people will think that Marshall County is a heavy favorite, but Pikeville has played some tough competition and will be ready.
Don't be shocked if Rowe and Maynard have big games and find a way to lead the Lady Panthers to at least the second day of competition.
Pikeville will take the Rupp Arena floor for the third straight time this Thursday morning. The Lady Panthers are hoping when the buzzer sounds, there is a different result and they are marching on to the second round of the Sweet 16.