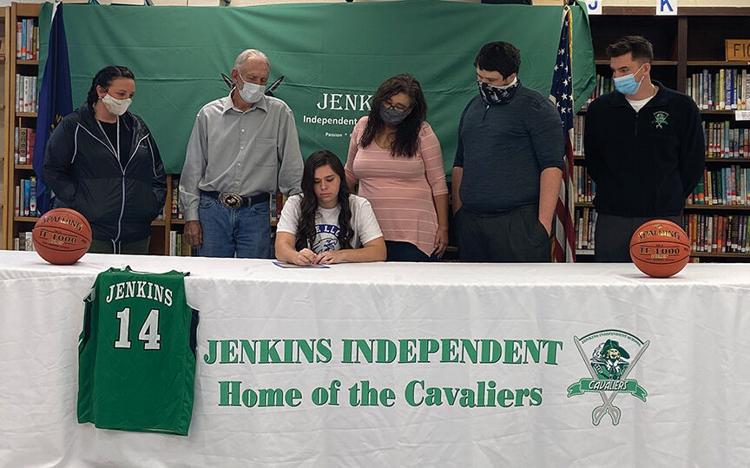 JENKINS — Jenkins' Kristin Thacker had a day that all players dream of Monday afternoon.
She signed to play college basketball at Alice Lloyd College.
Kristin Thacker only had one word to describe her day.
"Amazing," Kristin  Thacker said. "That's really the only word that I can use. I'm just really blessed to have all of this today."
Alice Lloyd was the right fit for her academically and her playing style as well.
"It's really exciting and I'm really nervous," Jenkins' Kristin Thacker said. "I'm excited that everybody got to be here with everything that is going on. I'm thankful for the support and I'm excited to be able to go ahead and sign and plan out my future. It was very important to me to get everything planned because I'm very on the go. I'm just really happy that I got to do this.
"It really was the fit academic wise because they'll take my college credits (from high school). They also fit my game with their play. They're losing three starters that play the wing and shoot and that's what I do, so I'm just ready to go in and help them win some more games next year."
Kristin Thacker along with her twin sister Jerrica Thacker will both be seniors for the Lady Cavs this season.
The duo have played together all their lives and always done everything together, but Kristin was happy to have something just for her.
"I wanted to sign by myself," Kristin Thacker said. "I just wanted to have something all by myself. We've kind of done everything together. Birthdays, sports and just everything have been both of us, so it was kind of great to have something for myself and just for me. It is kind of sad that we don't know what she is going to do yet. We aren't sure if she's going to come with me or go somewhere else. It's just exciting to see what's going to happen. If we don't go to the same school, then maybe in a few years something will happen. I'm just excited to have this to myself for once."
Jenkins finished with a 7-23 record last season.
The Lady Cavs returned everyone from last season's squad and will look to build from last season. Jenkins is hoping for a much better season this year.
"I think we'll win a lot of games this year," Kristin Thacker said. "I think a lot of other teams might realize that too and see that we are going to be a threat this year. We've been working a lot on our defense because we can play offense. Every practice has been defense, defense, defense. There hasn't been any offense, just defense. I think we're going to have a really good year and possibly have a winning season, hopefully as long as get everything together and work as a team this year."
Kristin Thacker has scored over 1,500 career points.
Last season she averaged 15.2 points per game and 5.7 rebounds per game.
Kristin Thacker has always one of the veteran members of her team the last couple of seasons, but now she has grown into a leadership role.
"In the past when I was young, I didn't know how to lead," Kristin Thacker said. "Now as a senior, I feel like I really know what to tell them and how to help them. Were I've been playing so long, I know what I'm doing. Sometimes some of them just need a little extra push, so I'm learning how to criticize them the right way. This year, I think we're finally going to be the team that we've always wanted to be.
"I think already having played for years, I think that I've showed the team what they need to do and the type of determination that they have to have in order to win. For years we've been playing and in every instance, I've just tried to help them learn what they can do to do better. Practice, games, I'm just trying to always make them better in order to make the team better. That'll carry on with them for the rest of their lives."
Kristin and Jerrica Thacker have been playing at the high school level since they were in the seventh-grade at Pikeville.
But at Jenkins, the duo have been the staples of the Lady Cavs' program building around them.
Kristin Thacker has an appreciation and respect for her coaches teammates going into the her senior season of play.
"Without them, nothing would be possible," Thacker said. "All of my coaches have been putting in everything they have all of these years we've been playing. They learn something new everyday to teach us. They watch videos and we all just work together to try to make everything better for the next year. I think that's going to really help us this year in winning a lot of games.
"I just love them all. They get on my nerves more than anything, but they're always there and always here for me. They just mean the world to me."  
Jenkins is schedule to kickoff the season Tuesday, November 24 at home against Martin County. Tipoff for the game is set for 7:30 p.m.