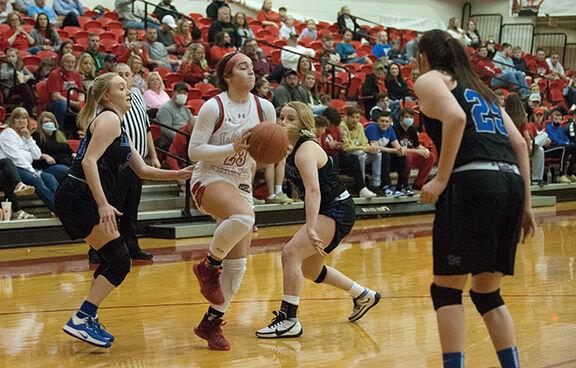 BELFRY — Kyera Thornsbury just took over.
She was doing a lot of scoring and a little of everything else for Belfry Tuesday night as the Lady Pirates picked up a 63-44 win over Shelby Valley.
Thornsbury kept the Lady Pirates in it early.
Alyssa Elswick opened the game with a pair of baskets and Zoee Johnson followed with one of her own as the Lady Wildcats jumped on top of Belfry 6-0 to start the game.
Thornsbury calmly knocked down a three  for the Lady Pirates' first score.
She followed with two more threes to tie the game at 9-9 early.
Shelby Valley's Kyra Looney answered Thornsbury's third three with one of her own.
The Lady Wildcats finished the first with a 9-0 run to take a 18-9 lead into the second quarter.
Thornsbury finished the game with a game-high 24 points. Thornsbury was a perfect five of five from three-point land.
As a whole, Belfry was on fire from three-point range. The Lady Pirates finished the night 11 for 17 from deep (64.7 percent).
The second quarter is when Thornsbury's teammates started to get involved offensively. Linzee Phillips opened the quarter with a basket. Jenna Sparks followed with a basket of her own and Cushi Fletcher scored with 6:17 left to cut Shelby Valley's lead to 18-17.
Looney scored with 5:11 left to push the Lady Wildcats' lead to 22-17.
Thornsbury answered with her fourth three of the game to cut the lead to 22-20. Phillips followed with a three of her own to give Belfry a 23-22 lead with 3:48 left in the first half
Shelby Valley jumped back in front, though. Elswick and Laci Johnson scored on back-to-back baskets with 1:51 left to give the Lady Wildcats a 30-26 lead.
Kyra Justice and Phillips hit back-to-back threes to end the half and give Belfry a 32-30 halftime lead.
Fletcher followed Thornsbury in scoring with 17 points. Phillips also reached double figures with 11. Varney finished with six and Justice added five points in the win.
Belfry out scored Shelby Valley 23-12 in the second quarter.
Shelby Valley's offense really struggled in the third quarter.
Belfry's defense held the Lady Wildcats to just four third quarter points.
Belfry out scored Shelby Valley 13-4 in the third to take a 45-34 lead into the fourth quarter of play.
The Lady Pirates put the game out of reach in the fourth.
Phillips opened the fourth by scoring and getting fouled on the play; she knocked down the free throw for the three-point play. Varney followed with a three as Belfry's lead grew to 51-34 with 6:26 left.
Thornsbury came up with a steal and she scored on a layup to push the lead to 50-40 with just 4:08 left.
Elswick scored a game-high 21 points and pulled down six rebounds for the Lady Wildcats.
Zoee Johnson just missed a double-double as she finished with nine points and nine rebounds. Looney and Laci Johnson each added seven points.
Belfry (18-7) wrapped up regular season play against Betsy Layne last night. The Lady Pirates will take on the winner of the Pike Central vs. Phelps winner in the 60th District championship next Thursday at 7:00 p.m. at Pike Central.
This was Shelby Valley's (11-9) regular season finale. The Lady Wildcats will take on Jenkins in the opening round of the 59th District Tournament next Wednesday night at 8:00 p.m. at Pikeville.
Scoring
Belfry — Kyera Thornsbury 24, Cushi Fletcher 17, Linzee Phillips 11, Alyssa Varney 6, Kyra Justice 5.
Shelby Valley — Alyssa Elswick 21, Zoee Johnson 9, Kyra Looney 7, Laci Johnson 7.