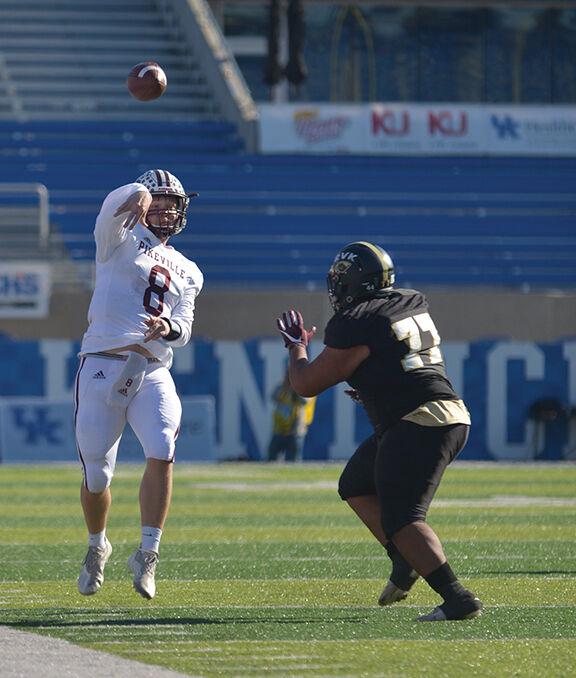 It wasn't the kind of college debut that Isaac McNamee wanted as he started as a true freshman in just his third career game, but it was a great starting point and learning spot for the Pikeville freshman.
McNamee got the starting nod for the Murray State Racers on the road at Ball State Saturday after the Racers' starting quarterback went down with an ACL injury and the No. 2 quarterback suffered a broken foot.
McNamee got the call, but the Racers fell to Ball State 31-0 Saturday on the road.
McNamee finished the game seven of 22 for 57 yards and two interceptions.
Lamar Brooks was one for one for 11 yards for the Racers as well.
McNamee also had one carry for negative four yards.
After beating Belfry Friday night 48-13, Pikeville Coach and Isaac's father Chris talked about his upcoming start.
"I'm nervous," McNamee said. "We are going to get up at about five o'clock and we're going to drive to Muncie and and watch him against Ball State, but he's kind of been forced into this. The No. 1 quarterback tore his ACL and the No. 2 broke his foot. The No. 3 played last week. They're going to give him a shot this week as a starter. He's got a lot of good players around him. Similar to what he had here. I hope he settles in and it's his job to get the ball to the guys who can make plays. If he does that, he's going to do fine. He's got a great coaching staff around him at Murray State. We're just excited to go watch him."
It isn't clear about McNamee's status going forward with the Racers.
Murray State is scheduled to host Eastern Illinois at 5:00 p.m. central (4:00 p.m. eastern) next Saturday.