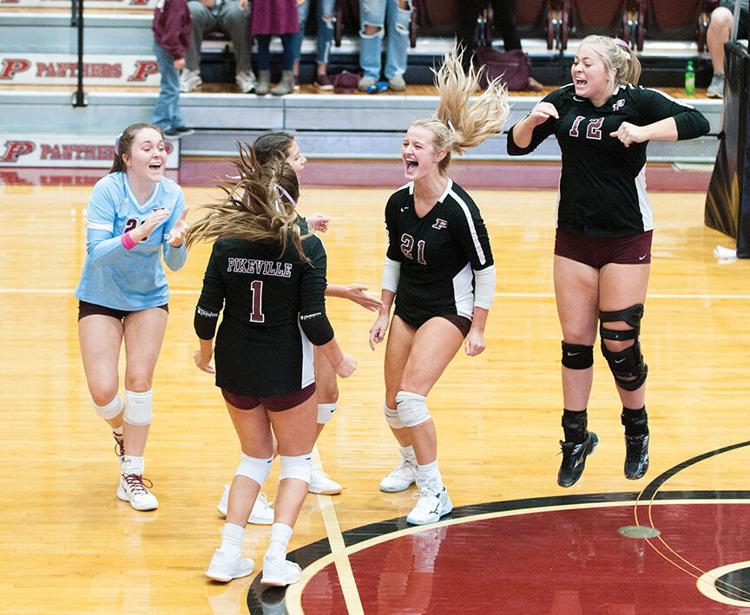 The Pikeville Lady Panthers have been rolling this season.
That didn't stop Monday evening as the Lady Panthers picked up a 3-1 (25-20, 25-23, 24-26, 25-17) win over West Carter in the opening round of the All "A" Classic state tournament.
With the win, Pikeville advances to the Elite 8 round of the All "A" Classic state tournament at Richmond's McBrayer Arena. The Lady Panthers are scheduled to take on Ballard Memorial at 11:45 a.m. Saturday morning. The tournament is single elimination.
Pikeville is now 15-0 on the season.
The Lady Panthers jumped out to a big lead in the first game Monday. West Carter made a late push, but fell 25-20 in the first game.
In the second game, Pikeville got off to another quick start, but the Lady Comets came back and tied the game at 21-21 late. The Lady Panthers dug deep to pull out the 25-23 win.
In the third game, West Carter jumped out to a big lead. Pikeville kept chipping away and after trailing 23-18, fought back to tie the game at 24-24. West Carter got the final two points to win the third game and send the match to a fourth game.
In the fourth game, Pikeville put West Carter away to get the win and advance in the tournament.
In the match, Pikeville's Kaylee Wells had a big game at the net. She had 27 kills and four blocks on the night with 15 digs and an ace.
Pikeville Volleyball Photo Gallery
Pikeville over West Carter 3-1 (25-20, 25-23, 24-25, 25-17)
Riley Tavis set a new school record. She became the school's all-time assist leader. She had 41 assists on the night with five kills, seven blocks, 10 digs and an ace. Emily Gearheart led the Lady Panthers with 33 digs on the night. McKinlee Potter had 11 kills, four blocks, eight assists and an ace. Caroline Wright had three kills, eight blocks, 11 assists and six digs.