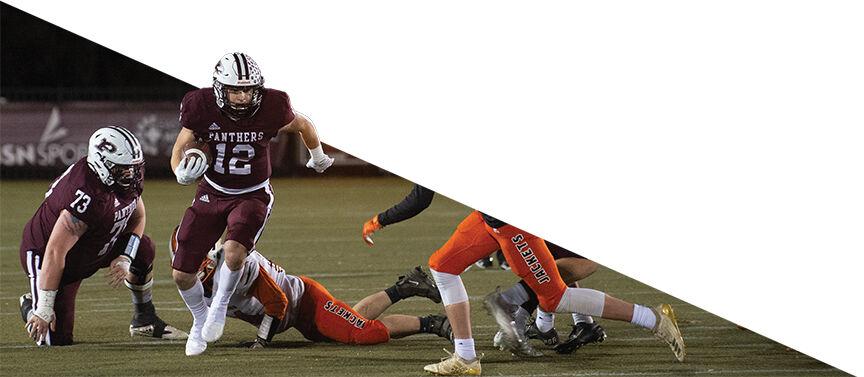 Class A Playoffs
State semifinals
Who: Raceland (12-1) at Pikeville (12-2)
Kickoff: Friday, November 26, 7:30 p.m.
Location: Hillard Howard Field, Hambley Athletic Complex, Pikeville.
Coaches: Raceland, Michael Salmons. Pikeville, Chris McNamee.
Notes: Raceland is coming off of a 48-7 win over Bishop Brossart last week, while Pikeville picked up a 50-21 win over Williamsburg.
Pikeville and Raceland are no strangers.
They are used to meeting each other deep in the playoffs.
This will be the two teams' fifth meeting since 2017.
This will be the third time that the two teams will meet in the Class A state semifinals with a spot in the state championship on the line.
In 2017, Raceland hosted Pikeville in the state semifinals and picked up a 17-14 win.
In 2018, the two teams met again in the state semifinals. Pikeville won that game 38-19.
In 2019 they met in the regular season and Pikeville picked up a 12-6 win over the Rams.
Their last meeting came in the 2020 season opener; the Panthers picked up a 28-7 win.
Since the loss in 2017, Pikeville has three straight wins over the Rams.
The Rams have been solid all season.
Their only loss came in Week 2 at Class 3A Russell. The Red Devils knocked off Raceland 28-18.
The Rams have rolled off 10 straight wins since then.
They knocked out last year's state champion Paintsville 28-14 in the Week 2 of the Class A playoffs.
Raceland didn't have any problems against Bishop Brossart.
The Rams offense put up 442 total yards of offense.
Quarterback Logan Lundy led the way in the win going eight for 14 passing for 190 yards and two TDs with an interception. He also added 12 yards rushing on three carries.
Jules Farrow led the Ram rushing attack with 115 rushing yards and three TDs on 13 carries. Noah Wallace added 56 yards and two TDs on 11 carries. Isaac Browning added 45 yards on seven carries. Connor Hughes rushed for 24 yards on two carries.
Hughes led the wide receivers with five catches for 144 yards and a TD. Wallace caught a 24-yard pass and Landyn Newman added two catches for 22 yards.
The Rams defense had nine sacks, an interception and recovered a fumble, so they get after the opposing teams' quarterback.
On the season, Lundy is 117 for 196 passing for 1,914 yards and 23 TDs with seven interceptions. He has added 415 rushing yards and nine TDs on 89 carries.
Wallace leads the rushing attack on the season with 966 yards and 14 TDs on 142 carries. Farrow follows with 525 yards and eight TDs on 108 carries. Browning has 395 yards and four TDs on 58 carries. Hughes has rushed for 191 yards and a TD on 23 carries. Jaxon Heighton has 137 yards and four TDs on 23 carries.
Hughes leads the receivers with 36 catches for 718 yards and 11 TDs. Newman follows with 36 catches for 536 yards and four TDs. Parker Fannin has 20 catches for 356 yards and four TDs. Parker Gallion has 13 catches for 165 yards and two TDs. Farrow has eight catches for 108 yards and a score.
Defensively, Cole Conlon leads the team with 92 tackles and nine sacks.
Ben Taylor leads the Rams with 11 sacks this season.
Raceland has 36 total sacks on the year.
The Rams have 11 interceptions as well and have recovered 18 fumbles.
The Raceland defense is aggressive and looks to put pressure on the quarterback to create turnovers.
Pikeville is focused on the task at hand.
The Panthers got off to a slow start last week against Raceland, but once the Panthers got going, they put up points in a hurry.
Pikeville had a punt block, a safety and and an onside recovery; all of those plays led to scores and they all happened in the first half.
Pikeville didn't have the type of game that the Panthers wanted rushing the ball and still finished the game with 269 yards on the ground.
Quarterback Isaac McNamee followed going 14 for 18 passing for 202 yards and five TDs the day after he committed to Murray State.
The Panthers finished the game with 471 total yards of offense.
The defense is flying to the ball at the moment.
Getting back Carson Wright has added depth on the defensive side and an extra explosive playmaking linebacker.
The Panthers can make it tough on teams with a skilled secondary and a big, quick front seven.
On offense, look for the Panthers to control the line of scrimmage and get their run game going with one of the top offensive lines around.
Who 2 Watch: For Pikeville, junior wide receiver Wade Hensley.
Hensley has turned into one of the toughest matchups around.
He is big, strong and fast.
With Zac Lockhart seeing double teams, Hensley has taken advantage of that often blowing by defenders when he gets one-on-one coverage.
Last week he caught two TDs.
On the season, Hensley has 26 catches for 387 yards and 10 TDs.
He is tied with Lockhart in TD receptions this season.
Hensley has emerged out of his older brother Jackson's shadow to become an offensive juggernaut in his own right. Jackson Hensley is in his second season at Wake Forest and was one of the most explosive wide receivers in the state during his high school career.
Wade Hensley is also a big time defender in the Panther secondary.
He has 28 tackles on the season and delivers a big hit for a player in the secondary.
He hasn't got any interceptions this season, but the Panthers have 12 interceptions as a team this year.
If Hensley gets one-on-one coverage on offense, look for him to make his way back into the end zone Friday night.
If he has a big game, the Panthers could see themselves booking a trip to Lexington to play at Kroger Field next week.