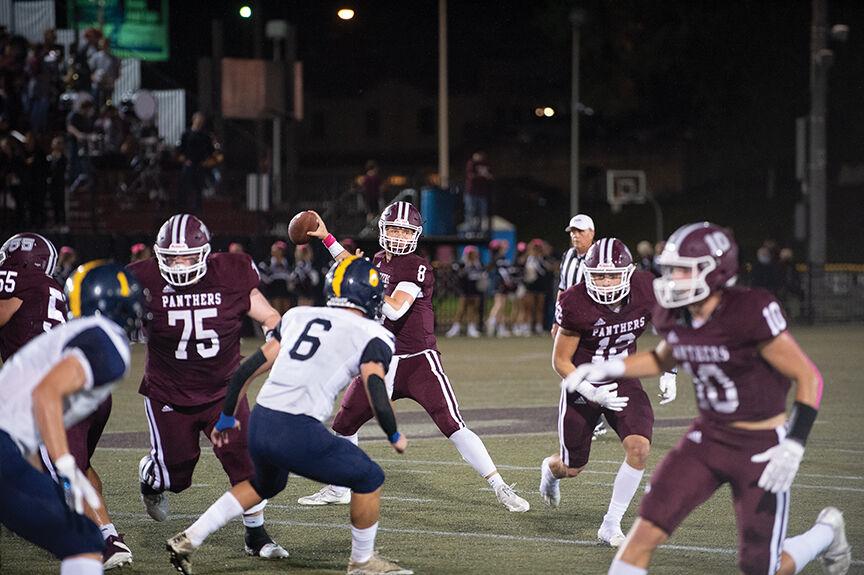 It was fitting that Pikeville defensive coordinator Paul Sullivan carried a sledge hammer onto the field against Sayre Friday night.
Because the Panthers dropped the hammer on the Spartans as they cruised to a 43-7 win over the Spartans in Class A District 7 action.
Pikeville's JV defense gave up a late score to Sayre's first team in the closing minutes of the game.
Blake Birchfield and the offense took care of the rest for Pikeville.
On the opening drive, Birchfield broke a 55-yard TD run with 10:59 left in the first quarter to get the Panthers on the scoreboard. He added the two-point conversion as the Panthers jumped out to an 8-0 lead.
The Panthers defense kept bringing the pressure and Sayre just couldn't get into any offensive rhythm.
Pikeville's offense on the other other hand, was hitting on all cylinders.
On their second drive, running back Brayden Thomas scored on a one-yard TD plunge with 4:50 left in the first quarter to push the lead to 15-0.
Pikeville opened the second quarter with a bang.
Senior quarterback Isaac McNamee found tight end Grant Scott on a post route. Scott made a great catch and scored on a 20-yard TD with 11:52 left in the first half. After the Jacob Rogers extra-point, the Panthers held a 22-0 lead.
On Pikeville's next possession, McNamee went back to the air attack once again. This time, he found Wade Hensley for a 23-yard TD. Hensley beat his man and McNamee delivered a great pass to the corner of the end zone where only Hensley could catch it and he did. After the Rogers extra-point, the Panthers held a 29-0 lead.
Pikeville wasn't finished in the first half, though. Birchfield ran for a three-yard TD with just 36 seconds left in the half. The extra-point pushed the lead to 36-0 and the Panthers had a running clock against Sayre in the first half.
Birchfield added a 73-yard TD run in the third quarter for the Panthers and Sayre added a late TD in the closing seconds of the game.
Birchfield had another big game for the Panthers on the ground. He finished the game with 214 yards and three TDs on 13 carries.
McNamee was 11 for 14 passing for 176 yards and two TDs.
Running back Brayden Thomas finished with 30 yards and a TD on three carries.
Hensley led the wide receivers with three catches for 65 yards and a TD. Scott followed with three catches for 54 yards and a TD. Zac Lockhart had three catches for 35 yards. Jeb Wilkerson had two catches for 22 yards.
The Panther defense only gave up 104 yards passing to Cole Pennington and the Spartans.
Pikeville is scheduled to host Phelps at 7:30 p.m. next Friday in Class A District 7 action.