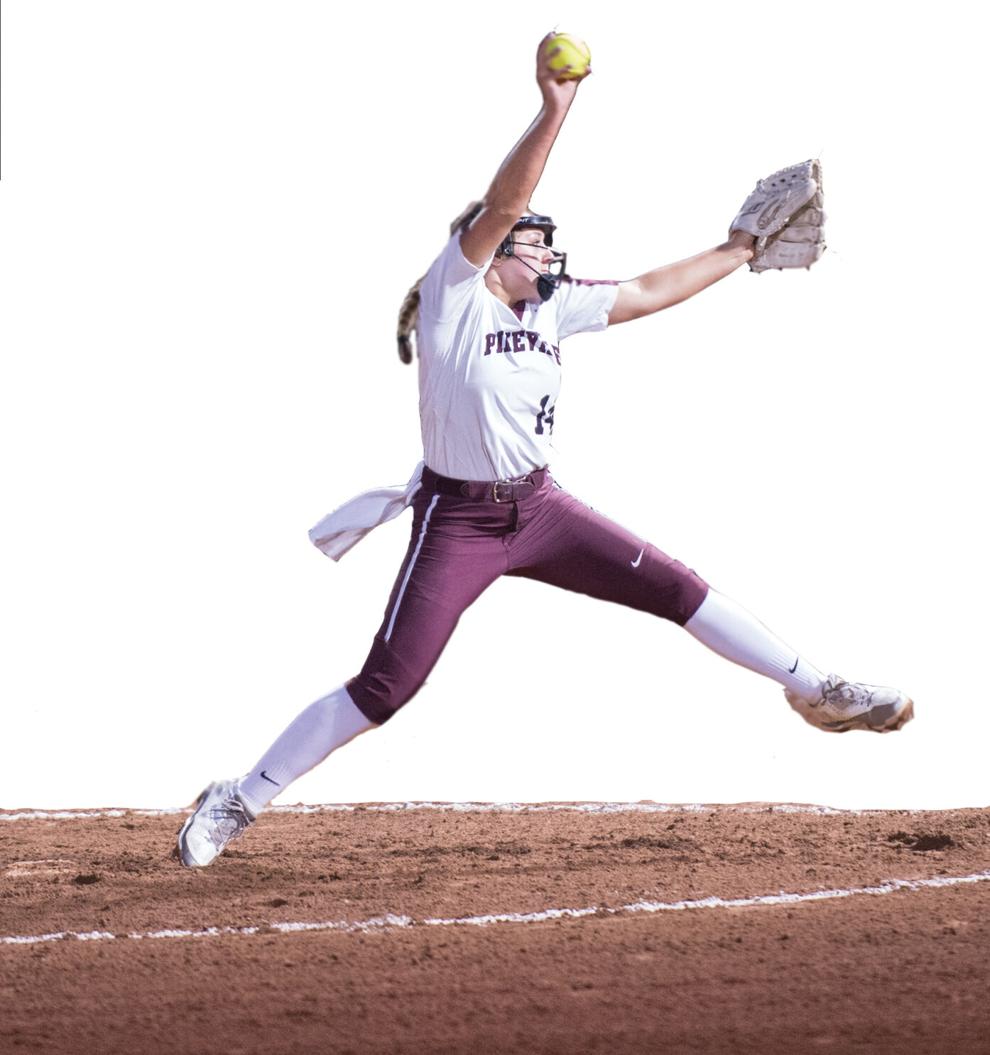 Emily Ford is entering her junior season at Pikeville.
Ford has been playing varsity softball since her seventh-grade season and has been Pikeville's starting pitcher since her eighth-grade season.
She was named All-Mountain Team as an eighth-grader and All Mountian Co-Player of the Year after her freshman season by the Appalachian Newspapers.
During her freshman season, Ford was 15-9 on the mound with a 2.25 era. She struck out 242 batters in 155 and 1/3 innings of work. She also picked up two saves on the year.
Last season, like every other softball player in the state, she missed a whole season of playing.
But Ford has been on the college coaches radar for a while.
Ford recently committed to play college softball at the University of Virginia-Wise.
"I went ahead and committed because she (Karen Bitter, U. Va.- Wise coach) has been my pitching coach since I've been 10-years old," Ford said. "She's just the type of coach that anyone should want to go play for and if she has that much confidence in me now, to go ahead and offer me, you just can't pass that offer up."
Knowing that she has that big college decision out of the way will allow Ford to breathe a sigh or relief and just pitch.
"It helps a lot knowing that it takes the stress of the recruiting process away," Ford said. "Now that I got that off my back, I just get to go out here and reach goals and break records here at the school. Instead of having to worry about did they see me have a bad game or anything like that, it just helps to know that you already have that set."
But signing early is a motivational tool for Ford as well.
In the back of her mind, she knows there is more after high school, but it pushes her to work harder to be ready.
"It really helps knowing that you have something to strive for after high school," Ford said. "I'll still have two years left here because I'm going to be a junior, but it really helps to know that you still have to push harder to learn more things and strive to be better."
Ford missed her entire sophomore season of play like every other play in the state this season because of the COVID-19 outbreak.
"It was hard," Ford said. "I've started since I was an eighth-grader and there were some records that I wanted to break that I won't get to in my high school career because this season was taken away from us. I never quit working, though. I still came out every week and tried to strive to be better for the next opportunity that I do get when I get to step on the field and play."
U. Va.-Wise is a hidden gem.
It is a small campus and everything is right there.
The Cavs are DII school and have a great student to teacher ratio which was important to Ford.
"The student-teacher ration there is 13 to 1 and that's what I was looking for," Ford said. "I actually get to major in what I want to do which is nursing and play softball, so it just fell right into my hands."
Since coach Karen Bitter has been her pitching coach since she was 10, Ford has got to see how Bitter runs the program at U. Va.-Wise.
"When I go to pitching lessons, I have saw the tail end of her practices and I can see how she runs them and demands respect," Ford said. "I just really like that. She (Bitter) is the type of coach that everyone wants to go play for. She's just awesome."
Ford has a bright future left at Pikeville and will be more motivated than ever after missing her sophomore season, but she already knows that she has a college career ahead of her and now she doesn't have to stress or worry about what comes after high school.