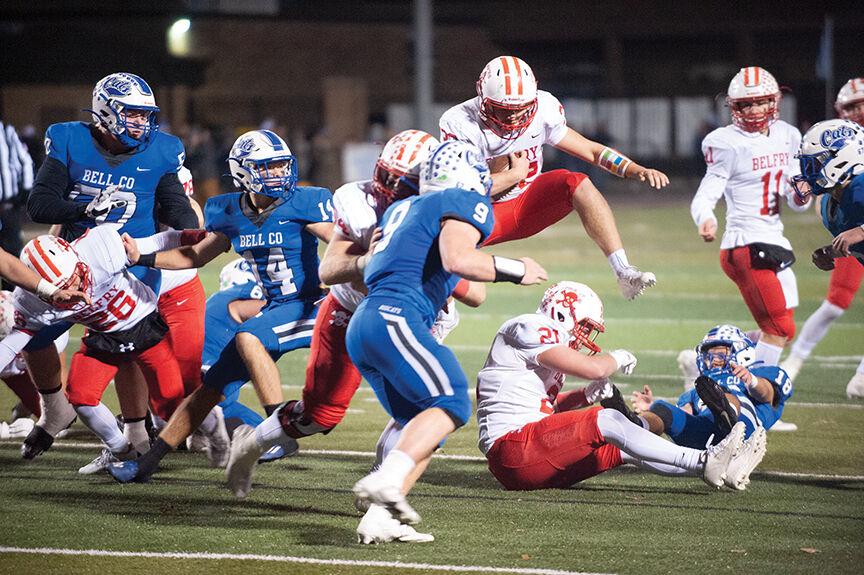 LOG MOUNTAIN — Not many teams roll into Log Mountain and log a win against Dudley Hilton's Bell County Bobcats, especially in November. But not many teams have Isaac Dixon in the backfield.
Dixon turned in a strong performance, rushing for 177 yards, three scores and an interception as Belfry claimed another Class 3A region title, defeating the Bobcats 41-20.
Pirates' coach Philip Haywood noted that having Dixon running the ball certainly makes life easier.
"He's been a great player," Haywood said. "Week-in and week-out, no matter who we play, he gets his yards. He is a great leader on the team, runs the ball really well, defends well and also is a great blocker; a lot of people don't realize how well he blocks. He just does a lot of things well for our team."
But Dixon wasn't alone, Belfry turned in a team effort, which left Haywood saying it was Belfry's best performance of the season, which the Pirates knew it would need to defeat Bell County.
The game looked to be a defensive struggle early as the teams went scoreless in the first quarter. But a large part of the quarter was ate up by a methodical Belfry drive, which extended into the second stanza. The Pirates marched 82 yards down the field on an 18- play drive, chewing up over 10 minutes of clock. The drive was capped off by a three-yard TD plunge by Dre Young, giving Belfry a 7-0 lead, with 7:51 to play in the first half.
Bell County answered though, the Bobcaats scored on an Ethan Raby 18-yard run, but the two-point conversion failed, giving Belfry a 7-6 lead, with 5:04 to play in the first half.
The Pirates pushed the lead to 14-6 on a 30-yard TD run by Dixon, with 3:13 to play in the half. That score would stand at the half, Bell County got inside the red zone but, had one potential TD pass to be bobbled and called incomplete, followed by a Dixon interception to end the half.
The interception to end the half and a special team blunder to start the third quarter, helped seal the Bobcats' fate. To start the second half, Bell County received the opening kick, the Bobcats called for a fair catch but nobody fielded the ball and Belfry hopped on the ball, taking over 19-yards away from a score.
Belfry (7-6) capitalized as Dixon scored on a short run to put the Pirates ahead 21-6.
Belfry pushed the lead to 28-6, with 3:40 to play in the game as Pirates' back Zayne Hatfield got free for a 15-yard TD run.
Bell County attempted to stay in the game as Dawson Woolum scored on a one-yard run, making it 28-14, with 9:40 to play in the game.
The Bobcats attempted an onside kick, which did not go a full 10-yards and Dixon score on the next play, on a 44-yard run, giving the Pirates a 35-14 lead.
Bell County added another score on a short run by Daniel Thomas but a 10-yard answer by Belfry's Braxton Hatfield sealed the fate.
For Belfry, the Pirates are going to the state semifinals, when a lot of people gave up on the young Pirate s'team after an 0-5 start. Haywood believes a win at Bell County shows just how far Belfry has progressed this year.
"They (Bell County) are traditionally good and tough to beat down here," Haywood said. "We had to play on the road and kind of prove ourselves, a lot of people gave up on this team early in the year. They thought we may come along some but not this year. But we felt like within our locker room that hey, we are going to be alright. I could see us getting better, even in our loses. Coming and winning at Bell tonight is just another positive note on our team. It was a huge win for us, God has been good to me and to our program through the years"
Belfry will visit Grayson Friday night to take on East Carter. This is the first-ever Class 3A state semifinal appearance for the Raiders.