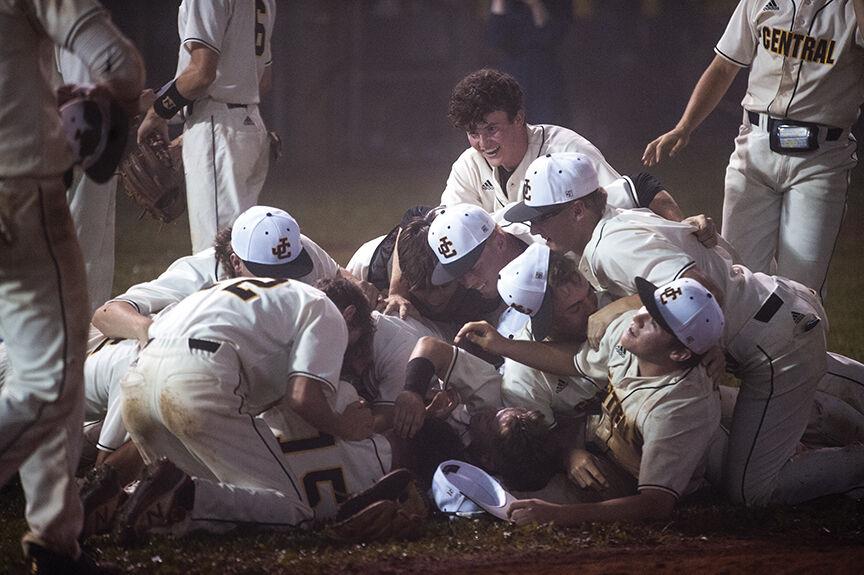 LICK CREEK — The Golden Eagles are back on top in the 15th Region.
The Golden Eagles had to battle both Lawrence County and the thick fog that hung over the field.
The game was delayed by around two and 1/2 hours because of the field conditions because of rain, but the two teams wanted to get the game in Monday night, so they agreed to battle each other and the dense fog that hung over the field.
Johnson Central plated five runs during the bottom half of the fourth inning on its way to defeating familiar opponent Lawrence County 8-3 in the 15th Region Baseball Tournament title game at East Ridge High School on Monday, June 7.
"It's all these guys, they've overcome a lot – from getting off to a bad start, COVID and the conditions," Johnson Central Coach Shawn Hall said, complimenting his team. "I'm very proud of them. They did what it took to win."
Shaking off a slow start, Johnson Central overcame a two-run deficit. Johnson Central scored eight runs over its final three at-bats to pull away for the region championship-clinching victory.
Cameron Kelsey started on the mound for Johnson Central and earned the pitching win. Kelsey allowed three runs on six hits while giving up five walks and registering four strikeouts.
Blue Fletcher started on the mound for Lawrence County. Fletcher allowed four runs on one hit over three innings, striking out two.
Jacob Fletcher and Jake Derifield each made relief appearances on the mound for Lawrence County, pitching two and 2/3innings and 1/3 of an inning, respectively.
Lawrence County edged Johnson Central 6-5 in the hits column but was limited on the base paths.
After opening the region title game with three straight scoreless plate appearances, Johnson Central made the most of its offensive opportunities.
Josh Slone (two for three, two RBIs), Ryan Sartin-Slone (one for three), Mason Kestner (one for three, two RBIs), Matt Crum (one for two, two RBIs), Gavin Crum (one RBI) and Keygan Pelfrey (one RBI) contributed for Shawn Hall-coached Johnson Central at the plate.
Providing an extra-base hit, Sartin-Slone drilled a double for the Golden Eagles.
Bryce Blevins recorded two hits in three at-bats to pace Lawrence County at the plate.
Moving on in the high school baseball postseason, Johnson Central is scheduled to face the 14th Region champion in the Semi-State 8 game at Morehead State University at 1:00 p.m. on Saturday, June 12. The 14th Region champion had not been decided at press time on Tuesday, June 8.