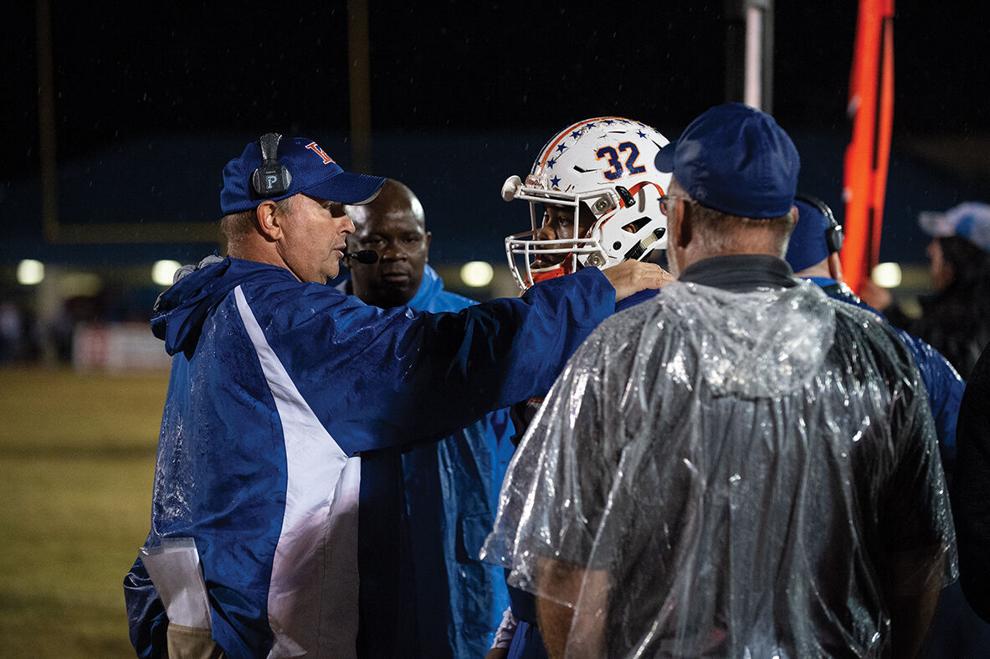 it doesn't matter if it's the gridiron or the hardwood floor, Eric Ratliff can coach.
For nearly the past 20 years, Ratliff has bounced back and forth from coaching one sport to the other as a head coach or coaching both sports as either head or assistant coach.
Ratliff has been the head football coach at Pike Central since the 2016 season, but after Robert Amis resigned as head coach, Ratliff decided to leave the gridiron and take over on the hardwood once again.
"It was atough decision, but It was the right time to step away," Ratliff said. "There is good leadership and coaches on staff and I don't think football will miss a beat.  
"As far as basketball, I just want to bring some stability to the program and hopefully continue to grow the program and keep it going in the right direction."
Ratliff hasn't been a head basketball coach since the 2012/2013 season at Jenkins.
But let's back up and look at coach Ratliff's coaching career since 2002.
In 2002, Ratliff took over as the first head coach in East Ridge's football program. He went 4-6 in his first season.
The next two seasons, he wasn't the head coach for the Warriors, Mike Davis took over for two seasons.
He became head coach for the Warrior football program once again in 2005. He led East Ridge to a 3-6 record. He followed that by going to 2-8 in 2006.
In the  2006/2007, Ratliff took the reigns as head basketball coach at East Ridge. Ratliff went 8-18.
He followed that by going 17-13 in the 2007/2008 season and he helped the Warriors reach the 15th Region semifinals.
In 2008/2009 season, he once again led the basketball team at East Ridge to winning record going 14-12.
Ratliff left East Ridge after the 2008/2009 season.
He landed at Pike Central as an assistant football and basketball coach. He took over for Johnny Martin midway through the 2009/2010 season.
In 20010/2011, Ratliff took over as Jenkins head basketball coach. He stayed there until the 2012/2013 season. He was 7-18 in his first season at Jenkins, 9-20 in his second season and 12-19 in his final season.
In 2014, he took over the Shelby Valley football program. He went 11-3 in his first season and led the Wildcats to their only Class 2A state semifinals appearance. He followed that with a 9-3 record in 2015.
He's been at Pike Central since the 2016 season.
Ratliff will take over basketball and work as a mentor to assistant coach and former Pike Central player Hobo McCoy.
"Yes, it's kind of a bridge to get Hobo (McCoy) ready," Ratliff said. "He's probably going to be the next coach."
Pike Central hasn't announced any candidates as the Hawks' next football coach. It could be someone from Ratliff's staff or it could be someone from outside the program. The administration is working on that process at the moment.
Ratliff helped leave the program in better shape than he found it and that is always a goal of his when he takes on a coaching job.
Yeah I hope we are a little farther along as a program and I think the foundation is there to become a much more competitive program in the future," Ratliff said.