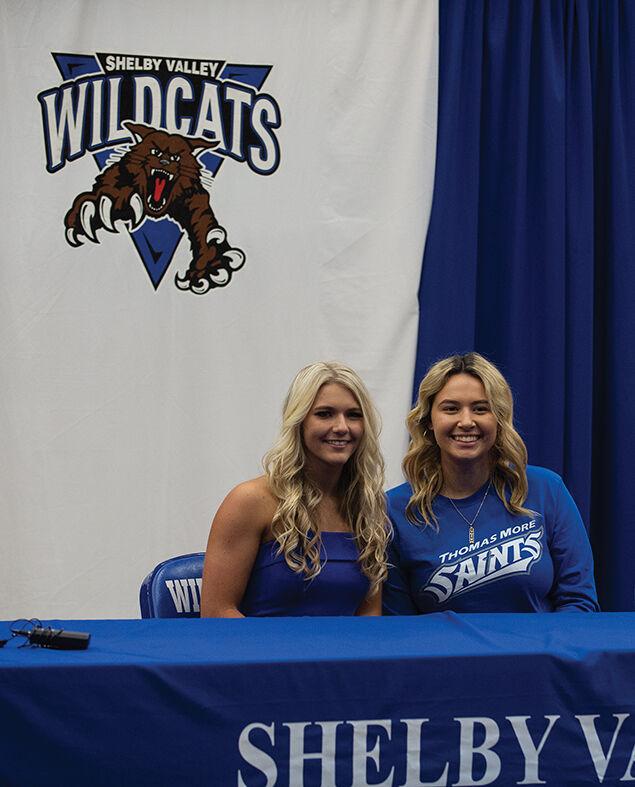 Cassidy Rowe signs with Cats
What would you do to see your dreams come true?
Many people dream, but not many people are willing to put in the work to see that dream come to fruition.
Last Friday afternoon, Cassidy Rowe's dream came true when she signed her national letter of intent to play college basketball at the University of Kentucky.
She became the first player in over 40 years to ink with Kentucky in the 15th Region and the first to player in that time span to sign with a Power 5 Conference in that time period.
Rowe's dreams just didn't magically come true.
She never gave up and kept working even after her future was left in jeopardy because of two ACL injuries as a freshman and sophomore.
"It's so surreal to me," Cassidy Rowe said. "I've always imagined this day, but I never actually imagined it would come and actually happen. It's all becoming a reality. Signing that paper means that my dreams are coming true. Everything that I've worked for since I was three years old. I just always knew that I wanted to play at the next level. Just with everything that I've been through, finally being able to sign those papers and make it a reality means so much.
"It means everything. When I first tore my ACL, two days after they offered me a scholarship and just having that much confidence in me at such a young age, meant so much. Then I had my second injury and tore my second ACL and they still stuck by me. They have been so loyal to me and it just means so much because they treat me like I'm family. It just means so much to me."
Her father and coach Doe Doe Rowe spoke moments before her signing and was emotional because of what the moment meant.
"I know a lot of people think I'm just standing here crying because she signed with UK," Doe Doe Rowe said. "That's part of it. The rest of it is what I saw from her. The tears she shed. The pain she was in. I've never been around a kid who has worked as hard as her. She could've quit. She could've gave up. She could've been like the other kids and said, 'You know what dad, I want to be like the other kids and run around and enjoy life.' But her life is basketball. It's nothing I did. I never told her she had to play basketball. She picked it up for the first time and told me immediately, 'I love playing basketball.' Ever since then, I told her that I would never make you go to the gym, but I will never tell you no if you ask me to take you. She asked me every single day of her life to take her to the gym and I never told her no. To say I am proud is an understatement. I just want to thank everyone who came out and say that I appreciate it and I hope to see everybody out when we start our season this year and more important, I hope to see everyone in the stands when she puts on that UK uniform for the first time."
"I really wasn't wanting to cry and I told myself that I wasn't going to get emotional, but seeing him break down emotionally and all the things he said, it really took a toll on me," Cassidy Rowe said.
"Hearing him say that stuff, I know he is proud of me and I wouldn't be here signing these papers without him because he always went to the gym with me. He is the one who taught me everything I know. It's bittersweet really because I'm not going to be playing for him anymore. Just knowing I made him proud is great."
Cassidy Rowe is a great high school player, but her determination and fight and will got her the scholarship and kept it through her injuries.
"Coach (Matthew) Mitchell stood by her side, until he had to step down," Doe Doe Rowe said. "Coach (Kyra) Elzy stuck by her side and the rest of the coaches. They see the work ethic that she has put in and they told me that we know when she gets to UK once the times get tough, she will continue to work. That's what they want. That's the environment that they want to build right now and we're hoping that once she gets there, she'll just continue to work her tail off and get an opportunity. And we know she will get an opportunity because coach Elzy is a great coach and that she takes advantage of it and do whatever she has to do to be a part of a successful team."
Before Cassidy Rowe signed, her teammate and friend Alyssa Elswick signed her national letter of intent to play college basketball at Thomas More University.
"We've grew up together," Cassidy Rowe said. "I've never really played basketball without her. We just know each other so well and have that chemistry from playing together since fourth grade. It's going to be so different next year not having her out there with me. It was really special to get to share this day with her because we've been through everything together."
This will be the duos final season playing together.
"It's bittersweet really," Cassidy Rowe said. "Because we've played together for so long. I feel like we're going to make a difference this year. We had a good season last year, but COVID-19 took over and injuries took a toll on us and we just couldn't get back in shape. This year is different. We've worked really hard. We've been running a lot to get in shape. I feel like the region better look out for us because our pick and roll game is unmatched."
Cassidy Rowe is a dynamic player.
She shoots the ball well.
She can get her own shot.
She makes her teammates better.
She is one of the best passers in the state (on the boys' or girls' side).
She is one of the top players in the state.
She will be a serious contender to bring home the Ms. Basketball award home at the end of the season.
"She made a statement to me the other day when we were talking on a podcast discussing her story and her journey and the statement she made was, 'Dad, I don't want to be a story, I want to be the best player in the state," Doe Doe Rowe said. "Honestly, in my opinion if I had to pick one player to start my team with I'm going with Cassidy Rowe and I know I may be biased, but what she brings to the table is unmatched. She makes her team better. She can create her own shot. The enthusiasm she plays with and the motor she has. I think she is the best player in the state and that's not putting any other kid down. There are so many great kids in this state, but to me, I'd want to take Cass (Cassidy Rowe)."
Friday, she knew it was important for herself and all of the younger girls who play basketball and any sport in the area who look up to her.
"We have a lot of young talent in the Shelby Valley area," Cassidy Rowe said. "Our middle school team just won the County Tournament. We've got a lot of young talent like Kylie Alvin. She's going to play college basketball. It's just that simple. She's just a great player and she works hard and she loves the sport. It means a lot to be a role model. It means so much. It's such a high honor to hold. I just hope that I can continue to make them proud."
She also wants to make her community proud of her.
"I want to make my community proud," Cassidy Rowe said. "Today, everybody who came out, it just felt like that was my first step of making them proud. It meant a lot to me. Community is everything. I love the Shelby Valley area. There were so many young girls who where here today too. I just try to be a light to them and make it known to them that they can do this too, through hard work. It just meant a lot seeing everybody here with they're Kentucky gear. It's a blessing."
But now she can focus on the season at hand.
"I've been looking forward to this moment for so long and I've got the papers signed now and I have Kentucky waiting on me," Cassidy Rowe said. "So now it's time to focus on the season with my girls and hopefully bring home a region title and make a run at state. I really believe we can. We've got a great group of girls this year. We've got some young ones, but I think the 15th Region should be looking out for us this year."
"It's been hard on me because I've had to do a lot of the planning and setting up, but to be honest it's not really affected Cassidy (Rowe) any. She's focused 100 percent on the season at hand. The signing part she was looking forward to, especially last night, but for the most part, she's stay focused on what she has to do to have a great senior season."
She isn't looking past this season and just looking forward to playing at UK.
"Goals of course are we just want to win as much as we can," Cassidy Rowe said. "All 'A' Region, district, region. But with everything that has happened this year, my main goal is just to stay healthy and just have fun with my girls because it's my last time to be able to do it with them. I won't take it for granted with this being my last year. Of course we want to win, but we also want to have fun."
Shelby Valley will open the season Monday November 29 at 7:30 p.m. at home against Hazard.
Alyssa Elswick inks with Thomas More
She had numerous opportunities to play at schools at all different levels, but when you know you have found your fit, you know.
Shelby Valley's Alyssa Elswick signed her national letter of intent to play college basketball at Thomas More Friday morning at Shelby Valley making lifelong dream of play college basketball come true.
"Coach (Jeff) Hans is the best," Elswick said. "He always made me feel at home and the players always made me feel at home during every visit I took there. Just their winning ways. Their record. They have a 261-23 record over 10 years. That's crazy. It's like a 95 percent win record; it's just crazy. So I have never been apart of a losing program and I didn't want to start in college. That was a big deal to me. Then the location. I love the location and obviously, a free ride. You got to love that too."
"You see so many kids, do what I call is scholarship chase," Doe Doe Rowe said. "How many can I get? I tried to teach Alyssa (Elswick) and Cassidy (Rowe), once you find that fit and you feel comfortable, take it. Don't wait. Don't wait for somebody else to offer because it's real simple, if they don't take it, it could be gone before they can take it."
Elswick shared her signing day with her teammate and friend Cassidy Rowe. Elswick signed first and then Cassidy Rowe followed by signing with Kentucky.
"Yeah it's a really big deal," Elswick said. "I loved the support. It was far more than I expected really. I didn't think that many people would show up. It's a huge deal and it's just a great blessing and opportunity that Cassidy and I get college paid for. We get to go to college for free. We also get to play the sport that we love. It is a big deal. It is a huge deal.
"You saw the tears, it's so sad. It's really bitter sweet because I just know that this is the last year that we get together, so that makes it bitter sweet. It's definitely going to be a change and an adjustment for both of us to not being playing with each other."
"It feels like I have two daughters signing today,' Doe Doe Rowe said. "Alyssa (Elswick) has been with me since she was in the fourth grade. It's just a blessing for me to have both of them to sign. They both get a free education. My job is to coach basketball, but more than anything my job is to prepare them for life. I feel like both of them are ready for college and will do well once they get there.
"We discussed it. Alyssa (Elswick) could've signed anytime she wanted to with Thomas More. Her and Cass (Cassidy Rowe) wanted to sign on the same day because they've been through so much together. The good times, the bad times, they've seen it all together. Anytime you get to sign a scholarship is special, but to have two players get a four year education on the same day is extra special to her (Alyssa Elswick) family and our family."
Elswick is one of the top players in Eastern Kentucky and the state, but she knows that she still has some work left to do and that college basketball will bring on new challenges.
"I'm always ready for a challenge," Elswick said. "I've watched Thomas More play. I've been to games. I don't think it won't be anything that I can't do, but it will suck because you've played with this person since fourth grade and even in Pee Wee we played together when we were six. It's just crazy to think about. Someone you have played with on a team this long and all of a sudden you won't be playing with them."
Elswick feels that with both her and Cassidy Rowe having signed, the duo and the team can focus on the season at hand.
"With both of us already being signed, it'll just help us become focused on the high school aspect of it," Elswick said. "We are very blessed to lead this team. Shelby Valley is such a good program. To be a leader is honestly saying something. It's kind of crazy. I think it'll just help us both and help us mature for college. Doe Doe (Rowe) has prepared us immensely even beyond basketball. I think it'll be good. It is a true blessing to lead the team."
Elswick committed last season and that early commitment helped give her some valuable time to share with friends and family in her life.
"My main thing with committing so early and I'm sure with Cassidy's too is that you don't have to worry about it now," Elswick said. "I get to enjoy my high school season. I get to enjoy next summer. I got to enjoy this past summer because I didn't play AAU. That allowed me to spend more time with family and work out and just focusing on the things that will help me be a better player for my high school basketball team and prepare me for college. It just helps to know where you are going. You have that bit of security and you don't have to worry about making that decision last minute and it may or may not being there."
The Lady Wildcats couldn't overcome and litany of injuries last season.
With Cassidy Rowe and Zoee Johnson healthy, the Lady Wildcats hope they can have a big season.
"It 110 percent helps," Elswick said. "If we can just keep our whole team healthy, it we can keep Zoee (Johnson) healthy and Cassidy (Rowe) not to break anymore ribs, I think it'll help. When we're both playing at our best, I just think it makes the team 10 times better. Our chemistry is just crazy good."
Elswick and Shelby Valley have some big goals ahead for the season.
Elwick's main goal, though is just championship goal.
"We definitely want another All 'A' repeat," Elswick said. "We want to be region champs, district champs, region champs and just all the champs. Anyone that we can get our hands on. Most importantly I just want to make sure everyone has a good time and has fun and stays safe. I don't want any injuries. I'm done with injuries."
Shelby Valley will open the season Monday November 29 at 7:30 p.m. at home against Hazard.