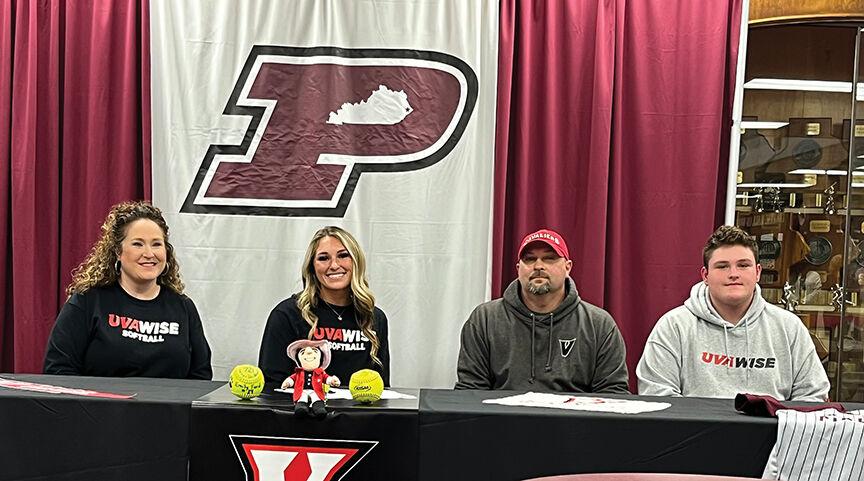 The softball field is her home.
Emily Ford will have a home for four more years after high school as she signed her national letter of intent to play college softball at the University of Virginia-Wise Wednesday afternoon.
Ford is one of the top pitchers and overall players in the state entering her senior season and should be on the shortlist for Ms. Softball Candidates.
Ford was dominant in her junior campaign as she finished the season with a 27-8 record with 400 strikeouts in 236 innings pitched. She gave up 56 runs and finished with a 1.88 era.
Ford was also scary good at the plate. Ford finished the season hitting .531 with eight home runs, eight triples, 10 doubles, 47 RBIs and 60 total hits. She also had five steals and only struck out 11 times and walked 13 times.
"It's just awesome to have my friends and family here and come together just to be here and support me today," Ford said.
"As a little girl coming from the Big Sandy Softball League, you always just have those dreams of going big and going to a DII school, it is just so awesome to have this experience.
"U. Va.-Wise was my choice because it's close to home and don't want to go far away," Ford said. "The student to teacher ration is small and I like that because I come from a small high school. It was just an awesome experience every time I've visited there. I've known coach Karen for over half of my life. She's been my pitching coach and it was just a great fit for me."
"Anytime you have a player go onto the next level it is always big news for your program," new Pikeville softball coach Jason Clark said. "The younger girls get to see what type of effort it takes to go on. Emily certainly has put so much work into, but the younger girls now see how to reach the next level. I've known Emily (Ford) for the past four years since I've been here. She's a phenomenal person, not just player, she's a phenomenal person. She's an extremely hard worker. She really is a coach's dream. She's one of the reasons that I wanted the job."
In her career, Ford currently has 853 strikeouts and and 64-26 record on the mound.
Ford missed her entire sophomore season because COVID-19 canceled the softball season or would probably have those 1,000 career strikeouts or would be close.
She should finish her career with over 1,000 strikeouts. Only 23 players in the state have finished with over 1,000 strikeouts. If she wouldn't have missed her sophomore season due to COVID, she may already have reached that mark. Who knows where she would've finished in the state's all-time stats?
Ford has numerous records at Pikeville High School.
She owns the most career strikeouts and will keep adding to that.
Ford has 64 career wins, just four shy of the school record.
"It's honestly awesome signing now because there is no stress," Ford said. "A lot of stress was alleviated and now I can focus on school and keeping up with my grades the rest of the year. I can just go onto to college in the fall."
Ford is known for her pitching, but she's just as good at the plate as well.
"She made me mad because the first pitch I threw to her as the new softball coach, she hit off of the scoreboard," Clark said. "I said, 'No people don't do that to me.' So I was like I'm not giving her another pitch, you're going to have to hit bad pitches now. The first pitch I threw to her, she hit off the scoreboard, but I do think she has taken me out of the park a couple more times, but she is a phenomenal hitter. She is up on the board as the our school's leading home run hitter. Her batting average is over .500 and that is unreal. Obviously the key for us this year is to have people on. We want to have kids like Kelcie (Adams) and Cassidy (Slater) on and letting Emily (Ford) drive those two home. That's what we're going for and I think she's been batting third her whole career, so that's usually one of your better hitters in the lineup. I think she gets overlooked hitting wise because she is dominant on the mound, but she's pretty dominant at the plate too."
Ford has been working with U. Va.-Wise coach Karen Bitter for years. Bitter has been Ford's pitching coach in the offseason during all of those years, so signing with U. Va.-Wise seemed like the next step.
"It's a natural transition," Ford said. "I fell like a part of the family over there because I've been around the program for so long. She's helped me so much and has really given me a push to get better every day to get better and be the best player I can be when I get to the college level. It is such an honor and a blessing."
Ford talked about the school and campus at U. Va.-Wise too.
"It really is (a diamond in the rough)," Ford said. "The campus is gorgeous. She (coach Karen Bitter) has such an awesome program. It is just a great atmosphere."
Ford still has a full season left at Pikeville and will now be able to focus on the upcoming season.
"I'm looking for a winning season as always," Ford said. "Hopefully, region. That will be our goal. I have four more wins before I break all-time wins record (at Pikeville High School), so it will be awesome if I can get that."
Ford will be a leader on this team. She will be one of three seniors on the squad.
"We've got three seniors on the team," Ford said. "We have some roles to still fill. We're be strong this year and I think we'll have a good season."
The Lady Panthers didn't lose anyone from last season's region championship runner-up team.
"We have a new coach and we're out here working every single day in the offseason whenever it's possible to be on the field," Ford said. "It's just awesome. We're coming off of a winning season and were 15th Region runners-up. It's just awesome."
Look out for more records to fall and more wins to pile up during Ford's senior season at Pikeville.