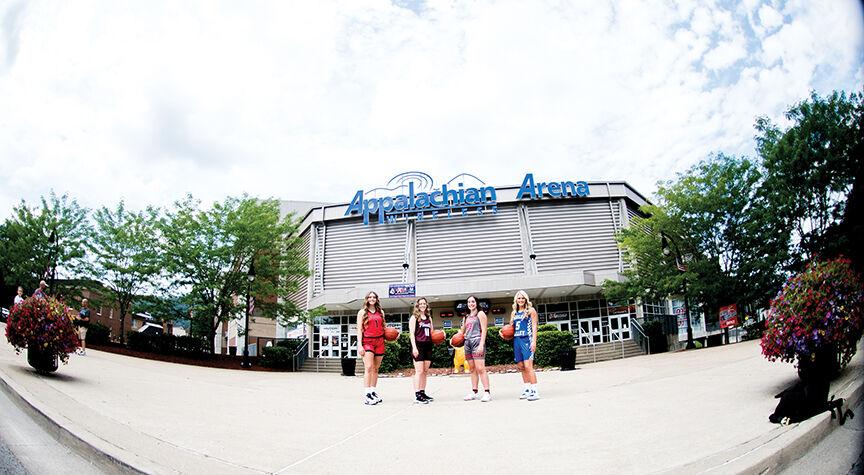 There is talent in the mountains.
So much talent in every sport, but sometimes it goes overlooked.
On the basketball court, four 15th Region standouts are trying to change the perspective about mountain athletes and bring some college coaches eyes and much needed attention to the area.
Shelby Valley's Cassidy Rowe, Lawrence County's Kensley Feltner, Pikeville's Trinity Rowe and Belfry's Kyera Thornsbury all have Division I offers.
That's talent.
Cassidy Rowe represents the Class of 2022. Feltner follows as one of top players in the Class of 2023. Trinity Rowe and Thornsbury both represent the Class of 2024.
It's rare that the 15th Region has more than one player with a DI offer in a season.
But these ladies are showing that the 15th Region is just as talented as anybody else in the state.
They're message is clear: Just because you're from the mountains doesn't mean you can't play at the next level.
"I really am looking forward to our mountain talent getting recognized," Cassidy Rowe said. "I do believe that these girls have what it takes to be nominated for Ms. Basketball and do some of the same stuff I'm doing. I know that they're younger than me, but they work hard every day and I respect that. I'm looking forward to seeing them get recognition for that."
"There is a lot of talent here and the surrounding regions," Feltner said. "It is sad that we don't get as much coverage and recognition, but that's just the way it is. It is cool that Kyera (Thornsbury) Trinity (Rowe) and I have been playing AAU and have been getting looked at by all these coaches. It is cool that they're starting to know our area more because the bigger schools you go to in high school, the bigger names go there. That's just how it's always been, but I think it is really good and really neat that's starting to change some. There is so much talent here that's not been seen in a while."
Trinity Rowe and Thornsbury both had the same sentiment about the 15th Region and mountain players as well.
"I feel like it's weird since we competed against each other for so long, but it's really cool to see them outside of the court," Trinity Rowe said. "We're still in uniform, but just getting together is awesome. It's great to see what the coaches have done. I feel like sometimes we don't get enough respect because we're from the mountains as players from say like New York or somewhere like that. I think the work that we've put in, is finally getting recognized."
"It's cool because for the most part, if you're from the mountains, you get looked past," said Thornsbury. "People say, 'They're from a holler and not from a city and they can't do much.' Nobody really looks in the mountains, though. They look to the big cities with the big girls. Knowing that myself and my closest friends are able to play on the DI level is just a dream come true to all of us. It's just amazing thinking that we can do it, when so many good players from here over the years have been looked past."
Cassidy Rowe really got the ball rolling for the current batch of 15th Region talent starting to get some looks.
As a freshman, Cassidy Rowe did something that most players only dream about — she committed to play college basketball at the University of Kentucky.
She will sign her letter of intent in November.
"I have a lot of respect for all the girls here," Cassidy Rowe said. "Nobody really knows how hard you have to work to to be able to get to that DI level. It's really hard, so I have a lot of respect for them. I'm really thankful that the mountain talent is finally getting some recognition. We've had great players in the past from our region, but I feel like, now we're getting put on the map. People are getting to see that the 15th Region has some talent. I'm just really thankful for that."
Thornsbury cited Cassidy Rowe's signing with the University of Kentucky for inspiration for her game and knowing that she could earn a Division I scholarship offer.
"My first thought was if she (Cassidy Rowe) can do it, so can I," Thornsbury said. "My first offer was when I was in the eighth-grade from UPike and everybody else was getting looked at early. Everybody's name was out and seeing what Cassidy (Rowe) did during her eighth-grade year going into her freshman year, I was like OK, she didn't get it until then, so I got this. I knew it was a process, but I kept telling myself I could do it. I kept that in the back of my mind."
Cassidy Rowe never realized what she did was an inspiration to other girls in the region.
"It's a big honor to me to be a role model for some of these girls because as I was doing all of this, I didn't do it thinking people are going to look up to me, but I would get messages saying, 'I'm an inspiration," to them," Cassidy Rowe said. "It really is such an honor and a blessing to have people like that look up to me because it makes me realize that my hard work has paid off. Especially, getting offered so young. It was such a motivation booster, especially after my injury and the University of Kentucky has stuck by me through it all, two injuries and it really is a blessing."
We all know that Cassidy Rowe was offered and committed to the University of Kentucky, but what are some of the offers the other three are looking at?
Feltner was offered her first DI scholarship by East Tennessee State; she has several DI offers on the table.
"It's like a bunch of hard work has paid off," Feltner said. "For me, I was going into my sophomore year and I didn't have any DI offers, I didn't even have any offers by the end of basketball season last year. We were getting ready to get on the bus for a softball game and then ETSU (East Tennessee State University) called and offered me. It was really like a sigh of relief moment. It was like my hard work has finally paid off and it just felt good to get recognition. I don't want to sound like this, but at the end of the day, it is good to feel like you're wanted. Everyone wants to feel that."
The offers are great, but now, Feltner is trying to figure out which school is the right fit for her.
She is only a junior so, she has time to figure it out.
"A lot of players are just chasing to get offers, but it's not about that, it's about finding the fit," Feltner said. "At the end of the day, sadly, life goes on after basketball and you want to find a coaching staff who is going to be all about you. You're going to want to go where you're going to bloom and blossom and become a better person to go on to the real world. It's been my goal since I've been very little to go to college and play basketball. If I'm blessed enough for that opportunity to come, then my goal will finally be paid off from my little five-year old self."
Trinity Rowe's first offer came from Eastern Kentucky University. She also has offers from Xavier, Stestson and Murray State just to name a few.
"I think it was really big for me as a seventh-grader going to the Rick Bolus camp and seeing coach Williams," Trinity Rowe said. "He said, 'Hey do you have an offer yet?' He then goes, well, 'I'm offering.' I never realized that other coaches or people other than my dad and family members thought I could do this. My dad was always like, 'You can do this.' It's like when coach Williams told me I could play college basketball, it clicked. It's on now. At that point, it was like other coaches would talk to me and say how good I am. I don't see it myself, so when they started saying it, it's like 'People notice the work I'm putting it.' That just gives me another reason to work a lot harder. It just kind of gave me another boost of confidence when other coaches see that in me."
Trinity Rowe has gained a lot of notoriety on the AAU circuit just like the other girls, but she has also played at Rupp Arena in the Sweet 16 three straight years.
"It was definitely kind of scary going there (Rupp Arena) as a seventh-grader," Trinity Rowe said. "Like the first minute of the game, coach was like, 'Go in.' I was like, 'What? OK. Alright.' I feel like the first year was just being there and figuring it out. The second year we were like, OK. We know what we are doing now. The third year, we went as a business trip. It wasn't like, 'Oh gosh, we're at Rupp Arena.' We were more like, 'We're happy we got here, now its time to take care of business.' Obviously we didn't win, but we played them close and now, we're trying to go back again and get the job done."
"Trinity (Rowe) has a lot of exposure and she has a lot of big DI offers," Thornsbury said. "It's from playing on big stages. That just motivates me. I just want to go out as one of the best from Belfry. Not many have won region and played in Rupp Arena. It's pushing me because I want to be the best. I want to play against the best. I want our team to be the best version of itself and the best it can be. That's what is really motivation us right now.
"It was great for me, but it was good for the other freshman on the team as well. We had six freshman on the team and they've went with me since the seventh-grade. Even though they might not've played the whole game, they're still there getting that experience. It's definitely a big confidence booster with our team now."
Thornsbury was offered by Jacksonville State.
That's a moment she will never forget.
"It was awesome," Thornsbury said. "When I got the call, I cried. I knew that all my hard work had paid off. I knew I can go further in life and keep playing basetkball. They did a Zoom call and they wanted to see my emotions. That was my first big offer. When I cried, they were all smiling and they loved it. I just felt like all the weight that I put on myself had just lifted off.
"Just knowing that I have what colleges are looking for is huge. Just knowing that was my dream since I was a little girl in the second grade is incredible. Back then, I was like, 'I want to be the biggest woman who came out of the Belfry program. I want to be the one that everybody remembers and to hold a bunch of records.' So to know that I can go DI and to have people think, 'She's going to make it out.' The life that I've lived, it's just a way out. So I just felt a big breathe of fresh air. It just felt great."
After all four of them got DI offers, they came together for a photo shoot at the Appalachian Wireless Arena earlier this summer.
The group of girls all get along and have a ton of respect for the others.
"Rivalry is big during the season, especially on the court," Cassidy Rowe said. "The game starts and it's a different animal. Off the court, we can all be friends and no matter what goes on during the time on the court, we can learn to be friends off the court."
"It's really good," Feltner said. "It's definitely a privilege. I've played AAU with Kyera (Thornsbury) last summer. She was on my team with Premier. So I definitely got really close with her last summer. I think while I'm on the floor, I'm probably going to want to rip your head off because I'm the most competitive person on the face of the planet and at the end of the day, I want to win. I am a very sore loser, but at the end of the game, I'll go and shake their hands. It is really good, though because we can cheer each other on. Everyone is really happy for each other because at the end of the day, any opportunity to go anywhere at any school on the next level is awesome. It is a blessing."
"I think a lot of that comes from how much we all respect the game," Trinity Rowe said. "Obviously, when we get on the court, it's on. When we step off, we know the difference between competing and being a jerk off the court. I feel like we're  all good girls and we get along very easily."
"Trinity (Rowe) Kensley (Feltner) and I were talking about this earlier, on the court, we're like no we're not going to talk to each other because we will try to rip your head off," Thornsbury said. "We are all so competitive. But then off the court, you see us and people are like they're best friends. They're two completely different people on and off the court. That's how you have to keep it. If you're going want the whole 15th Region to be out there and get respect, you have to push the other girls, but at the same time, you have to push yourself."
Trinity Rowe and Kyera Thornsbury are espcecially close off the court.
"I've been best friends with Trinity (Rowe) since our fifth grade year," Thornsbury said. "We've grown up and we've always encouraged each other. When one is down, the other is always there. Hensley (Feltner), I played travel ball with her last year for Kentucky Premier. I love playing with them, but at the same time, I know we can all go far. When we're on the court against each other wearing two different jerseys, I know we got to go. When it comes to Cassidy (Rowe) I haven't played against her. I didn't get to play against her in middle school ball and I didn't play against her so far in high school. I'm hoping this year that I finally can because she is one of the nicest girls. She was the first girl player who I was like, 'Oh God, she's going to be the first one to make it out of here and play college basketball.' I just love them all."
All of the girls have one thing in common too.
They worked hard and played on the AAU circuits to help get in front of college coaches.
"It has definitely helped," Feltner said. "I had 25 to 30 every single game in our region (the Appalachian Wireless Arena)  and it's good to see that I could do that at the next level because on the EYBL platform that I play with Kentucky Premier, I was still able to do that there. It is good to see that my versatility paid off because I could post up smaller guards, I could bring the ball up the court and shoot a little bit and make some good passes. The game is not just one sided, it's multi-dimensional and you have to be that way, especially how the game is played now.
"It's been a great experience and it's been very eye opening because I know to be able to play on the 17-18 year old team that I will have to be able to hit a pull-up jumper because I'm not going to be able to get to the rim against girls who are 6 foot 5 and I'm 5 foot 8 and I'm not going to be able to get to the rim every time. It's been good. It's been good because at first I struggled and my mom is brutally honest with me at all times, she's my high school coach and she never sugar coat's anything and dear Lord, neither does my dad either, when we first went to Minnesota, she said I don't know if she's good enough to play at this level. Then we played in Louisville and I was solid. Then we went to Chicago and in our championship game, I had 24 points against the best of the best. It was the team that went on to win the Nike Nationals. So it was very good to see that I could perform at that high level against that high of players. It was really really good."
"I think it's also fun playing with other girls with different skill sets," Trinity Rowe said. "When you go from high school to AAU, it's a different speed. I feel like everyone on my team, I played for the West Virginia Thunder, we all have the same goals and when you play together, it just clicks instantly. It's definitely fun playing with them and all of the coaching staff I have with the Thunder is just awesome. The knowledge they have, it's not just about basketball, they teach you about life and the recruiting process. They've all been in this game for a long time, so they can definitely help you a lot with that process."
"It is super big," Thornsbury said. "We went to one of the bigger tournaments and I played for East Tennessee Air Thunder, so we're connected to the West Virginia Thunder, which is Trinity's (Rowe) team. You go to the big tournaments like the Under Armor Affiliate schools, so you see the whole baseline filled with different college coaches. You see everyone from the big DI to the small NAIA coaches. You just know that someone will look at you and someone is going to like you. Not many of those coaches are going to come to a Shelby Valley or a Belfry to see you play because to them, you're in the middle of nowhere."
Entering this season, Cassidy Rowe will be a Ms. Basketball Candidate.
She should have a really strong shot at bringing home the award.
She has the talent and skill and plus, she has the University of Kentucky stamp of approval to help get her name out.
"Of course when I was younger it was always a dream of mine," Cassidy Rowe said. "But now it's starting to become a reality. I never imagined I'd be in the conversation for that because so many great players have got that award. Just being in the conversation for it is really such an honor because there are so many great players out there. This season, I'm looking forward to that, but the thing I'm looking forward the most is just playing with my team."
Cassidy Rowe is hoping to set a trend that the other three can follow.
Trinity Rowe and Thornsbury are both in the same class and the 15th Region will only have one candidate that year.
"I think it's really cool that we all could possibly win or maybe even be nominated," Trinity Rowe said. "I definitely think that Cassidy (Rowe) has really good chance this year. She's just amazing. She's committed to Kentucky and that's really cool. I think Kensley (Feltner) will have a really good shot too. And then you get to me and Kyear and if she holds back, that would be awesome for all four of us to get nominated, but if we're in the same grade it will only be one of us maybe. I'd still vote for her. I'd vote for all of these girls. They're just awesome players and I just think it'd be awesome if we somehow could all get on the Ms. Kentucky Candidate list."
"I mean you get nominated," Feltner said. "You get chosen as the best out of your region. It is special. What else would you want other than that? It's just another sigh of relief like all of your hard work has paid off. I've always wanted to be Ms. Basketball. I'm not going to sit here and lie to you. There is a lot of talent in my class. I've played with them all this summer. Haven Ford goes to Rowan County and she's an absolute stud. There is just a lot of talent. I think that would be really cool. Our last Ms. Basketball was Savannah Wheeler and Whitney Creech, so that would be really really cool. Neither were in our region at the time because Jenkins wasn't in our region still, but it'd be awesome and bring a little recognition to the region."
Out of the four players, only Feltner plays multiple sports.
She also is a standout softball player.
"I've been in love with softball and basketball since I was three or four years old," Feltner said. "I've played both my whole life. It's really helped me because softball is a completely different sport, obviously, but it helps you be able to cut and move faster. It helps me to be around different people. You're not around your basketball teammates at all times and it helps me to be around a whole new set of teammates. I love all of those girls so much. It's just really good."
Trinity Rowe is the only player currently ranked No. 1 in their class.
"It is definitely crazy," Trinity Rowe said. "The Class of 2024 is really strong. I think anyone can take that No. 1 spot. I'm obviously blessed that it's me, but it also puts a target on my back for some people. So it definitely gives me another reason just to work harder. It does give me a boost of confidence knowing that people do think that I am the best in the Class of 2024."
Thornsbury came on strong during her freshman season at the high school level and really got a lot off attention for her all-around game.
"My confidence definitely got a boost," Thornsbury said. "I'm not the one to brag about myself, I'm usually one of the biggest critics of my game. Last year just knowing that I could score when I wanted or I could pass to the other girls and know that something good is going to come out of it. I rebounded well and I think it was just my aggressiveness that helped me be like, 'I got this.' Also hearing people come behind me and say, 'Keep your head up, you got this or let's go,' really helped me. My dad pushed me all the time. I went into the season knowing that I had help, but I also was thinking that you need to breakout and last year was just my year."
There is a lot of other talent in the mountains.
Some players might have the talent to play DI, but have committed to play at a different level.
"Alyssa (Elswick) definitely could've got a  DI offer if she wanted, but she committed to Thomas More and that was the school she wanted to go to," Cassidy Rowe said. "I respect that. Thomas More is a great school. She understands AAU basketball and how it works, so it's also great to the younger girls to have both of us who have that experience playing AAU. They can look up to us because we've been there. I'm really looking forward to playing this season with Alyssa (Elswick). It's our senior year."
Besides Elswick, there are a lot of young up and coming talent getting ready to jump onto the 15th Region High School stage.
"I feel like we have a lot of young talent here in the mountains, especially Kylie (Alvin)," Cassidy Rowe said. "She has a ton of potential. She really works hard and I'm really lucky to help her here and there and be a leader to her because we never really had talent like that. The young talent has really taken off in Pike County and the 15th Region. It's getting more competitive and I'm really looking forward to watching all of those girls playing high school because we have a lot of talent coming up."
"Cushi (Fletcher) will definitely get seen by some college," Thornsbury said. "I think Kaison Ward from Lawrence will get recognized by someone. I've seen her working hard. Then I want to talk about our Belfry Middle School girls because I've been going to their practices and helping them. Once they're in high school, the 15th Region is going to be nice because you have my sister Kayler, she's in the eighth-grade. Then you have Cam Duncan who is playing on the big stage. Carley Stanley and Masey Maynard all of those girls are playing on the big stages already. They're all playing AAU, so you're going to see the 15th Region become one of the better versions of itself."
There is plenty of talent in the 15th Region and the mountains.
Will Cassidy Rowe start a trend of 15th Region players winning Ms. Basketball?
Will more and more players from around the region start to get DI offers?
Hopefully, these four are only the start of great things to come on the court in the 15th Region.
Practice starts in less than a month.
It will definitely be an action packed season with plenty of star power.
Cassidy Rowe, Kensley Feltner, Trinity Rowe and Kyera Thornsbury are definitely making the mountains proud.