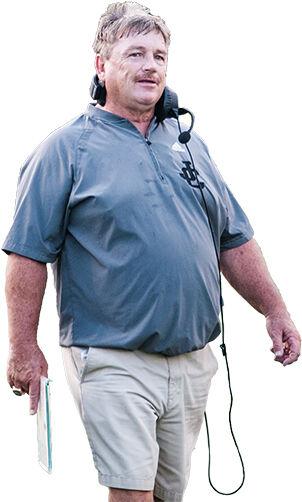 It's the news you don't want to hear.
It's the type of story you never want to write.
Johnson Central head football and wrestling coach Jim Matney passed away Tuesday.
It's a tough thing to grasp.
The first thoughts go to his family and the hurt and pain they must be feeling.
My second thought goes to all of his players who looked up to and loved him.
Matney was  more than just a coach.
He was an advocate for all the mountain athletes and people in general.
Matney always fought hard to promote mountain kids and help them get over the stigma that they weren't as good or as smart or as worthy as kids from other places in the state and throughout the country.
He fought for everybody from the mountains.
He was proud to be from here and he was even prouder when he could help affect the outlook of a kids' life in a positive way.
He was a champion who molded kids to be champions on and off the field.
He wanted them to be proud of who they were and where they were from.
He was a fearless competitor.
Coach Matney was just one of those people who made you feel better about yourself by just being around him.
I'm sure there are a lot of sad people after hearing the news about coach Matney.
I can't imagine what his players, former players and his family are feeling.
He made everyone around him better.
After winning the Class 4A state title in 2019, Matney gave an impassioned speech after the game (you can find that on the Paintsville Herald or the Appalachian News-Express Facebook pages).
Here is the interview after the state championship.
"I have a pebble that came from the same stream that David picked up and slew Goliath, Matney said. "Somebody went to the Middle East and brought it back. God is good. I am very fortunate. I wish everyone had a great life like I have. We beat a great team, a great coach and I am very happy. I am very, very, very happy.
Then a reporter from another outlet spoke up and said, "David had God on his side."
"I'm not going to say that God is only on our side. God is good to everyone. But David was the underdog. When I took this job, they'd only won three games in I believe four years. The principal came to me and he said, 'Jim you cannot say that you're not needed in Johnson County anymore, so I came and this, is just unbelievable.
"I didn't want to come home," Matney said. "It was tough at home. It was very poor and it was rough, but it's what God wanted me to do, so I didn't have a choice. I was trying to run and trying to get far away as I could, but God took me back to the mountains. The main thing he said was, 'Look, you're very fortunate. You've had some people to help you along the way. Go back and help those kids in the mountains to do the same thing that those others did to you.' So I felt like for what God had done for me, I had to do for everybody else.
"I don't know if it affected the mountains a lot, but we've been fighting since I was a little boy for the poor white kids of Appalachia and the poor black kids of Appalachia," Matney said. "It was very tough growing up. I've been fighting prejudice and injustice my entire life. We have produced the coal that has powered our country and several other countries for 200 years and now, the entire country has turned its back on Appalachia. It's a tough fight.
"Football is strong in the mountains," Matney said. "It'll continue to be strong as long as God favors us, but if we don't stay humble and start thinking that we're special and get cocky, then it'll end quick. If we work hard, then I think we have a lot more years and a lot of great things coming out of the mountains."
It was one of those interviews I've watched a couple times right after his passing.
The passion and love he speaks with about his players and all of Eastern Kentucky is evident.
It's one of those things when you hear about his passing that you don't want to believe is real.
It's a story, I didn't want to write.
But it's important to remember what a great person and man Jim Matney was.
You just couldn't not like Jim Matney.
Every time I needed something, he made sure he'd help.
He would talk and talk and talk.
His stories were compelling.
He was a friend.
It was tough to call coach Philip Haywood and coach Joe Chirico and listen to them talk about the respect and admiration they had for coach Matney.
He touched so many people.
My thoughts and prayers go out to his family.
He was proud of his family.
He was proud of his Johnson Central football and wrestling family.
He was proud to be from Eastern Kentucky.
Hopefully all of Eastern Kentucky will come together and help his family and community in this trying time.
Rest in peace coach Matney, you will be missed.