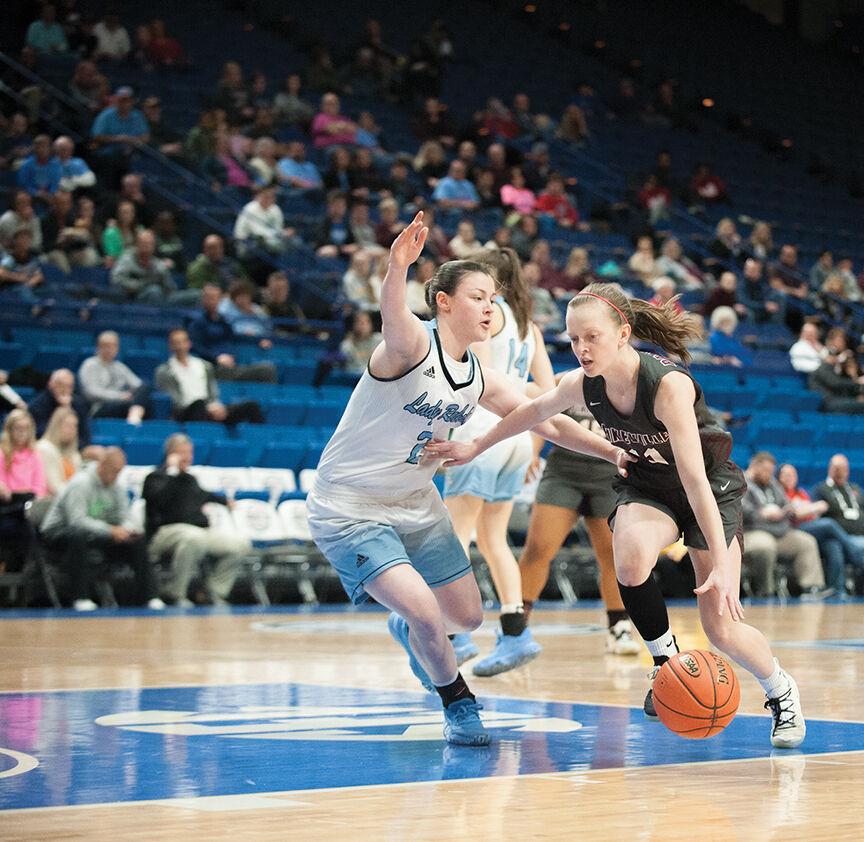 Trinity Rowe has emerged as one of the top players in the 15th Region and the state.
But sometimes watching her, you forget she's only a freshman.
Rowe can do it all on the basketball court.
She has great handles, doesn't turn the ball over, she can shoot from deep and she can finish around the rim with either hand.
This will be her third straight trip to Rupp Arena and the Sweet 16.
Did we mention she's just a freshman?
Rowe leads the Lady Panthers by scoring 15 points per game. She also broke the single season assist record this year.
"Three is hard to do," Rowe said. "Honestly we knew coming into this game that we were  confident that we were going to win if we put a good game together and we did."
"I let her do her thing out on the court," Pikeville coach Kristy Orem said. "I'm usually a big control freak, but with her, I just say, 'Whatever you feel comfortable doing,' and I let her do that. Like I said, I'm usually a big control freak, but with her, I can do that because she sees the game and understands the game and I can let her make some decisions out on the floor. She's special."
Pikeville will face off with Marshall County at 11:00 a.m. Thursday morning in the Sweet 16 at Rupp Arena.
"We are hungry to win one because I don't think we have ever won one in school history," Rowe said. "We just want to go win a game and show that these Eastern Kentucky schools can compete. We have had experience the last two years, but a lot of these girls have never played there before. It'll be a good experience, especially for the young girls. I think that we can go down there and win a game or two."
Marshall County is ranked No. 4 by Maxpreps.com, while Pikeville is the No. 26 ranked team in the state according to the website.
Rowe was one of the team leaders this season.
Rowe along with Mackenzie Maynard got to see the most playing time last season. Emma Ratliff and Rylee Theiss each saw some time last season, but the duo took a big step in playing time and their roles on the team this season.
Rowe scored 14 points last season as she was second on the team in scoring against Casey County. Senior Kirsten Cole-Williamson led the Lady Panthers with a team-high 15 points last season in Pikeville's 49-46 loss.
As a seventh-grader in Pikeville's 65-47 loss to Barren County, Rowe scored nine points, dished out three assists, pulled down two rebounds and came away with a steal.
"I really am blessed," Rowe said. "Those seniors last year really helped me develop how I play and who I am on the court. I'm just blessed to have this team and coach (Kristy) Orem. And my dad. He always told me that I could play and I was always playing with seventh and eighth graders when I was in fourth grade because he put me out there. I'm definitely blessed to have him to push me like that."
Rowe is a freshman, but she already has plenty of experience on the Rupp Arena floor.
She is hoping that experience will pay off with a Pikeville win, this Thursday against Marshall County.