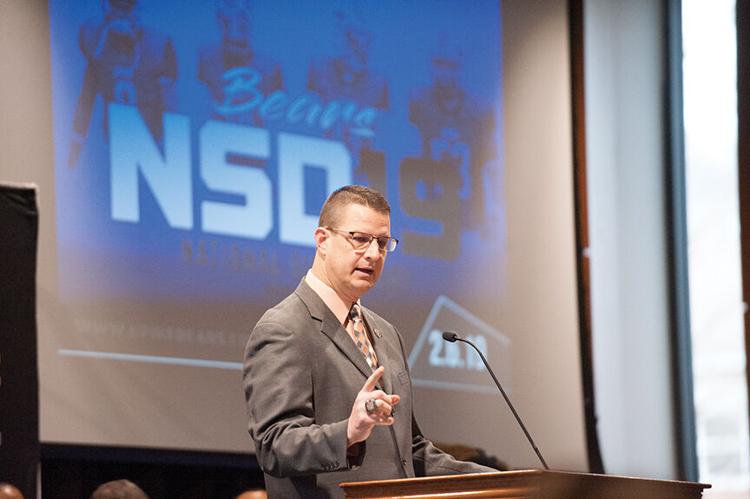 It's better to give than to receive.
That's not just a saying.
That's exactly what UPike Athletics Director Kelly Wells and his family is doing.
Wells and his family recently started the Wells Family Scholarship to give back to youth and help them further their education.
"I'd say it's a multi-faceted thing," Wells said. "I'm a big believer in that if you believe in something, then you show your support where it hurts the most. The university (University of Pikeville) has been great to us. Education has been great to me and my wife (Shawne Wells) and my family. We just wanted to put our money where our mouth was. I think having a scholarship which we feel like is the most important thing is getting an education, is a difference maker for most people. We wanted to make sure we gave an opportunity and be creative, but to give an opportunity to students who have either lived in the same place we have lived, in our current region that we're in and some of the other places that both of us have worked. Hopefully, it will be neat for those schools and those institutions to be able to share with their student athletes and students in general. We hope it just garners more interest in our university. As educators, we want to continue to stress education. I know it's tough times and everybody is going through it, so anything we can do to assist that, we want to be an olive branch for that."
The Wells Family Scholarship was established in honor of Kelly and Shawne Wells. Scholarships are awarded annually to students from Pike County, Rowan County,  Letcher County, Floyd County, Martin County, Maysville and Mingo County, W.Va. The scholarship is designed to be used for a new student to the university (transfer or high school graduate). This scholarship will help offset the student's cost of tuition and/or room and board. It is not restricted to any stacking regulations. The scholarship is for one year and a total of $1,200.
"That's what it is about, we want to make sure the kids benefit from this,"Wells said. "It's a yearly scholarship that we'll give out every year for as long as those funds last with that account. To talk about what you want to leave behind and the legacy that you want to leave, I think those are the kinds of things that we want our families to remembered for. We want to be remembered for giving back and thinking of others. No question, that's what's that for to give somebody an opportunity who may not have had it. To continue their education and grow just be a living trophy for other people to kind of see their success. I just wanted to funnel it toward places that we'd had been and places we currently are."
Wells was a longtime coach at UPike who recently stepped down to take on the athletics director job full-time. He helped bring the school's only national tournament championship to the school in 2011.
Wells also won a state championship as head coach at Mason County at the high school level.
His wife Shawne is an assistant principal at Pikeville High School.
"You try to pick things that make a difference and an impact," Wells said. "These kind of things are impactful. They give back and certainly what the university has given to me and my family is commendable. We want to share that with other people as well. To get them thinking about school. Maybe it's a person who didn't even think about going to college and it affords them an opportunity to get in there and help with some of the funds. I deal with it every single day from this table. College isn't free. You really have to be a planner and think ahead. You get rewarded when you're working in the classroom. You get rewarded for your work on the field.We want to get some opportunities outside of that too that you can put with those and make it a real situation because realistically, college debt is something that is hard for people to get through. If we can limit that and give some more resources, that's what we wanted to do."
The scholarship was announced a few weeks before Christmas.
The scholarship is a way to give back and it fit perfectly into the giving season.
"The old adage is it's better to give than receive," Wells said. "As you get older, that becomes a reality for you. When you're younger, you're like, 'Yeah right.' Certainly, I do get more out of giving than I do receiving. Sometimes I wish I had the ultimate amount of money to give to all of these different kinds of activities and kids who struggle. You see it every single day. It is good to give back, though. It feels good to do that. It's the right thing to do. We wanted to make sure that we represented that at our university and hopefully, that will carry over to some other folks too. One of our goals in our athletic department, is to have all of our staff give back to the university for what they give back to us. Whatever that looks like for each person is different. This is what our conviction looks was and we feel like it can impact other people."
Wells and his wife Shawne have both witnessed the effects of education of the lives of students. Wells likes to call his former players living trophies.
He hopes the scholarship can keep producing living trophies for years and years to come.
"It creates a pathway," Wells said. "Anytime you can change a dynamic of a family with education, I'm a firm believer in it. We have a lot of first generation students here on our campus. A lot of first generation student athletes who the college process may have not been real until someone tried to help them down that path. If this is a direction changer for their families and their direction in the future, I think it's impactful. It can really put a lot of hope into people. We are going through some tough times. The world is changing. Our industry around here is a little bit different now. Being able to learn how to learn is critical. I think college is the place to do that and a liberal arts school is a place to do that and the University of Pikeville is the place to do that."
This scholarship is an important thing to him and his family.
Giving to others is a beautiful act that the Wells Family hopes will continue for many years to come.
"For my family, I'm a big believer in having a brand and representing our family correctly. This gives us an opportunity for that brand to stick around for as many years as it can, even when are long gone from here many, many years from now."