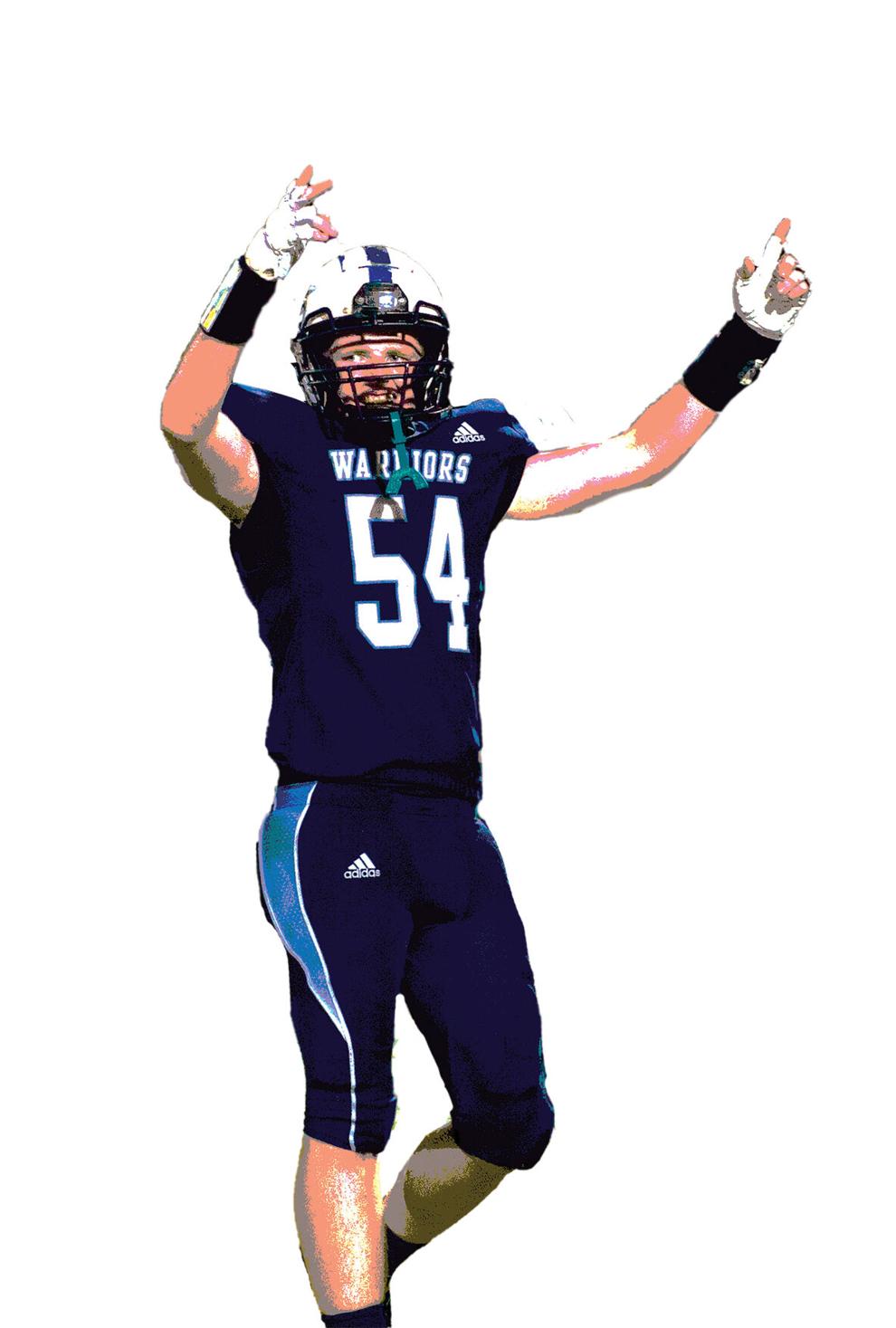 Martin County
at East Ridge
Who: Martin County (3-3) at East Ridge (2-3)
Kickoff: Friday, October 1, 7:30 p.m.
Location: Warrior Stadium, Lick Creek.
Coaches: Martin County, Josh Muncy. East Ridge, Donnie Burdine.
Notes: Martin County is coming off of a 40-7 win over Leslie County, while East Ridge is coming off of a 48-22 loss to Prestonsburg.
Martin County opened the season with a 26-25 loss to Betsy Layne. The Cardinals followed that with a forfeit loss to Greenup County due to COVID-19. In Week 3, Martin County picked up a 53-46 win over Fleming County. The Cardinals kept things rolling with a 48-16 win over Knott Central. The Cardinals fell to Joe Chirico and George Rogers Clark 28-13 in Week 5. The Cardinals got back in the win column last week against Leslie County.
On the season, quarterback Jason Maynard is 10 for 27 passing for 239 yards and two TDs with two interceptions. Maynard has added 70 yards rushing and two TDs on 19 carries.
The Cardinals like to run the ball.
Martin County has rushed for 1,649 yards as a team this season.
Running back Dawson Mills leads the Cardinal running attack. Mills has rushed for 691 yards and 12 TDs on 48 carries this season. Branson Smith follows with 407 yards and three TDs on 43 carries. Kolby Sparks has rushed for 392 yards and six TDs on 57 carries.
Mills leads the passing attack as well. Mills has eight catches for 224 yards and two TDs. Sparks and Smith each have a catch as well.
The Cardinals have forced nine fumbles and recovered seven of them this season.
Caleb Costa leads the Cardinal defense with 47 tackles. Madden Miller has 36 tackles and two sacks. Smith has 36 tackles as well. Bryston Wells has 27 tackles and two sacks.
The Cardinals have racked up 12 sacks on the season.
Mills, Maynard and Charles Bowen each have interceptions for the Cardinals.
After starting the season 2-0, East Ridge has dropped three straight games.
The Warriors opened district play last week with a 48-22 loss to Prestonsburg.
East Ridge struggled to get its pass game going early this season, but last week against Prestonsburg it was the other way around.
East Ridge racked up 302 yards of total offense; 259 of those yards came through the air.
Warrior quarterback Dylan Burdine was 15 for 22 passing for 259 yards and two TDs with an interception.
The run game wasn't as effective, though.
East Ridge only rushed for 43 yards in the game.
Aiden Smallwood led the rushing attack with 18 yards on five carries. Nathan Martin followed with 13 yards on five carries. Burdine finished with 12 yards and a TD on 10 carries.
Zack Mason led the East Ridge receivers with four catches for 62 yards. Landon Robinson hauled in a 59-yard TD catch. Brad Howell had two catches for 50 yards and a TD.  Isaiah Adkins had five receptions for 49 yards. Smallwood had two catches for 26 yards and Martin had a 13-yard catch.
The Warrior defense caused three fumbles and recovered two of them.
Clinton Williamson and Zack Adkins led the way with nine tackles each.
Jo Jo Ratliff didn't play against the Blackcats.
If East Ridge wants to get back in the win column, the Warriors will have to find a better balance on offense and tighten up on defense.
In East Ridge's two wins, the Warriors gave up 50 points; 25 points per game, while scoring 82 points; 41 points per game.
In the Warriors' three losses they have given up 144 points; 48 points per game, while scoring 26 points per game.
Who 2 Watch: For East Ridge, the running backs.
Quarterback Dylan Burdine leads the team in rushing with 486 yards and 13 TDs on 85 carries. Martin follows with 209 yards and two TDs on 60 carries. Adkins has 68 yards on 11 carries. Mason has added 50 yards on 11 carries. Smallwood has 41 yards on eight carries.
Someone will have to step up and run the ball effectively to help ease some of the pressure on Burdine.
Burdine has a lot of responsibility and if he can take some of the work load off of his shoulders, then things might open up for everyone.
Pikeville at
Madison Central
Who: Pikeville (5-1) at Madison Central (4-1)
Kickoff: Friday, October 1, 7:30 p.m.
Location: Indian Stadium, Richmond.
Coaches: Pikeville, Chris McNamee. Madison Central, Mike Holcomb.
  Pikeville is coming off of a 31-14 loss to Class 2A power Lexington Christian, while Madison Central is coming off of its Bye Week.
The Panthers have been road warriors this season.
After playing the season opener at home against Paintsville, the Panthers have been on the road since.
This will be Pikeville's fifth straight road game.
The Panthers will have traveled 930 miles round trip since their last home game.
Last week against Lexington Christian Academy, the Panthers hung tough and Blake Birchfield and the offensive line showed how good they are.
Birchfield rushed for 255 yards and two TDs on 25 carries.
The rest of the offense accounted for 68 total yards.
Look for that to change if the Panthers want to finish their last road game before finding themselves back at the Hambley Athletic Complex against Sayre next week.
Madison Central is off to a great start.
The Indians are under the direction of Mike Holcomb. Holcomb is a state championship winning coach during his time at Breathitt County.
This is Holcomb's first year with the Indians.
Madison Central and Pikeville have one common opponent this season; Lexington Christian.
The Indians fell to the Eagles 21-12 in the season opener.
After that, the Class 6A team picked up a 34-24 win over Paul Laurence Dunbar, then picked up a forfeit win over Madison Souther due to a COVID-19 cancellation. The Indians followed it with a 69-6 drubbing over South Laurel and a 49-0 shutout win over Lafayette.
Indian quarterback Elijah Steele leads the way. Steele is 11 for 29 passing for 231 yards and three TDs with two interceptions. He's added 18 rushing yards on seven carries.
Hagan Harrison has also have seen snaps under center. Harrison is seven for 12 passing for 112 yards.
Brady Hensley leads the Madison Central rushing attack with 372 yards and eight TDs on 39 carries. Adrien Parks follows with 271 yards and three TDs on 33 carries. Harrison has rushed for 102 yards and four TDs on eight carries. Blake Snyder has rushed for 60 yards and a score on five carries and Jackson Rohrer has rushed for 25 yards and a TD on three carries. Brock Eads has also rushed for a TD this season.
Jayden West leads the Indians with 13 catches for 312 yards and two TDs. Hensley has three catches for 58 yards and a TD.
Madison Central has recovered seven TDs on the season and have come up with four interceptions as they have forced 11 turnovers.
Jeffery Kinley leads the offense with 26 tackles. Edgren Sweat has 20 tackles and a sack.
Pikeville will have its hands full with the Class 6A squad, but the Panthers will have a shot to win if they put together a complete game.
Who 2 Watch: For Pikeville, the wide receivers.
Last week, Pikeville didn't get its passing game going like usual, but Lexington Christian is a very good team.
The Panthers don't want to put all of the workload on running back Blake Birchfield.
Pikeville is loaded with athletes.
Look for quarterback Isaac McNamee to get his receivers involved Friday night.
Zac Lockhart gets a lot of attention and rightfully, so.
On the season, Lockhart leads Pikeville with 27 catches for 366 yards and six TDs.
Before the LCA game, Wade Hensley had started to emerge for the Panthers.
On the season, Hensley has seven catches for 137 yards and three TDs.
Hensley gets some one-on-one opportunities because of the attention Lockhart demands and he has been taking advantage of it. Hensley is big, quick and athletic. He can run by defenders and beat teams deep.
Also tight end Grant Scottt has been coming on for the Panthers. Scott has 10 receptions for 120 yards and a TD.
Can the Panthers develop other threats in the passing game?
Friday night, might be a time to take a shot or two with Brandon Lowe, Jeb Wilkerson or Westin Bevins. All three of them have receptions on the season.
Birchfield is also an outlet in the pass game, but if the Panthers can get some of the other receivers involved it could go a long way in helping them leave Madison Central with a win over a good Class 6A team before district play starts next week against Sayre.
Sports Editor's Note: Pike Central and Phelps were canceled due to COVID-19. Pike Central was still searching for a game at press time. Belfry and Floyd Central was moved up to Thursday night.