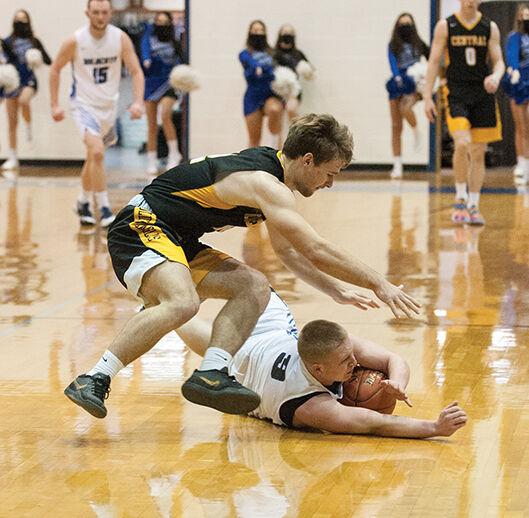 ROBINSON CREEK — Johnson Central controlled the pace Friday night as the Golden Eagles pulled off a big 71-47 road win over Shelby Valley.
The Wildcats were hanging around, but at at the 2:36 mark of the second quarter, Shelby Valley point guard Keian Worrix picked up his third foul; he was whistled for three offensive fouls going to the basket in the first half.
Johnson Central held a 34-27 halftime lead.
Grant Rice scored with 6:06 left in the third quarter to give the Golden Eagles a 39-29 lead. Isaiah May followed with a three to push the lead to 42-29. Rice scored again with 3:16 left to push the lead to 44-29.
Shelby Valley's Kaden Robinson knocked down a three with 2:44 left in the third to stop the bleeding for the Wildcats and cut the lead to 44-32.
Robinson hit a three before the third quarter buzzer to cut the lead to 50-37 heading into the fourth quarter of play.
Johnson Central placed five players in double figure scoring. May led the way with a game-high 18 points. Cory VanHoose followed with 13 points. Rice, John King and Kamen Slone each scored 10 points for the Golden Eagles.
Johnson Central outscored the Wildcats 30-20 in points in the paint. The Golden Eagles also scored 18 points off of turnovers, while Shelby Valley only scored three points off of turnovers.
May opened the fourth with a three for Johnson Central to push the lead to 53.37.
The Golden Eagles put the game away in the fourth as VanHoose scored back-to-back baskets with 3:30 left to push the lead to 63-42.
Robinson led the way for the Wildcats with 17 points. Chaz Brown followed with eight points. Worrix added six points and three steals.
Shelby Valley (8-4) is scheduled to visit East Ridge at 7:30 p.m. Thursday in 59th District action.
Scoring:
Johnson Central — Isaiah May 18, Cory VanHoose 13, Grant Rice 10, John King 10, Kamen Slone 10, Ryleh McKenzie 7, Dray Duff 3.
Shelby Valley — Kaden Robinson 17, Chaz Brown 8, Keian Worrix 6, Zack Johnson 4, Anthony Pallotta 3, Samuel Adkins 3, Logan Hawkins 2, Collier Fuller 2.